Hot Sell European Type Electric Double Girder Overhead Crane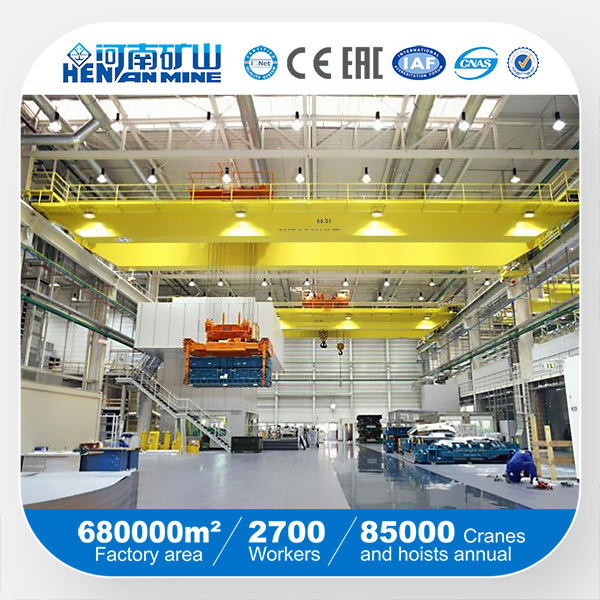 Hot Sell European Type Electric Double Girder Overhead Crane image
Basic Info.
Industrial Voltage
Local Requirement
Lifting Mechanism
Winch Trolley or Electric Wire Rope Hoist
Emergency System
Included
Current Overload Protection System
Included
Application
Construction Usage, Workshop Usage
Transport Package
Srandard Exporting Packing
Specification
Different according to cranes
Production Capacity
1000 Sets/Year
Product Description
Factory manufacturer European type electric double girder overhead crane
Features: Light-weight, generalizing, energy-conservation and environmental protection, maintenance free and high technology content.
Application: Industry of machinery production, assembling, petrochemicals, warehouse logistics, electric power construction, papermaking and railways.
Main beam employs box-type structure and connects with end beam by high -strength bolt ensuring easy transportation.
Main beam uses bias-rail box-type structure, with optimized design and light self-weight.
Steel plate material Q345-B.
U-shaped main beam assembly machine with hydraulic forming which has won national patent to make sure beautiful shape as well as durability.
Power supply system for trolley:
High quality
Saving space
Long life for use
Easy for maintenance
Trolley of crane uses open compact winching structure or new hoist trolley with medium and small tonnage.
Travelling mechanisms of crane and trolley adopt Europe three-in-one drive form, harden gear reducer, and owns the advantages of compact structure, low noise, no oil leakage, long service life, decreasing the height of factory building and reducing cost.
Full variable-frequency control runs steadily without any impaction. Running with heavy load at low speed and light load at high speed, saving energy and reducing consumption.
Operation cabin for crane
Cabin frame: Beatiful appearance
Connection consoles:Seat + two adjustable consoles
Accessories: Alarm system, energy saving lighting, wiper blade and blinds
Henan Mine Crane company information
– Ever since 1984, Henan Mine Crane has been and continues to be a professonal overhead crane manufacturer.
Since 2003 year, we have new brand KUANGYUAN, then Kuangshan Group is produced.
– Up to now, Henan Mine Crane has been an Overhead Crane Industry Leader, expecially in overhead cranes for steel industry.
– Our focus is to provide our customers a cost effective solution that will meet their material handling needs.
– We provide whole series of overhead bridge cranes with capacity from 0.5 ton to 550 ton.
– Our products not only for overhead cranes, we still have gantry cranes, jib cranes, hoists and other crane parts.
– We supply crane parts to many crane manufactures in China and outside.
– We have BV, CE and ISO certificate.
FAQ
Welcome your visiting and any question~
RFQ——-Just inform us your
1. lifting capacity?
2. Span or how wide is the workshop
3. Lifting height?
4. Industrial voltage?
5. Working duty?
6. other special working requiremtent?
We are pleasure to offer you our best design and reasonable price for your reference.
Kindly please contact us:
Lynne Zhi Sale Manager
Henan Mine Crane Co., Ltd.
Quality Forges Brand & Integrity Builds Future
Add:
No.18 Changyuan County,
Changnao Crane Industry Park,
Xinxiang city, Henan Province
We are China Hot Sell European Type Electric Double Girder Overhead Crane manufacture and supplier,You can get more details with Email,you will get cheap price or factory price.
Tags:
Double Girder Crane
,
Eot Crane
,
Overhead Crane