Double Girders and Beams Electric Overhead Bridge Traveling Grab Bucket or Grapple Eot Crane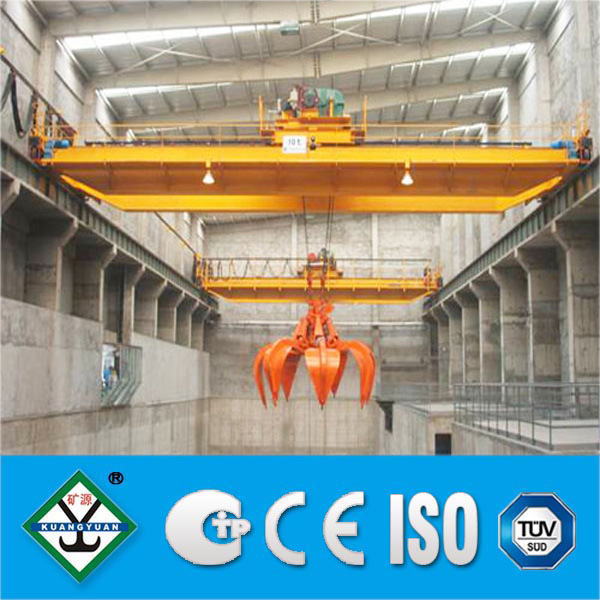 Double Girders and Beams Electric Overhead Bridge Traveling Grab Bucket or Grapple Eot Crane image
Basic Info.
Maximum Lifting Weight
20-50t
Main Girder Form
Double Girder
Crane Model
Bridge Grab Crane
Item
Scrap Grab Bucket Overhead Bridge Crane
Bridge Crane Grab Working Class
A6 A7
Bridge Crane Grab Overload Protection
Include
Bridge Crane Grab Electric Equipment
Schneider/Siemens
Qz Crane Control Type
Cabin, Pendant or Wireless
Painting
as Per Client′s Reuqirement
Application
Workshop Usage, Construction Usage
Tower Crane Type
Slewing Tower Crane
Transport Package
China Standard
Specification
CE GOST SGS ISO
Product Description
Electric Grab Bucket Crane Used for Workshop
Scrap grab bucket overhead bridge crane brief introduction:
We offer scrap grab bucket overhead bridge crane that are very fast & operate at high speed for moving the bulk materials, coal, ore, limestone, sand and other granular material handling and waste handling. Our cranes are specially designed for harsh use & efficient working to give maximum output. These cranes are used for discharging bulk materials from ships, barges and chemical& fertilizer industry, more and are made from premium quality raw material. Available in different capacities and can be customized according to the client's requirements.
Scrap grab bucket overhead bridge crane safety feature:
1. Overload protection device
2. Lifting height limit device
3. Main lifting motor with thermal protection
4. Voltage lower protection funtion
5. Hooks with latch
6. Rubber buffers
7. Protective earthing
8. Crane switch and travel end switch
9. Emergency switch can stop all movement when any dangerous happened
10. All cranes must be preassmebled and tested before leaving factory and offer the 11. Certification of test
Scrap grab bucket overhead bridge crane the application
1. Trolley conductor or angle steel conductor power supply
2. All hoist and crane movements are independent and can be run simultaneously.
3. Electric hoist mobile power supply is constituted by flate cables or special cables, Galvanized slippery course and small cable pulley
4. Smoothly moving, beautiful appearance
5. Choosing according to different needs
Scrap grab bucket overhead bridge crane specification
Conventional configuration:
1) Room control.
2) Driver's room is opened or closed types.
3) Wound rotor motor is used on each mechanism, changed speed by resistance.
4) Working ambient temperature: -20° C~+45° C. It's not suitable for lifting blazing & melting metal or toxicant as well as explosion-proof or insulating working conditions.
Other configuration user can choose:
1). The grab bucket close aspect has twain: Parallel and plumb main girder.
2). Lifting capacity includes grab bucket weight.
3). Two kinds of power conduction: Angle iron and safe slippery touch line.
4). According to demand, it can be matched sugar cane grab, trash grab, lumber grab and so on.
Welcome contact us by E-mail or online, you will receive our prompt and careful reply!
Capacity
t
5
10
16
20
Span
m
10.5 ~31.5
Lifting height
m
according to your requirements
Operation method
Pendent line with push button/ cabin
Speed
Lifting
m/min
40.1
40.7
41.8
48.6
Cross travel
m/min
44.6
45.7
43.2
Long travel
Cabin
m/min
114.4
112.5
98
87.3
Lifting mechanism
type
Electric trolley
Working duty
A6
Power supply
AC
380V~460V/50HZ~60HZ/3P
We are China Double Girders and Beams Electric Overhead Bridge Traveling Grab Bucket or Grapple Eot Crane manufacture and supplier,You can get more details with Email,you will get cheap price or factory price.
Tags:
Bridge Crane
,
Overhead Bridge Crane
,
Overhead Crane