Bcd Type Explosion-Proof Electric Wire Rope Hoist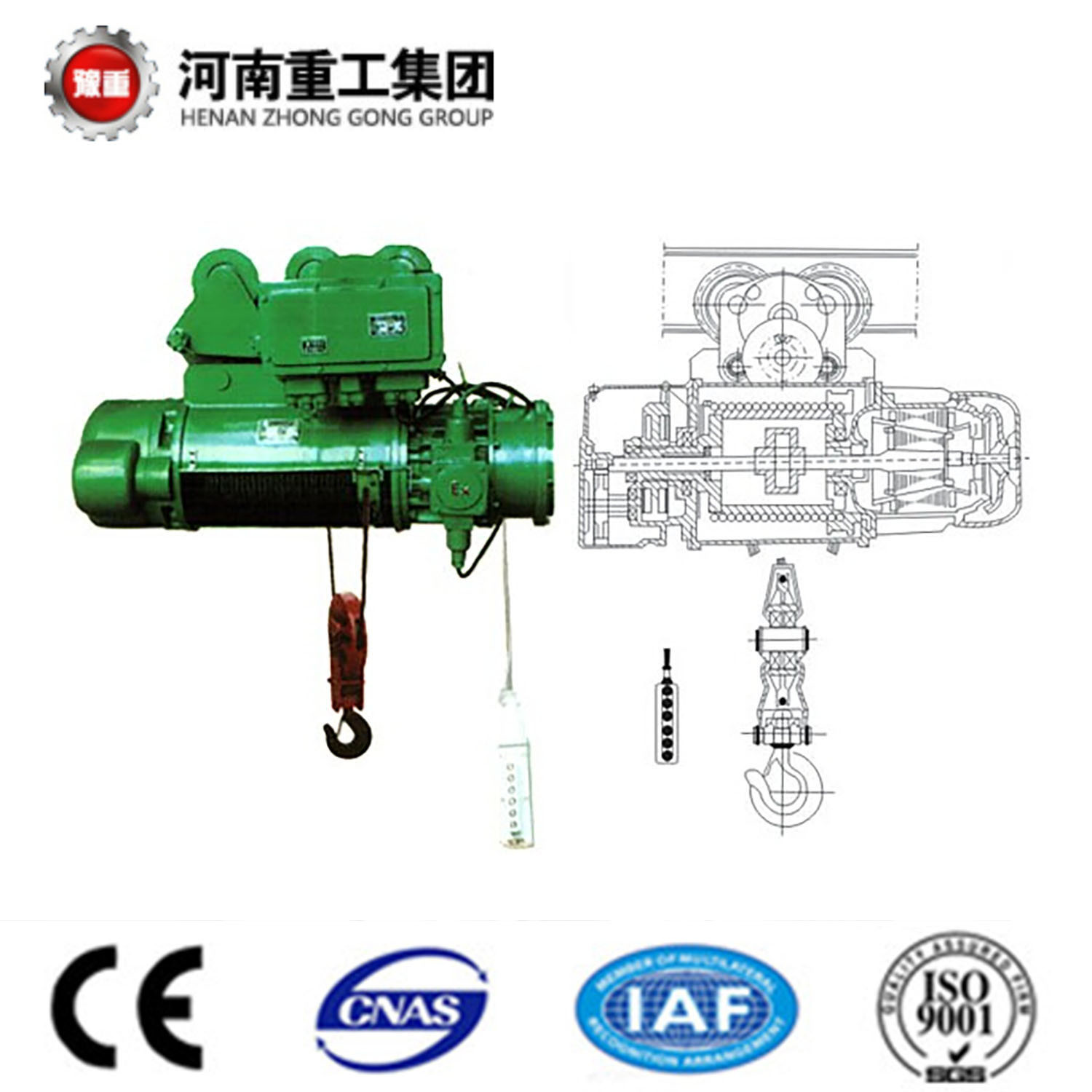 Bcd Type Explosion-Proof Electric Wire Rope Hoist image
Basic Info.
Lifting Height
3m-30m or as Per Demand
Lifting Speed
3.5/7/8m/Min; 3.5/0.35, 7/0.7, 8/0.8m/Min
Traveling Speed
20/30m/Min
Power Supply
Customization
Overload Protection
Included
Emergency Stop System
Included
Warranty Period
12 Months
Free Service
Spar Parts Supply
Transport Package
Wooden Case
Specification
China Standard
Origin
Changyuan, Henan, China
Production Capacity
50000 PCS/Year
Product Description
About Company: Henan Zhonggong Group Crane Technology Co., Ltd
1. With more than 30 years development, Henan Zhonggong Group has 5 holding subsidiaries, covers an area of 240,000 square meters and 100,000 square meters construction area, possesses nearly 1000 sets various producing equipements, is a member unit of Bridge Crane branch of "China Heavy Machinery Industry Association". now we have 1200 staff of which more than 160 professional engineers and management colleagues, company has passed ISO9001, ISO14001 and OHSAS18001. Brand "YUZHONG" products have been granted titles such as "Top 10 brand Well-Known Cranes in China", "Well-Known Commodity in Henan Province" and "Henan Famous Trademark".
2. Group R&D Center has been recognized as the engineering technology research center of cranes for application at Xinxiang nuclear power station and serves as the only China R&D in the nuclear area. company can supply electrical hoist, single girder crane, double girder crane, gantry crane, overhead crane, grab, explosion-proofinsulation crane, hydraulic hoist, container handling crane, ship crane, metallurgic crane, quenched crane, elecromagnetic series crane and special crane for nulear power station.
About Product: Single/Double Speed Explosion-proof Electric Wire Rope Hoist

1. Brief description
1. Temperature of working environment:-25°C~40°C.
2. When explosion proof grade is ExdIICT4, traveling mechanism should do spark proof treatment.
3. The whole machine meets standards of JB/T10222-2001<explosion proof wire rope tric hoist >.
4. Explosion proof grade: ExdIIBT4 and ExdIICT4.
5. Individually installed under workshop fixed spending rail to use.

2. Applications
1. Industrial and mining establishments, warehouse and quay.
2. For installation and transportion of concrete and steel structure.
3. For help working efficiency of construction and installation in factories, Civil and
Architectural project of plant or bridge building, automobile making industry!
Working with single beam overhead crane, single beam gantry crane, jib crane to load, transport and unload heavy loads.

3. Components

Lifting and traveling motors
1. Asynchronous Conical rotor motor with brake inside, assorted with reducer
2. Device test convenient
3. Simple control,hoisting height change easily
4. High degree of generalization
5. B or F class insulation, IP44, IP54 protection, IC0141 self-cooling

Lifting reducer
1.Three-level dead axle helical gear rotating body, compact structure, silent operation, long service life
2. Gear and the axle made by alloy steel after heat treatment, high intensity, machinery oils
3. Box and cover made from superior cast iron, fully covered, great speed ratio, high accuracy and efficiency
4. Easy to assemble and disassemble

Drum
1.Welding rope drum, light dead weight, easily interchangeable,high quality
2.Coil casing made from superior cast iron, high intensity, no disturbance between rope socket
3.Rope guide avoids intertwining of wire rope, ensures normal operation, extend the rope and drum's lifetime

Wire Rope
1. GB/T 20118-2006(6*37+1) hoisting wire rope, anti-tensile, good flexibility
2. Good resistance to impact, long lifetime

Hook
1.20 high quality carbon steel, high security, triple static load
2.Spring-loaded sturdy safety catch, ensuring slings not release

Electric Parts
1. Safe trolley conductor high conductivity, small pressure drop
2. Collector ensure continuing power supply, protection class IP55

Control Method
1. Pendant and remote control
2. Easy, safe and Smooth operation
3. Waterproof , anti-fall

Safety Feature
1. Fire stopper
2. Weight limiting stopper
3. Overload limiter

Hoist After-sale Service
1.One year warranty for whole machines from running
2.Providing free spare parts
3.Low charge for continue maintenance when warranty is expired
4.Exclusive engineer support at any time
5.We can provide free training to end-users

Type
HB(ExdIIBT4,ExdIICT4)
Capacity(t)
3
5
10
16
Hoisting height(m)
6
9
12
18
24
30
6
9
12
18
24
30
9
12
18
24
30
9
12
18
24
30
Hoisting speed(m/min)
8(0.8/8)
7(0.7/7)
3.5(0.35/3.5)
Travel speed(m/min)
20/30
18
wire rope
Dia(mm)
13
15
17.5
Specification
6×37
Track
20a-32c
25a-50b
32b-50b
32b-63c
Min curvatureradius(m)
2
2.5
3
4
2.5
3
4
4.5
6
2.5
4
6
7.5
9
3.5
4
6
8
11
Lifting motor
Type
BZD1 32-4
BZD1 41-4
BZD1 51-4
BZDS1 0.4/4.5
BZDS1 0.8/7.5
BZDS1 1.5/13
Power(RW)
4.5(0.4/4.5)
7.5(0.8/7.5)
13(1.5/13)
Rotation speed(r/min)
1380
1400
Current(A)
11(1.25/11)
18(2.4/18)
30(5.2/30)
Running motor
Type
BZDY1 12-4
BZDY1 21-4
Power(RW)
0.4
0.8
Rotation speed(r/min)
1380
Current(A)
1.25
2.4
No.of connecting(times)
120
Working system
M3-M4
Power source
Three phase AC 380V 50Hz
We are China Bcd Type Explosion-Proof Electric Wire Rope Hoist manufacture and supplier,You can get more details with Email,you will get cheap price or factory price.
Tags:
Explosion-Proof Hoist
,
Hoist
,
Wire Rope Hoist