Anti-Explosion Wire Rope Electric Hoist 2tons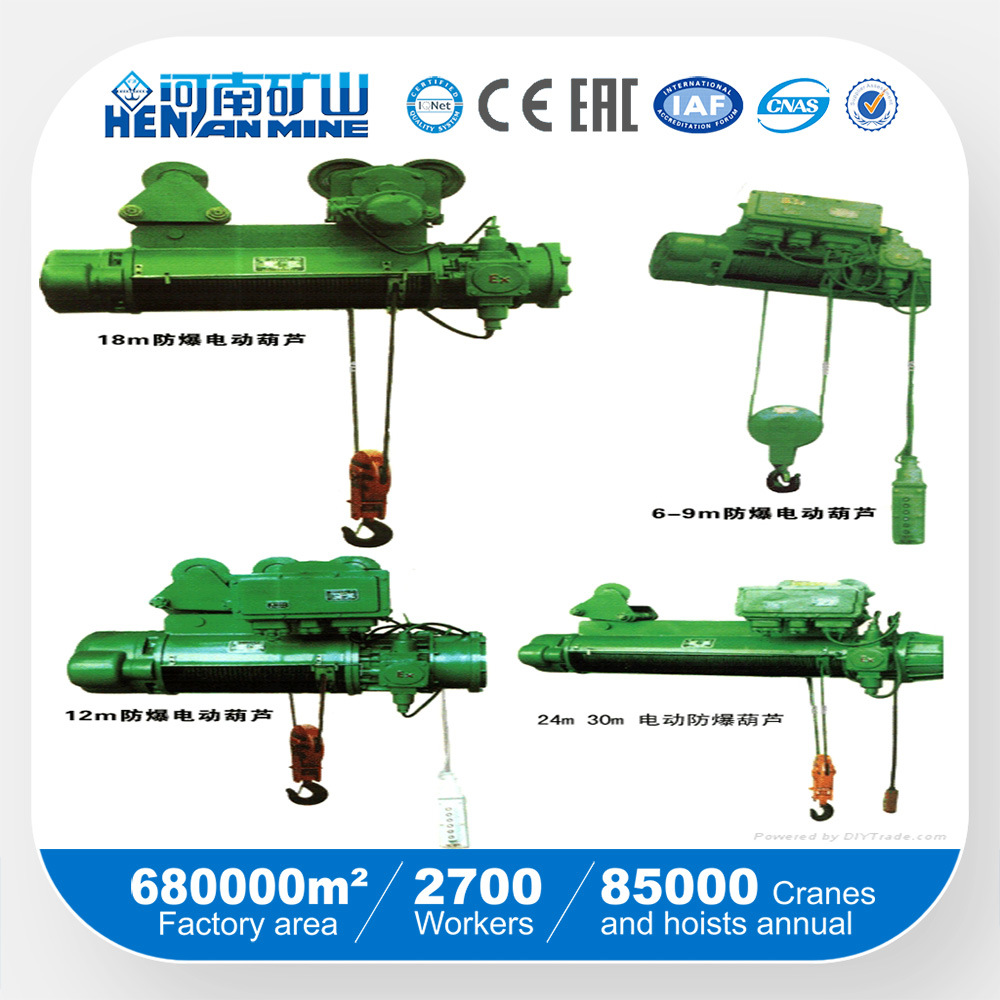 Anti-Explosion Wire Rope Electric Hoist 2tons image
Basic Info.
Certification
CE, ISO9001:2000
Color
According to Your Requirements
GB/T 28001-2001, Ohsas180011999
Pass
GB/T 19001-2000 Idt ISO 9001: 2000
Pass
GB/T 24001-2004 Idt ISO140012004
Pass
Main Electrical Parts
Siemens Brand or Chint Brand
Weight Overload Limiter
Included
Transport Package
High Quality Plywood Crate
Specification
No. 1 assembly in China
Production Capacity
18000sets/Year
Product Description
Explosion-proof /Anti-Explosion Wire Rope Electric Hoist 2tons
Explosion-proof electric hoist is a kind of small-sized lifting equipment which has the features of small volume, light weight, huge lifting capacity. When workshop is filled with explosive mixtures, for security reason, explosion-proof electric hoist is a necessary and favorable equipment to improve labor conditions and labor productivity. It can be suspended on I- beam track for straight or curve traversing, or mounted on a fixed frame to lift heavy material.
Conditions of Use
1. Elevations less than 1000m.
2. Ambient air temperature does not exceed -20 ~ 40 degrees Celsius
3. Ambient air relative humidity of not more than 85% (+25 degrees Celsius)
4. Indoor use (corrosive environment and outdoor areas, take special orders).
5. Rated cycle of 10 minutes, the benchmark of 25% continuous power, the equivalent number of starts per hour, not more than 120 times.
6. Electric hoist the main circuit rated voltage up to AC 380V, rated frequency 50Hz, control circuit voltage 380V, 36V and 42V.
7. Apply when the plant specified in Table 1 within the flammable gas, vapor and air, an explosive mixture.
Main conponents
Motor: Hoist Motor is a taper type rotor motor with braking; It is one of the best quality motors, which has bigger torque, so it can be adapted to moving frequently, the Maximum torque is 2.4-3 times than the rated torque.
Rope Guide: Rope Guide is in two halves, ensuring easy accessibility. It encircles the drum completely so that the rope may not uncoil even when the Hoist is in unloaded condition. The rope guides of our company is thicken and dilated, so that it is not easy to be damaged.
Hook: The Hook Block is tested to 150 % of full load before assembly.
Technical Parameters for Wire Rope Electric Hoist 2tons
Model
0.25T
0.5T
1T
2T
3T
5T
10T
Capacity(T)
0.25
0.5
1
2
3
5
10
Standard Lift(M)
3-9
6-12
6-30
6-30
6-30
6-30
9-30
Lifting Speed(M/min)
8 8/0.8
8 8/0.8
8 8/0.8
8 8/0.8
8 8/0.8
7 7/0.7
Running Speed(m/min)
20(30)
20(30)
20(30)
20(30)
20(30)
20(30)
20(30)
I beam Track Type
16-22b
16-28b
16-28b
20a-32c
20a-32c
25a-63c
28a-63c
Running Motor
Model
dw5024
ZDY111-4
ZDY111-4
ZDY112-4
ZDY112-4
ZDY121-4
ZDY121-4
Power (kw)
0.06
0.2
0.2
0.4
0.4
0.8
0.8X2

R.P.M(r/min)
1400
1380
1380
1380
1380
1380
1380
Power Source
380V, 50HZ, 3P
We are China Anti-Explosion Wire Rope Electric Hoist 2tons manufacture and supplier,You can get more details with Email,you will get cheap price or factory price.
Tags:
Anti-Explosion Electric Hoist
,
Explosion-Proof Electric Hoist
,
Explosion-Proof Hoist