YZD240/50/10tons Span 27m Heavy Duty A8 Ladle Lifting Crane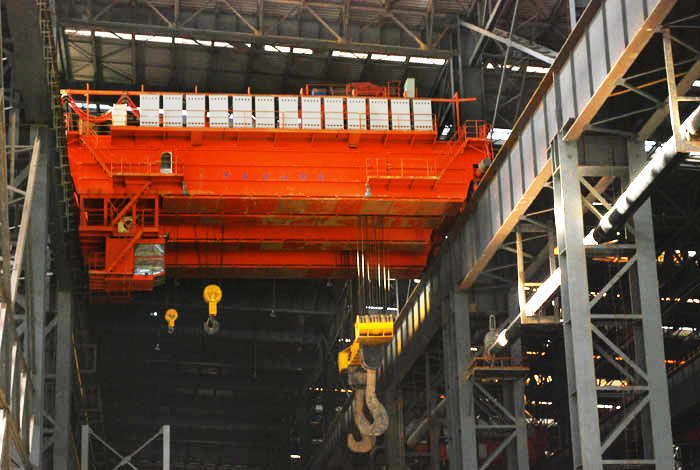 YZD240/50/10tons Span 27m Heavy Duty A8 Ladle Lifting Crane image
Basic Info.
Main Electric Parts
Siemens/Schneider
Main Lifting Speed
1-9m/Min
Aux.Lifting Speed
1-15m/Min
Cross Traveling Speed
4-40m/Min
Long Traveling Speed
8-80m/Min
Temperature
up to 60 Degree
Bottom of Girder
with Heat Proof Layer
Power Supply
380V/50Hz3phac,Can Customize
Motor
Heavy Duty Slipring Motor
Transport Package
Sea Worthy Packing
Specification
YZD240/50/10T-27M H-27M
Production Capacity
400 Sets Per Year
Product Description
Double Girder Ladle Lifting Crane
Standard capacities
240/50/10T
span
27m
H-27m
working class
A7
working temperature
-10~60'C

Casting crane is special crane for lifting molten metal.

Special thermal-protective coating is added at the bottom of main girder.
Features:
* Strong double girder box type,
* high strength structure,
* welding by machine hand.
* Thermal-protective coating is added at the bottom of the main girder.
* Wheels, wirerope drum, gears, couplings, shafts are manufactured by CNC manchine, top quality control.
* Heavy duty slipring motor or motor with VVVF, IP54 or IP55 protection class, H insulation class,
* Soft starting and stopping, smooth running
* Electric hydraulic thruster, safe and strong brake
* Siemens main electric parts are used for durable working and frequent using.
* Wireless control, cabin control, commfortable and safe operation
* High working efficiency and output, Low cost running, low cost mainteannce.
Safety:
1. Overload protection: If the material is over the capacity, the crane will give a sharp warning and cut off the circuit for safe protection.
2. Emergency stop function: If the operation staff encounter some emergency situation, he could start the emergency brake system to protection the personnel and related treasures.
3. Control Method: Room control to avoid any injure to the operation staff
4. Main lifting motor: With thermal protection and overspeed protection.
Painting:
By brush by man, Anti-rust painting, primer and finishing paint, yellow or red color, General thickness: About 105 microns

Ordering instructions:
1, What's the lifting capacity:?
2, What's the span of the crane (from rail center to rail center):?
3, What's the lifting height:?
4, What's the working time and how many lifts per hour:?
5, What speeds (lifting speed, travel speed) do you need:?
6, What's the working industry voltage there:?
7, What color do you need?
8, What is the crane traveling distance:?
9, Do you have other special requirements:?
After sales service:
1. Warranty: the quality of our cranes is guaranteed for 18months after delivery. In this period, if any quality problem happens with correct operation, we will send spare parts to our customer free of charge.
2. After warranty, we will supply spare parts at cost prices to our customer.
Why choose our ladle lifting crane?
China famous brand crane
Annual sell 77340sets cranes and hoists
Totally 3400staffs,including 180engineers,2000 plus advanced equipments
Total plant area 840000m2,owns the largest intelligent crane manufacturing workshop in Asia
Excellent crane manufacturer to China Baosteel
Government projects always use our cranes
ISO,CE,GOST certification approved
Exported to more than 120countries
Belt and Road Kenya railway gantry crane project
India,Vietnam steel plant cranes supplier
Siemens or Schneider world famous brand electricals
About us:
We are the largest crane manufacturer in China,annual sell all types of cranes by 77340sets.
We could supply you all kinds of industry cranes from 5tons up to 900tons, for ladle lifting crane,standard capacity are as below sheet,working class A7.
Capacity
t
5
10
16/3.2
20/5
32/5
50/10
74/20
Span
m
10.5~31.5
13.5~31.5
Max. Lifting Height
Main hook
m
16
16
16
12
16
12
22
Auxiliary hook
18
14
18
16
24
Speed
Main hoisting
m/min
15.5
10.4
10.7
9.8
7.8
7.8
6.1
Auxiliary hook
14.6
15.5
15.5
10.4
9.7
Trolley travelling
37.2
43.8
44.6
44.6
42.4
39.3
33.8
Crane travelling
92.7
93.7
92.7
93.7
86.5
76
89
76
89
89
75.3
75.3
75
76.6
67.3
Motor
Main hoisting
Kw
15
22
37
45
55
75
90
Auxiliary hoisting
11
15
15
22
37
Trolley travelling
1.5
2.2
3.7
3.7
7.5
11
15
Crane travelling
2 × 5.5
2 × 7.5
2 × 5.5
2 × 7.5
2 × 7.5
2 × 11
2 × 7.5
2 × 11
2 × 11
2 × 11
2 × 15
2 × 22
Power supply
3-phrase 50HZ 380V
We are China YZD240/50/10tons Span 27m Heavy Duty A8 Ladle Lifting Crane manufacture and supplier,You can get more details with Email,you will get cheap price or factory price.
Tags:
Double Girder Ladle Lifting Crane
,
Ladle Lifting Crane
,
Overhead Crane