YC Double Trolley Magnet Bridge/Overhead Crane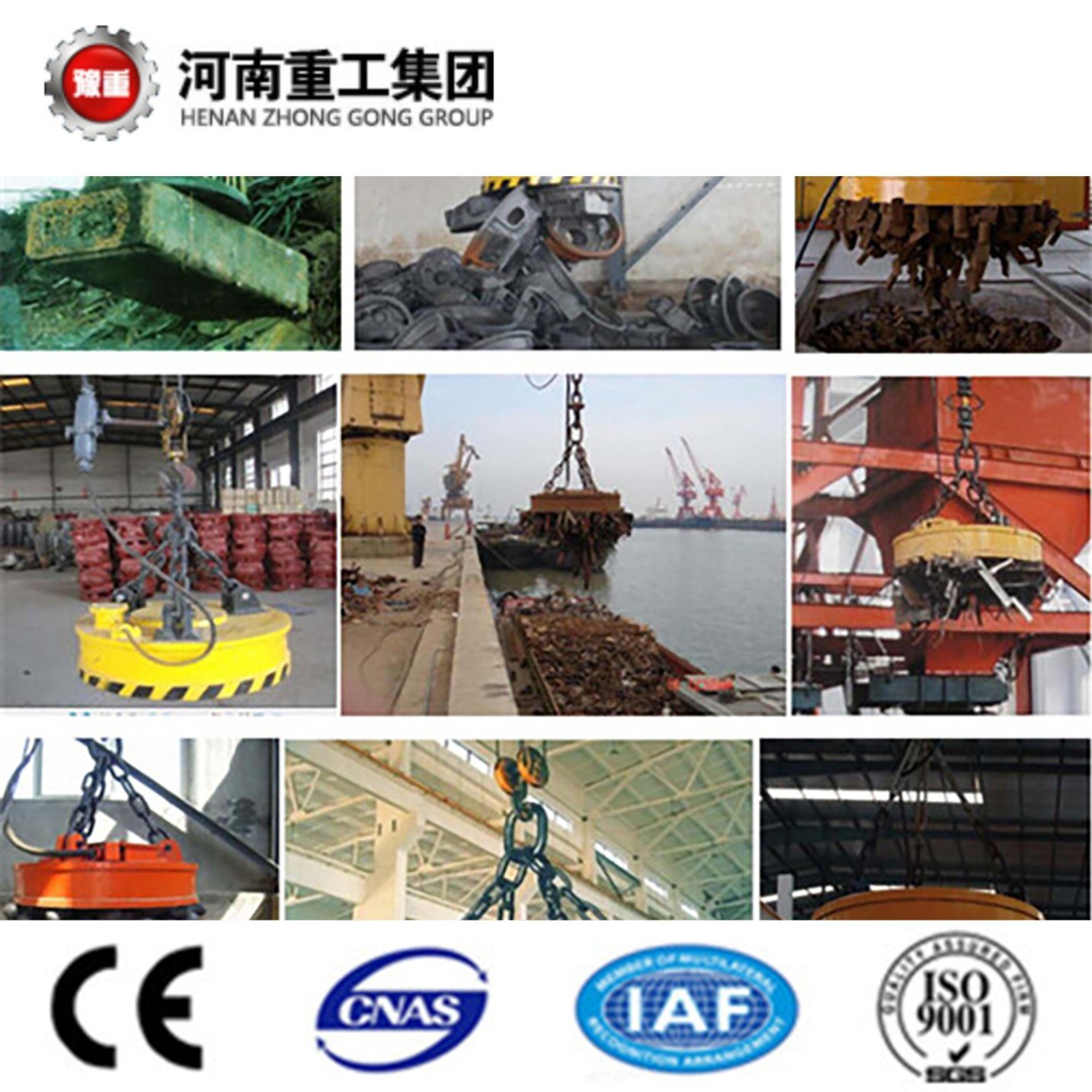 YC Double Trolley Magnet Bridge/Overhead Crane image
Basic Info.
Lifting Capacity
8+8t-20+20t
Control Stype
Cabin/Remote Control/Wireless Control
Guarantee Period
12 Months
Transport Package
as Per Customer Demand
Specification
China Standard
Origin
Changyuan, Henan, China
Production Capacity
1000 PCS/Year
Product Description
About Company: Henan Zhonggong Group Crane Technology Co., Ltd
1. With more than 30 years development, Henan Zhonggong Group has 5 holding subsidiaries, covers an area of 240,000 square meters and 100,000 square meters construction area, possesses nearly 1000 sets various producing equipements, is a member unit of Bridge Crane branch of "China Heavy Machinery Industry Association". now we have 1200 staff of which more than 160 professional engineers and management colleagues, company has passed ISO9001, ISO14001 and OHSAS18001. Brand "YUZHONG" products have been granted titles such as "Top 10 brand Well-Known Cranes in China", "Well-Known Commodity in Henan Province" and "Henan Famous Trademark".
2. Group R&D Center has been recognized as the engineering technology research center of cranes for application at Xinxiang nuclear power station and serves as the only China R&D in the nuclear area. company can supply electrical hoist, single girder crane, double girder crane, gantry crane, overhead crane, grab, explosion-proofinsulation crane, hydraulic hoist, container handling crane, ship crane, metallurgic crane, quenched crane, elecromagnetic series crane and special crane for nulear power station.
About Product: YC Double Trolley Magnet Bridge Crane/Overhead crane
YC type Revolving Handcart Electromagnetism Overhead Crane General Features
1. Adopts unique design and special structure which is equipped with a revolving parallel or vertical handcart electromagnetism hanger beam.
2. Has the ability to lift and transfer longer steel plate or scrap materials, iron or steel blocks in steel plants, harbors and warehouses.
3. The direction of electromagnetism hanger beam is divided into two styles, that is parallel or vertical to the main beam. Under the hanger beam are the electromagnetic chucks, by which to complete loading unloading balk materials.
4. The handcart traveling mechanism adopts heavy duty working system.
5. Both traveling mechanism and trolley motors are special motors for canes, large starting torque and loading capacity.
6. The shape of electromagnet can be designed according to absorptive goods.
7. Working temperature: -25 to 40° C (can be redesigned as clients' requirements).
8. Compact structure, easy for application, strong magnetic attraction power and safe in handling, widely used in steel plant, harbors, and warehouses and more.
YC type Revolving Handcart Electromagnetism Overhead Crane Technical Features:
1. Strong box type, welding by machine hand.
2. Wheels, wirerope drum, gears, couplings are manufactured by our CNC manchine center, TOP quality control.
3. Heavy duty slipring motor, WUXI NGP brand, TOP quality in China.
4. Siemens main electric system.
5. Surface treatment: Sand blasting
6. Pendent control, wireless, cabin control.
YC type Revolving Handcart Electromagnetism Overhead Crane Safety Features
1. Overload protection device
2. Top quality long time bearing polyurethane materials buffer
3. Crane traveling limit switch
4. Voltage lower protection function
5. Emergency stop system
6. Lifting height limit device
Double Girder Overhead Crane After-sale Service
1. One year warranty for whole machines from crane running
2. Providing free spare parts
3. Low charge for continue maintenance when warranty is expired
4. Exclusive engineer support at any time
5. We can provide free training to end-users
Looking forward to receive your enquiry with the below details information:
1. Lifting capacity
2. Span ( rail centre to centre )
3. The required lifting height ( from hook to the ground )
4. Crane travelling length
5. What will be lifted by the crane
6. The crane and hoist movement speed (m/min)
7. The rail length and the height.
8. Single speed or double speed for lifting and travelling?
9. Driver cabine control or pendant control?
10. How many hours work per day?
11. Power source: 380V, 50Hz, 3phase or others?
Lifting capacity
Electromagnetic chuck
t
8+8
10+10
12.5+12.5
16+16
20+20
Hook
8
10
12.5
16
20
Electromagnetic chuck
Model
MW22-17080L/G
LMR 17080DH
LMR 20095DH
Net lifting capacity
t
10
17
17
23
32
Working class
A7
A7
A7
A7
A7
Span
m
16-31
Lifting height
16
Speed
Lifting
m/min
16.78
16.1
11.8
16.39
12.1
Rotation
2.98
2.98
2.1
2.7
2.7
Handcart travling
43.2
43.5
43.5
43.5
43.5
Crane travling
99.8
88.1
88
90
Power
Lifting motor
kw
45
55
75
90
132
Rotating motor
5.5
5.5
5.5
11
11
Handcart travling motor
11
11
11
11
11
Crane travling motor
15 x 2
15 x 2
15 x 2
22 X 2
22 X 2
Electromagnetic chuck working temperature
<600 deg C
Handcart weight
t
20
21.1
20.8
25.6
28.3
Buffer stroke
mm
150
150
150
200
200
Steel track recommended
QU100
QU100
QU100
QU120
QU120
Power source
380V 50Hz 3P or per customer requirement
We are China YC Double Trolley Magnet Bridge/Overhead Crane manufacture and supplier,You can get more details with Email,you will get cheap price or factory price.
Tags:
Bridge Crane
,
Crane
,
Overhead Crane