Workshop Wall Mounted Swing Jib Crane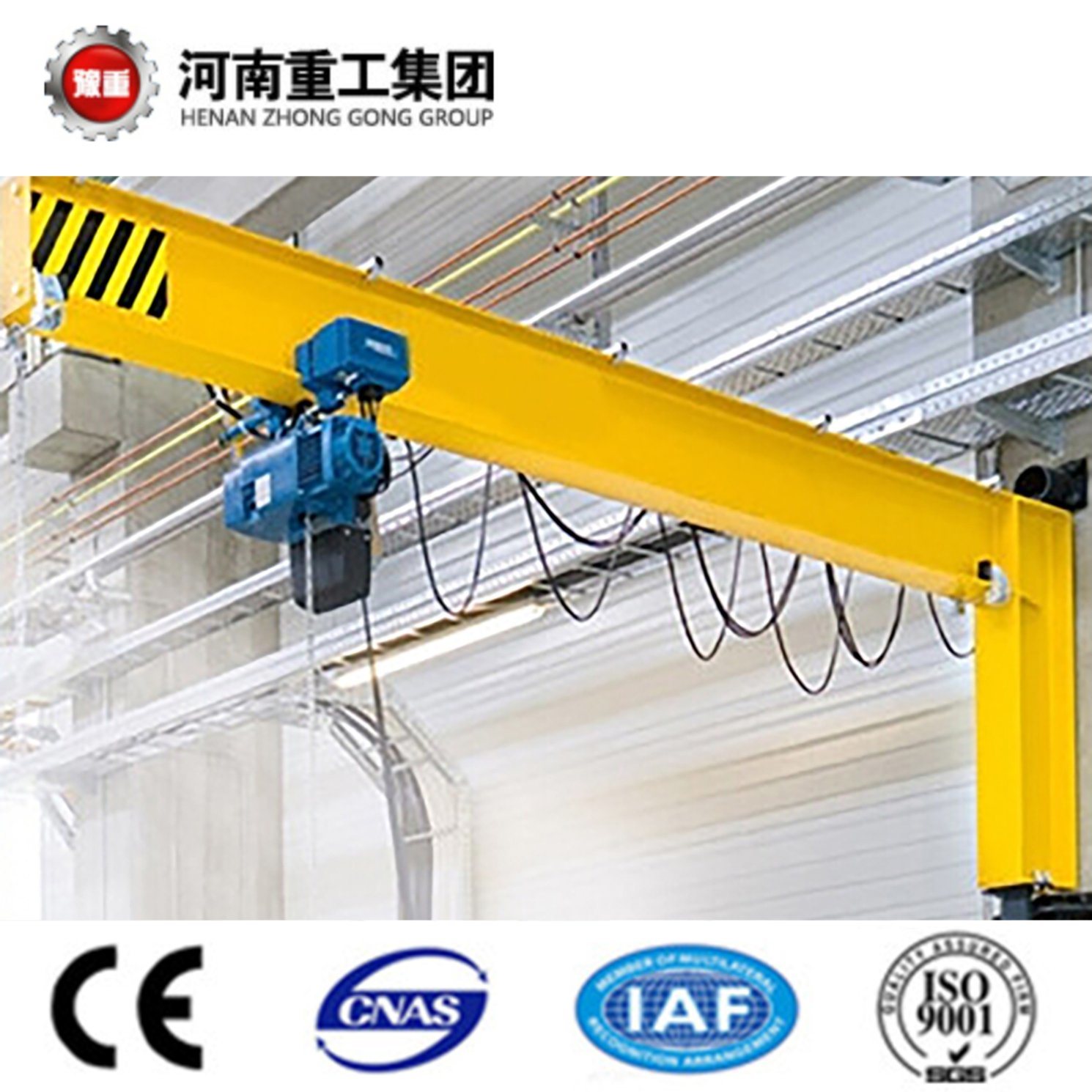 Workshop Wall Mounted Swing Jib Crane image
Basic Info.
Type
Wall Mounted Jib Crane
Lifting Capacity
0.25-10t
Max. Lifting Height
10m or Per Your Demand
Lifting Speed
0.8/8 M/Min
Trolley Travel Speed
10/20m/Min
Control Method
Pendant or Remote Control
Guarantee Period
12 Months
Transport Package
High Quality Plywood Crate and Plastic Woven Cloth
Specification
China Standard
Origin
Changyuan, Henan, China
Production Capacity
10000 PCS/Year
Product Description
About Company: Henan Zhonggong Group Crane Technology Co., Ltd
1. With more than 30 years development, Henan Zhonggong Group has 5 holding subsidiaries, covers an area of 240,000 square meters and 100,000 square meters construction area, possesses nearly 1000 sets various producing equipements, is a member unit of Bridge Crane branch of "China Heavy Machinery Industry Association". now we have 1200 staff of which more than 160 professional engineers and management colleagues, company has passed ISO9001, ISO14001 and OHSAS18001. Brand "YUZHONG" products have been granted titles such as "Top 10 brand Well-Known Cranes in China", "Well-Known Commodity in Henan Province" and "Henan Famous Trademark".
2. Group R&D Center has been recognized as the engineering technology research center of cranes for application at Xinxiang nuclear power station and serves as the only China R&D in the nuclear area. company can supply electrical hoist, single girder crane, double girder crane, gantry crane, overhead crane, grab, explosion-proofinsulation crane, hydraulic hoist, container handling crane, ship crane, metallurgic crane, quenched crane, elecromagnetic series crane and special crane for nulear power station.
About product: BX type Wall Mounted Jib Crane

jib crane brief Introduction:
Wall mounted jib crane is a new generation of the hoist equipment developed to meet the requirement of modernized production.
It's fixed on the floor and it could stand independently. And the arm fixed on the top of fixed pillar. If the arm needs swing, the swing motor will be equipped on crane! And then the electrical will be installed on the cranes per actual demands.

Foundation of Workshop Wall Mounted Jib Crane

Application:
This machine suitable to work in the dock, warehouse, workshop etc fixed working conditions.

It can work within the 360 degrees to lift and materials handling.

Operational Method:
Pendent line with press button or Remote control or both.

Safety:
Weight overload protection device.
Top quality long time bearing polyurethane materials buffer.
Crane traveling limit switch.
Voltage lower protection function.
Emergency stop system.
Current overload protection system.
Feature:
1.Quick and easy installation
(1). Poured foundations can take up to a week to cure before
(2).You can install the jib
(3).Now there's no waiting
2.Flexible for easy relocation
(1). It's easy to relocate a jib where there's no poured foundation.
(2). That means more flexibility in choosing initial jib location.
(3). You can place it closer to machines or other obstructions, because
(4). There is no need for a large square foot area for a concrete pour.<o:p>

Working Environment:
1). Power source is three-phase alternating current, rated frequency is50HZ, rated voltage is 380v.
2). the altitude height of site is ought to be less than 2000m
3). Flammable explosive and corrosive gas are forbidden in the work environment
4). The crane is forbid to lift molten metal, explosives, poison and corrosives
Looking forward to receive your detailed enquiry.
1.Lifting capacity ?
2.Lifting height?
3.Beam length ?
4.Rotation angle ?
5.Working radius ?
6.Working environment ?
7.Industrial working voltage ?
Rated Capacity
t
0.25
0.5
1
2
3
5
Beam length
mm
2000~6000
Lifting height
mm
2000~6000
Lifting speed
m/min
8; 8/0.8
Travelling speed
m/min
10; 20
Turning speed
r/min
0.76
0.69
0.6
0.53
0.48
0.46
Turning degree
degree
360°
Duty Class
A3
Power source
380V, 50HZ, 3 phase (or other standard)
Working temperature
-20~40°C
Control model
Pendant pushbutton control or remote control
Girder
Weight overload protection device, Top quality long time bearing polyurethane materials buffer,
Crane traveling limit switch, Voltage lower protection function, Emergency stop system,
Current overload protection system and so on!
Design and
All the standards which are required for the crane are the I nternational standard and Chinese standard.
Construction Rule
Paintings
Primer and finishing paint
Color: according to your demand.
Average thickness: about 100 microns.
We are China Workshop Wall Mounted Swing Jib Crane manufacture and supplier,You can get more details with Email,you will get cheap price or factory price.
Tags:
Crane
,
Jib Crane
,
Wall Mounted Jib Crane