Workshop Mounted Semi Gantry Crane-Double Girder Gantry Crane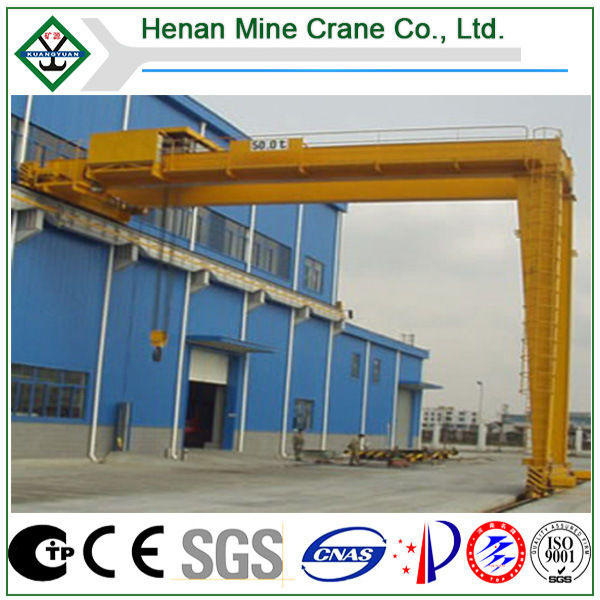 Workshop Mounted Semi Gantry Crane-Double Girder Gantry Crane image
Basic Info.
Main Girder Form
Double Girder
GB/T 24001-2004 Idt ISO14001: 2004
Passed
GB/T 19001-2000 Idt ISO 9001: 2000
Passed
GB/T 28001-2001, Ohsas18001: 1999
Passed
Polyurethane Material Buffer
Included
Current Overload Protection System
Included
Voltage Lower Protection Function
Included
Lifting Mechanism
Electrical Hoist
Transport Package
Exporting Standard
Specification
Chinese Standard
Origin
Xinxiang, Henan Province, China
Product Description
Workshop Mounted Semi Gantry Crane-Double Girder Gantry Crane
Reasonable structure, favorable performance, safe and reliable traveling, low noise, convenient and competitive price.
The semi crane could be used in outdoor or indoor.
Reasonable structure, favorable performance, smooth staring and stopping, safe and reliable traveling, low noise, commodious cabin with good view, convenient maintenance, electricity save, excellent exchangeability for parts and components.
Bridge crane, girder crane, portal crane, hoist, gantry crane are manufactured under ISO and Chinese national standard GB.
Some configuration can accord your demands:
1)Single or double speed of the electric hoisting speed.
2)Three control mode: Pendent line with press button control, remote control or cabin control.
3)It should be informed whether using indoor or outdoor, to fix windproof and rainproof devices.
4)The other feasible configuration user proposes.
Working condition:
Working temperature: -25-40degree
Working duty A3- A7
Power source: 380V 50Hz 3Phase. And we can design as your demands.
Components:
Girders of the crane are the welding construction, high degree of vertical and horizontal rigidity.
Main hook lifting speed: 0-3m/min. Trolley moving speed: 0-3m/min. Crane moving speed: 0-5m/min.
Electric wire rope hoist: Hoist hydraulic brake.
The decelerator, motor are famous brands or other brand according to customer requirement.
Many electric elements are chose under the customer required.
Customer Care:
Our philosophy is that the customer should be happy with the system performance and enormous improvement in work environment. And our aim is reducing the labor inputs for eternity working together with customer and ensuring that the work is executed to the utmost satisfaction of the customer.
Henan Mine Crane Company concentrate to have positive and flexible approach towards customer need through its comprehensive solution and service capabilities, professionally and cost effectively. As a company whose success derives from mains fully committed to develop close working partnership with its customer.
Welcome to contact us by E-mail or online, you will receive our prompt and careful reply!
We are China Workshop Mounted Semi Gantry Crane-Double Girder Gantry Crane manufacture and supplier,You can get more details with Email,you will get cheap price or factory price.
Tags:
Crane
,
Gantry Crane
,
Semi Gantry Crane