Workshop Floor/Colume Mounted Slewing Jib Crane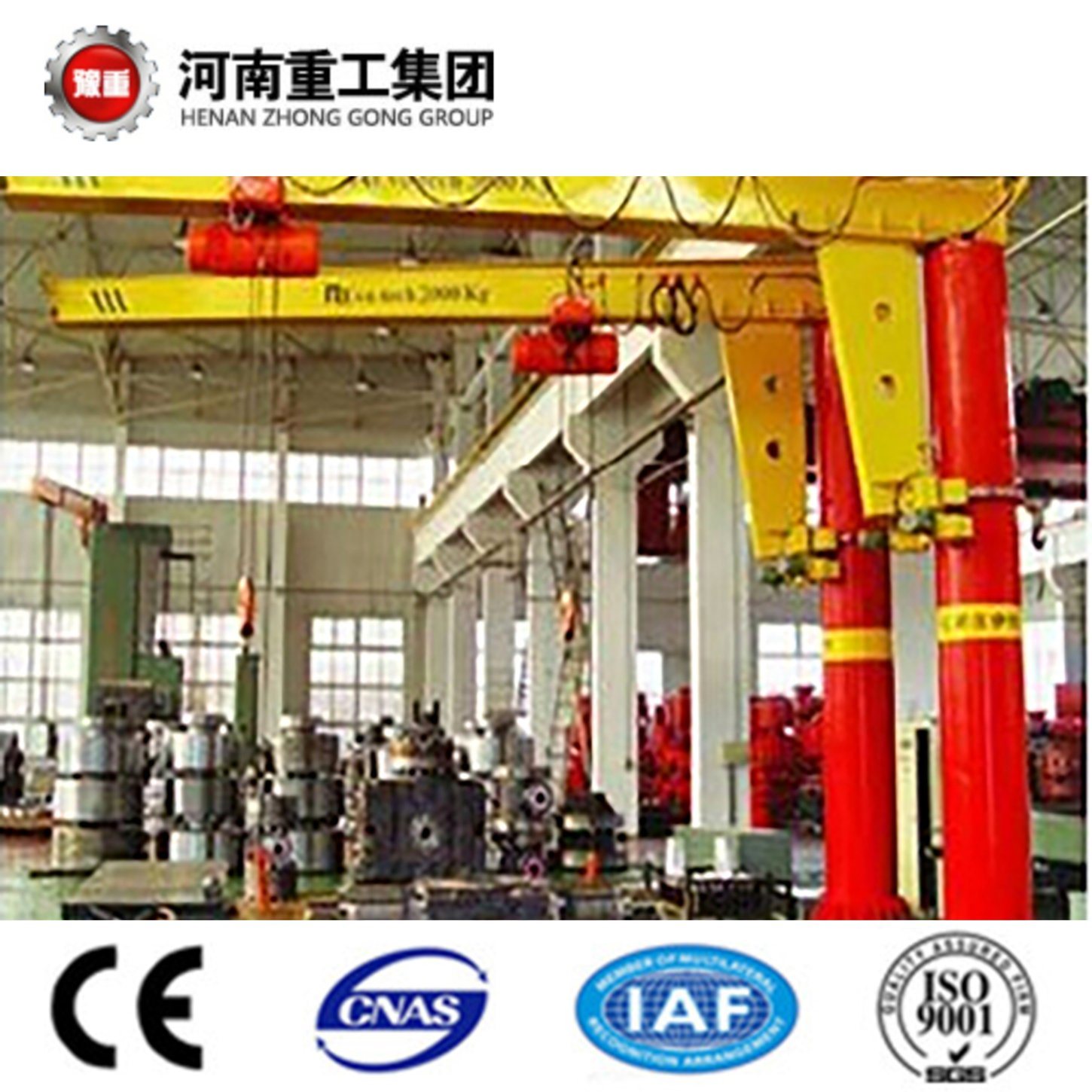 Workshop Floor/Colume Mounted Slewing Jib Crane image
Basic Info.
Lifting Capacity
0.25-20t
Max. Lifting Height
10m or Per Your Demand
Lifting Speed
0.8/8 M/Min
Trolley Travel Speed
20m/Min
Control Method
Pendant or Remote Control
Guarantee Period
12 Months
Transport Package
High Quality Plywood Crate and Plastic Woven Cloth
Specification
China Standard
Origin
Changyuan, Henan, China
Production Capacity
10000 PCS/Year
Product Description
About Company: Henan Zhonggong Group Crane Technology Co., Ltd
1. With more than 30 years development, Henan Zhonggong Group has 5 holding subsidiaries, covers an area of 240,000 square meters and 100,000 square meters construction area, possesses nearly 1000 sets various producing equipements, is a member unit of Bridge Crane branch of "China Heavy Machinery Industry Association". now we have 1200 staff of which more than 160 professional engineers and management colleagues, company has passed ISO9001, ISO14001 and OHSAS18001. Brand "YUZHONG" products have been granted titles such as "Top 10 brand Well-Known Cranes in China", "Well-Known Commodity in Henan Province" and "Henan Famous Trademark".
2. Group R&D Center has been recognized as the engineering technology research center of cranes for application at Xinxiang nuclear power station and serves as the only China R&D in the nuclear area. company can supply electrical hoist, single girder crane, double girder crane, gantry crane, overhead crane, grab, explosion-proofinsulation crane, hydraulic hoist, container handling crane, ship crane, metallurgic crane, quenched crane, elecromagnetic series crane and special crane for nulear power station.
About Product: BZ type Column Swing Level Jib Crane
SpecificationsHigh performance,energy and time saving,occupy less space, easy to install and flexible characters
Pillar-mounted Slewing Crane
Pillar-mounted slewing crane is recently developed mid-light lifting equipment, its unique mechanism, reliable safety is featured high performance, energy and time saving, occupy less space, easy to install and flexible characters. It could be operated in 3-D space, in short distance, densely lifting situations to show its advantages compared with common lifting equipment, widely used in different place of different trade.

It is composed by the vertical shaft, revolving arm, rotating shaft, hoist etc. The bottom of the vertical shaft is fixed on the concrete base.

The operation method of this crane contains manual and electric.

It has features of simple structure; operation is convenient, the manual working in the situation of no power supply.

It can be used in factory, mine, production line of workshop, assembly line, machine tool workshop, warehouse and pier etc. No flammable, explosive and corrosive gas in working environment, and prohibited to lift molten metals, toxic substances and dangerous goods.

Features:
Light weight
Durable
Reduces labor cost
Easy handling
Less time consuming
Multi-functional within Work Area
Variety of options available for indoor and outdoor applications
Mast Fabricated from Pipe/Rolled Steel Sections
Thick base plate for rigidity
Double roller self aligned type bearings with thrust & roller bearings for horizontal & vertical loading as well as radial thrust
Positive full 360 degree rotation duly insulated brass swing springs with pantograph current collectors provided
Base plate readily drilled to take six/eight holding down bolts

Safety
Overload protection
Main lifting motor with thermal protection
Hooks with latch
Rubber buffers
Protective earthing
Crane switch and travel end switch
Emergency switch can stop all movement when any dangerous happened
Sub-assemblies characteristic are tested before assembly
All cranes must be pre-assmebled and tested before leaving factory and offer the certification of test.<o:p>

Design and construction rules:
All the standards which is required for the crane is the Chinese standard.
Pls let us know the below details when you send enquiry:
1. What is the load capacity you need?
The maximum weight of your application must not exceed the lifting capacity of your crane.
2. What is the degree of rotation required?
Most free standing jib cranes offer 360° rotation where as wall mounted types offer 180° rotation.
3. How long of an outreach is needed?
The distance from the boom tip to the hook, which will also define the working area needed.
4. What is the under boom height required?
Distance from the floor to the underside of the boom, which will determine the type of hoist required.
5. What type of installation is required?
Location will dictate the type of jib crane needed as free standing cranes require concrete foundations which sometimes costs more than the jib crane.
We are China Workshop Floor/Colume Mounted Slewing Jib Crane manufacture and supplier,You can get more details with Email,you will get cheap price or factory price.
Tags:
Colume Crane
,
Crane
,
Jib Crane