Workshop Electric Hoist Crane Eot Crane-Single Girder Electric Hoist Traveling Overhead Crane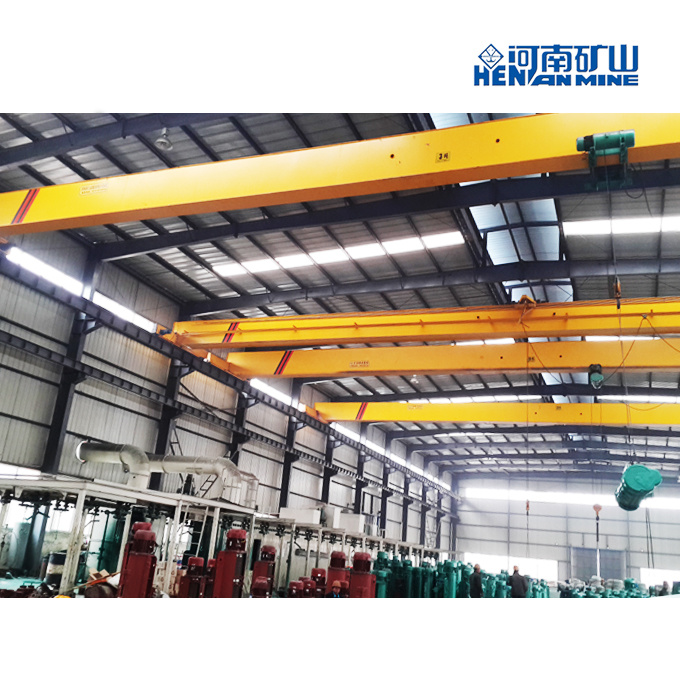 Workshop Electric Hoist Crane Eot Crane-Single Girder Electric Hoist Traveling Overhead Crane image
Basic Info.
Weight Overload Protection Device
Include
Voltage Lower Protection Function
Include
GB/T 24001-2004 Idt ISO14001: 2004
Pass
GB/T 19001-2000 Idt ISO 9001: 2000
Pass
Painting Color
According to Your Demand
Current Overload Protection System
Include
GB/T 28001-2001, Ohsas18001: 1999
Pass
Electric Hoist Double Limit
Include
Transport Package
Packed by Plywood Crate and Plastic Woven Cloth.
Specification
China National standard
Origin
Xinxiang, Henan Province
Production Capacity
29, 000 Sets/Year
Product Description
Workshop electric hoist crane Eot Crane-Single Girder Electric Hoist Traveling Overhead Crane

Product Description
Single Beam Overhead Traveling Bridge Crane
Lifting capacity (T)

1, 2, 3, 5, 10T
16, 20T
Span(M)
7.5-22.5M
Crane travelling mechanism
Travelling speed(m/min)
20
30
45
60
75
20
30
45
60
75
Reducer ratio
58.78
39.38
26.36
19.37
15.88
58.78
39.38
26.36
19.37
15.88
Motor
Model
ZDY21-4
ZDY21-4
ZDY122-4
ZDY131S-4
ZDY112L1-4
Power(kw)
2× 0.8
2× 1.5
1.5× 2
2.2× 2
2.2× 2
Rotation (m/min)
1380
1380
Lifting mechanism
(electric hoist)& electric hoist travelling mechanism
Electric hoist model
CD1/MD1
MD1/HC
Lifting speed (m/min)
8, 8/0.8 7, 7/0.7
3.5 3.5/0.35
Lifting height (m)
6, 9, 12, 18, 24, 30
12, 18, 24, 30
Travelling speed (m/min)
20(30)
20(30)
Motor
Taper Squirrel-cage type
Taper Squirrel-cage type
Work duty
A3
Power supply
380V 50HZ three phase, as your demand
Wheel diameter
270mm
370mm
Width of trail
37-70mm
37-70mm
Our LDC series single girder overhead crane has reasonable and optimized structure, maximum meet the needs in strength, stiffness and stability. To fully satisfying different customer requirements, the company takes full advantages of combining crane design with site condition, flexible box section designing structure and maintenace friendly feature, possibly make every step easy and individual. With computer optimization design box beam, low dead weight effectively reduces the cost in which workshop built with steel structure.
LDC electric single-girder crane is composed of gider weld by steel plate and I-steel, end girder, electric hoist and traveling machnism. The electric hoist runs along the lower flange of the girder to accomplish article hoisting. It features light structure and easy installation and matainance. It is widely used for different places for hoisting such as factories, warehouses and material yards.

We could supply you all kinds of industry cranes from 0.25tons to 900tons, pass GB/19001-2000idt ISO 9001: 2000, GB/T 24001-2004 idt ISO 14001: 2004, GB/T 28001-2001, OHSAS 18001: 1999, CE and so on.
Safety feature:
Weight overload protection device, Top quality long time bearing polyurethane materials buffer, Crane traveling limit switch, Voltage lower protection function, Emergency stop system, current overload protection system and so on!
Control method:
Pendent line with press button or remote control or cabin or both
Crane girder:
The crane girder is of welded girder construction. This result in lower dead weight with a high degree of vertical and horizontal rigidity and small wheel loads being transmitted to the crane runway!
Painting:
Primer and finishing paint
Color: According to your demand.
Average thickness: About 100 microns.
We are China Workshop Electric Hoist Crane Eot Crane-Single Girder Electric Hoist Traveling Overhead Crane manufacture and supplier,You can get more details with Email,you will get cheap price or factory price.
Tags:
Bridge Crane
,
Crane
,
Eot Crane