Workshop Design Swf Hoist Eot Crane-Single Girder Electric Hoist Overhead Crane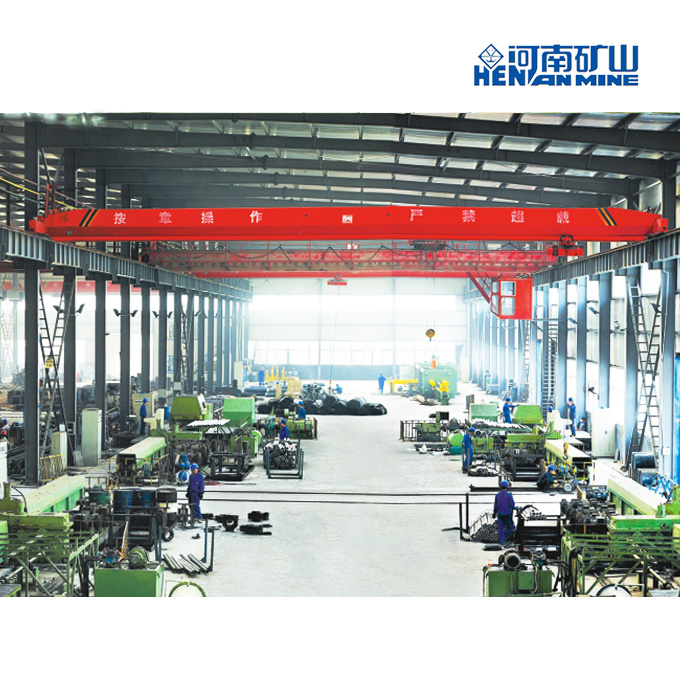 Workshop Design Swf Hoist Eot Crane-Single Girder Electric Hoist Overhead Crane image
Basic Info.
Weight Overload Protection Device
Include
Voltage Lower Protection Function
Include
GB/T 24001-2004 Idt ISO14001: 2004
Pass
GB/T 19001-2000 Idt ISO 9001: 2000
Pass
Painting Color
According to Your Demand
Current Overload Protection System
Include
GB/T 28001-2001, Ohsas18001: 1999
Pass
Electric Hoist Double Limit
Include
Transport Package
Packed by Plywood Crate and Plastic Woven Cloth.
Specification
China National standard
Origin
Xinxiang, Henan Province
Production Capacity
29, 000 Sets/Year
Product Description
Workshop Design Swf hoist Eot Crane-Single Girder Electric Hoist Overhead Crane
Specifications
Lifting capacity (T)

1, 2, 3, 5, 10T
16, 20T
Span(M)
7.5-22.5M
Crane travelling mechanism
Travelling speed(m/min)
20
30
45
60
75
20
30
45
60
75
Reducer ratio
58.78
39.38
26.36
19.37
15.88
58.78
39.38
26.36
19.37
15.88
Motor
Model
ZDY21-4
ZDY21-4
ZDY122-4
ZDY131S-4
ZDY112L1-4
Power(kw)
2× 0.8
2× 1.5
1.5× 2
2.2× 2
2.2× 2
Rotation (m/min)
1380
1380
Lifting mechanism
(electric hoist)& electric hoist travelling mechanism
Electric hoist model
CD1/MD1
MD1/HC
Lifting speed (m/min)
8, 8/0.8 7, 7/0.7
3.5 3.5/0.35
Lifting height (m)
6, 9, 12, 18, 24, 30
12, 18, 24, 30
Travelling speed (m/min)
20(30)
20(30)
Motor
Taper Squirrel-cage type
Taper Squirrel-cage type
Work duty
A3
Power supply
380V 50HZ three phase, as your demand
Wheel diameter
270mm
370mm
Width of trail
37-70mm
37-70mm
Description
Top running Low Head Room Single Girder Bridge Crane commonly called a bridge crane, is a type of crane found in industrial environments. An overhead crane consists of parallel runways with a traveling bridge spanning the gap. A hoist, the lifting component of a crane, travels along the bridge.
Application
LDA is most widely used in workshops, warehouses and material yards. The electric hoist runs along the lower flange of the I-steelof the girder to accomplish the material handling.
Features
1.Characterized by more compact structure and higher strength steel as a whole, LD consists of the girder, end carriages, electric hoist, long traveling mechanism, cabin or hand controller, and electrical control system.
2. Motors: is with top quality in China or other brand according to your requirement.
3. Span:7.5-22.5m, and can also be customized according to your requirement.
4. The whole body is processed by medium-frequency quenching technology, and intensity, rigidity and tenacity.
All the metal is processed by shot-blasting technology and can largely increase the intensity.
Safety system:
1. Overload protection device
2. Emergency brake
3. Rubber buffers
We are China Workshop Design Swf Hoist Eot Crane-Single Girder Electric Hoist Overhead Crane manufacture and supplier,You can get more details with Email,you will get cheap price or factory price.
Tags:
Bridge Crane
,
Crane
,
Eot Crane