Wire Rope Hoist, Electric Hoist, Hoist Crane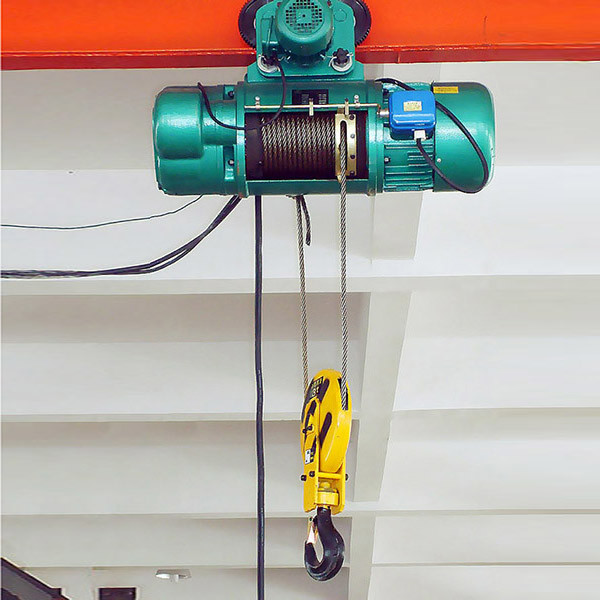 Wire Rope Hoist, Electric Hoist, Hoist Crane image
Basic Info.
Certification
CE, ISO9001:2000, SGS
Travel Speed
20m/Min or 30m/Min
Control
Pendant Control, Remote Control
GB/T 19001-2000 Idt ISO 9001: 2000
Pass
GB/T 24001-2004 Idt ISO140012004
Pass
B/T 28001-2001, Ohsas180011999
Pass
Main Electrical Parts
Siemens or Chint Brand
Motor
Nanjing or Nanjing Special Motor
Weight Overload Protection Device
Include
Transport Package
High Quality Plywood Crate.
Specification
International standard
Origin
Xinxiang, Henan Province, China
Production Capacity
20000sets/Year
Product Description
Wire rope hoist, electric hoist, hoist crane
Wire Rope Electric Hoist Lifting Tools (CD or MD):
CD, MD series Electric hoist is a kind of light-small lifting equipment with advantages of tight structure light, small volume, wide common use and convenient operation etc. If reducer with hard gear surface are applied, it will have long lift and high mechanical efficiency, conic rotor brake motors are equipped which has safety limiter in both up and down directions.
MD type electric hoists have fast and slow lifting speed which makes it lift steadily and accurately.
CD, MD type wire-rope electric hoists can be widely used to hoist heavy objects or installed on the straight or curve I-steel beam of single-girder cranes, they can also be used tighter with electric hoist double girder gantry crane and slewing cranes. All the above has made the electric hoists common in industrial and mine enterprises, railway, wharfs and warehouses.
Electric wire rope hoist is assembled from different independent units via hoisting gear box, hoisting motor with brake, rope drum, electric control panel and traveling trolley. All these units are separately accessible and promptly disassembled cost and downtime.
Motor: Hoist motor is a taper type rotor motor with braking, it is made by Nanjing Special Motor Factory, it is the best quality motors, it has bigger torque, so it can be adapted to moving frequently, the Maximum torque is 2.4-3times than the rated torque.
Gear Box: Hoist Gear Box has specially treated gears for high wear resistance. Each Geared Shaft assembly is supported on ball or roller bearings, to ensure smooth, low-friction operation.
Wire rope: Hoisting rope complies with the exporting standards. The leading rope taken by the Drum does not lip sideways when slack. The factor of safety, on the nominal breaking strength of the rope is six.
Rope Drum: Grooved Drum, seamless pipe of adequate length to be wounded in one layer and to provide proper support for the rope to minimize abrasive wear is provided. Drum Shaft resolves on Ball Bearing for ensuring smooth running.
Electric apparatus controlling system: CD and MD model is composed of the contactor box, controlling switch, cut-off limiter. The working voltage of controlling switch is 380V, 36V or 24V (safety voltage).
Rope Guide: Rope Guide is in two halves, ensuring easy accessibility. It encircles the Drum completely so that the rope may not uncoil even when the hoist is in unloaded condition. The rope guides of our company is thickened and dilated, so that it is not easy to be damaged.
Hook: The hook block is tested to 150% of full load before assembly. The rope sheaves are fully guarded with protective steel casting. All sheaves rotate on ball bearing. The pulley is thickened and dilated than domestic common pulley.
In the meanwhile, our company could produce other kinds of electric wire rope hoists, such as the capacity is 16tons, 20tons, the lifting height is available from 30meters to 100meters more, single drum and hook pulley modify double drum and double hook pulley. Even the motor voltage may be modified according the client's requirement.
Model
CD1 MD1
Capacity
Tons
0.25
0.5
1
2
3
5
10
16
Hoisting height
M
3, 6, 9
6, 9, 12
6, 9, 12, 18, 24, 30
9, 12, 18, 24, 30
Hoisting speed
M/MIN
8(0.8/8)
8(0.8/8)
8(0.8/8)
7(0.7/7)
3.5 (0.35/3.5)
Travel speed
M/MIN
20
20/30
20/30
20/30
20/30
20/30
20/30
18
Wirerope
Dia. (mm)
3.6
4.8
7.4
11
13
15
15
17.5
Spec.
6×39
6×37+FC
6×37+FC
6×37+FC
6×37+FC
Hoisting motor
Type
Type
ZD112-4
ZD121-4
ZD122-4
ZD131-4
ZD132-4
ZD141-4
ZD151-4
ZD151-4
ZDS1 0.2/0.8
ZDS1 0.2/1.5
ZDS1 0.4/3.0
ZDS1 0.4/4.5
ZDS1 0.8/7.5
ZDS1 1.5/13
ZDS1 1.5/13
Power
Power(kW)
0.4
0.8(0.2/0.8)
1.5(0.2/1.5)
3.0(0.4/3.0)
4.5(0.4/4.5)
7.5(0.8/7.5)
13(1.5/13)
13(1.5/13)
Rotation speed
Rotation speed(r/min)
1380
1380
1380
1380
1380
1400
1400
1400
Current
(A)
1.25
2.2(0.72/2.4)
4.3(0.72/4.3)
7.6(1.25/7.6)
11(2.4/11)
18(2.4/18)
30(5.2/30)
30(5.2/30)
Travel motor
Type
Type
ZDY110-4
ZDY111-4
ZDY111-4
ZDY112-4
ZDY112-4
ZDY121-4
ZDY121-4
ZDY121-4
Power
Power(kW)
0.06
0.2
0.2
0.4
0.4
0.8
0.8×2
0.8×2
Rotation speed
Rotation speed(r/min)
1400
1380
1380
1380
1380
1380
1380
1380
Current
Current(A)
0.3
0.72
0.72
1.25
1.25
2.4
2.4
2.4
Power
AC 380V, 50HZ, 3P(As your demand)
We are China Wire Rope Hoist, Electric Hoist, Hoist Crane manufacture and supplier,You can get more details with Email,you will get cheap price or factory price.
Tags:
Electric Chain hoist
,
Electric Hoist
,
Wire Rope Hoist