Wire Rope for Electric Hoist Pendent Button Control (CD/MD)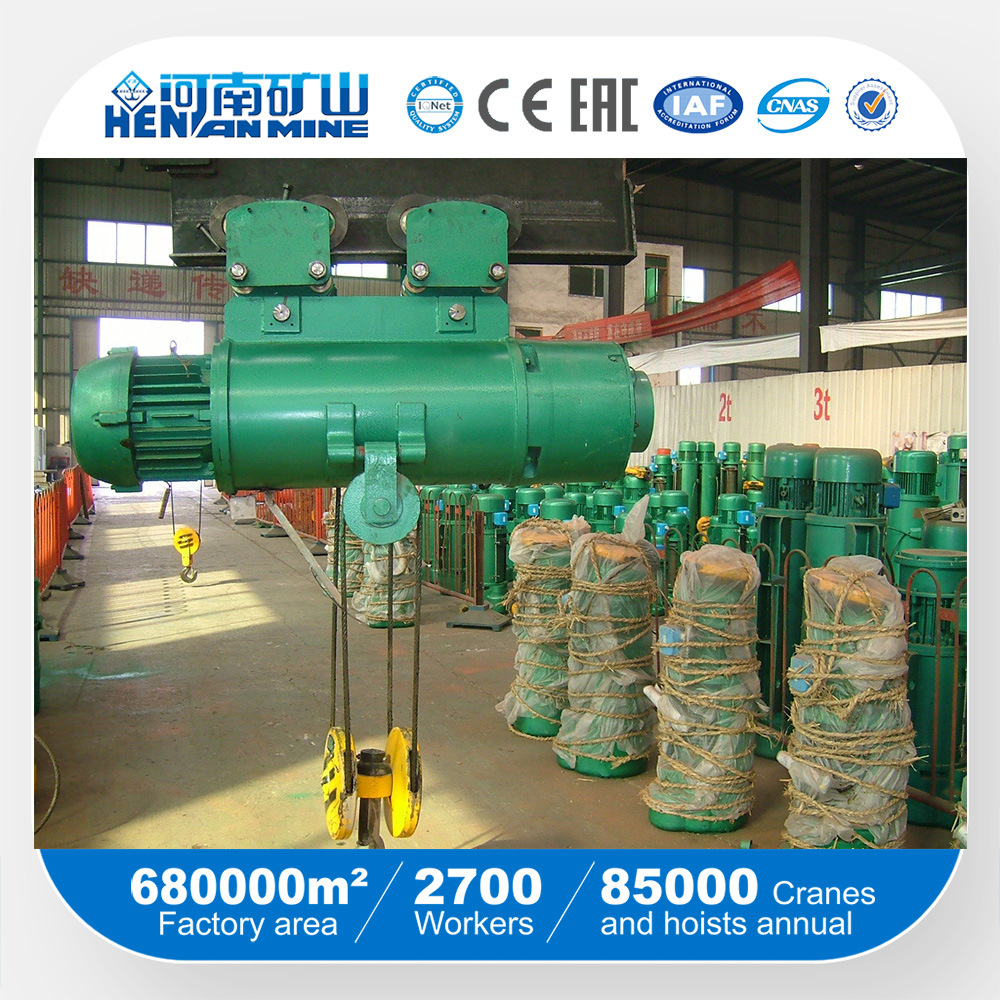 Wire Rope for Electric Hoist Pendent Button Control (CD/MD) image
Basic Info.
Certification
CE, ISO9001:2000, GOST
Color
According to Your Demand
GB/T 19001-2000 Idt ISO 9001: 2000
Pass
GB/T 24001-2004 Idt ISO140012004
Pass
B/T 28001-2001, Ohsas180011999
Pass
Main Electrical Parts
Siemens or Chint Brand
Motor
Nanjing or Nanjing Special Motor
Weight Overload Protection Device
Included
Transport Package
Exporting Standard
Specification
International Standard
Origin
Xinxiang(Crane Hometown), Henan Province, China
Production Capacity
20000sets/Year
Product Description
Wire rope control for electric hoist (CD/MD)

Wire Rope Electric Hoist (CD or MD) are widely used and very popular among user because of their characteristics of tight structure, smart body, safety and reliability, common-used parts, well changeable property, strong lifting capacity as well as convenient maintenance.
The hoists exist in form of stationary Style and crab-style. The former is divided into four styles that is, A1, A2, A3, and A4 according to the position (up, down, left, and right) of the fixed trestle. It can be installed directly on the frame. The latter with movable function can be installed on the track. CD1 model lifts with single speed, and MD1 model not only with usual speed but also with low speed.
On such a basis, CD1 (GD), MD1 (GDS) and WH164 20t, 32t are developed by our technicians. They share the same structure principles and installation ways with the original CD1 and MD1. The following contents all take CD1 and MD1for example.
Our running scope mainly lies in series of electric hoist with 0.25~32t load and 3m~30m height. In addition, your special needs shall be met and non-standard hoists shall be manufactured.
Wire rope Electric Hoist is assembled by several parts: Hoisting Gear Box, Hoisting Motor with brake, Rope Drum, Electric Control Panel and Traveling Trolley. All these units are separately accessible and promptly disassembled cost and stopped.
Motor: Hoist Motor is a taper type rotor motor with braking, it is made by Nanjing special motor factory, it is of the best quality motors, it has bigger torque, so it can be adapted to moving frequently, the Maximum torque is 2.4-3 times than the rated torque.
Gear Box: Hoist Gear Box has specially treated gears for high wear resistance. Each Geared Shaft assembly is supported on ball or roller bearings, to ensure smooth, low-friction operation.
Wire Rope: Hoisting ropes comply with the exporting standards. The leading rope taken by the Drum does not slip sideways when slack. The factor of safety, on the nominal breaking strength of the rope is six.
Rope Drum: Grooved hoist Drum, seamless pipe of adequate length to be wounded in one layer and to provide proper support for the rope to minimize abrasive wear is provided. Drum Shaft resolves on Ball Bearings for ensuring smooth running.
Electric apparatus controlling system: Model CD1 and MD1 hoist is composed of the contactor box, controlling switch, cut-off limiter, the working voltage of controlling switch is 380V,36V or 24V(safety voltage).
Rope Guide: Rope Guide is in two halves, ensuring easy accessibility. It encircles the Drum completely so that the rope may not uncoil even when the Hoist is in unloaded condition. The rope guides of our company is thickened and dilated, so that it is not easy to be damaged.
Hook: The Hook Block is tested to 150 % of full load before assembly. The rope sheaves are fully guarded with protective steel casting. All sheaves rotate on ball bearing the pulley is thicken and dilated than domestic common pulley.
It is not suitable for CD1 in the condition needed precise adjusting work such as precise installing, Clamping work, sand mode casting and so on, it needs to choose the MD1 wire rope electric hoist whose lifting speed is double.
Technical Parameters
Our Company
Packing Delivery
Customer Photos
Our Service

| | |
| --- | --- |
| Pre-Sales Service | After-Sales Service |
| 1. One to one service guarantees you the best purchasing experience. | 1. One year warranty for whole machines |
| 2. Strong production capacity and professional workmen guarantee you the short delivery. | 2. Providing free quick-wear part |
| 3. Strict delivery inspection guarantees you the high quality products. | 3. Low charge for continue maintenance when warranty is expired |
| 4. The short delivery time | 4. Exclusive engineer support at any time. |
| | 5. Highly professional training to end-users |
FAQ
Please confirm these parameters of the crane
the lifting weight_____t?
the hoisting speed_____m/min?
the hoisting height_____m?
the traveling speed_____m/min?
the frequent of the crane, ____ times a day?
We will recommend an suitable kind of hoist for you, we are here for you.
We are China Wire Rope for Electric Hoist Pendent Button Control (CD/MD) manufacture and supplier,You can get more details with Email,you will get cheap price or factory price.
Tags:
Electirc Hoist
,
Wire Rope Control for Electric Hoist
,
Wire Rope Hoist