Wire Rope Electric Metallurgy Hoist (YH Model)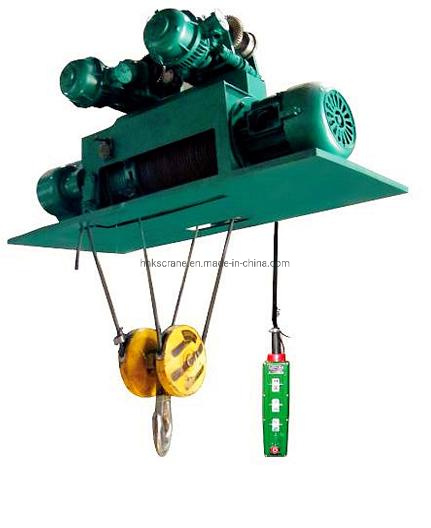 Wire Rope Electric Metallurgy Hoist (YH Model) image
Overview
Product Description
Detailed Photos
Product Parameters
Our Advantages
FAQ
Basic Info.
Certification
CE, ISO9001:2000, GOST BV
Weight Overload Protection Device
Include
Voltage Lower Protection Function
Include
GB/T 24001-2004 Idt ISO14001: 2004
Pass
GB/T 19001-2000 Idt ISO 9001: 2000
Pass
Painting Color
According to Your Demand
Current Overload Protection System
Include
GB/T 28001-2001, Ohsas18001: 1999
Pass
Industrial Voltage
According to Your Demand
Electric Hoist Double Limit
Include
Transport Package
Packed by Plywood Crate All by Export Standard
Specification
China National standard
Origin
Xinxiang, Henan Province
Production Capacity
28, 000 Sets/Year
Product Description
Wire Rope Electric Metallurgy Hoist
YH series electric hosit for metallurgy is a metallurgy crane equipment mainly used for lifting molten metal. Its lifting capacity is less than or equal or equal to 10T and lifting height is less than or equal to 20m. The working environment temperature is -10~60 centigrade and relative humidity is less than 50% under the condition of 40 centigrade temperature.
Electric hoist has many protection functions such as double braking/double spacing/heat insulation plate and so on.
Metallurgy electric hoist is a perfect light-duty metallurgy hoisting equipment that can be used together with LDY type metallurgy single girder crane and can be installed under workshop fixed suspending rail to use individually.
Design and manufacture of metallurgy electric hoist meet the requirements of AQSIQ Doc#(2007)375. Other situation that lifts fusion non-metallic material or hot solid metal also can refer!
1)In which CD1, MD1 electric hoist rope on the basis of the design used exclusively for hoisting the molten metal or other high temperature solid-state items of metallurgy electric hoist rope.
2)Fixed aerial track on independent use, is small and medium-sized metallurgy workplaces safe and reliable light small special lifting equipment.
3)The electric hoist brake and set up double not only set up a double ShengXian a and falling spacing device, and at the same time set over current protection, pressure loss protection, sequence protection, the weight limit device, speeding down overloaded power DuoZhong protection safety protection devices. To enhance the security of electric hoist performance.
4)The insulation of the motor for H level by level, this 6 x 371 WR wire rope meet the conditions of production needs. Metallurgical.
Type
Single speed electric wire rope hoist
Cap.
t
0.25
0.5
1
2
3
5
10
16
20
Hook Path
m
3/6/9/12/18/24/30
Speed
Hoisting
m/min
8
7
3.5
4
Travelling
20/30
Wire
Rope
Dia.
mm
3.6
4.8
7.7
11
13
15
17.5
19.5
Construction
6*19
6*37+1
6*37+1
6*37+1
6*37+1
6*37+1
6*37+1
6*37+1
6*37+1
Track
16-22b
16-28b
16-28b
20a-32c
20a-32c
25a-45c
32b-63c
45b-63c
56b-63c
Motor
Hoisting

Type

ZD112-4

ZD121-4

ZD122-4

ZD131-4

ZD132-4

ZD141-4

ZD151-4

ZD151-4

ZD152-4
Power
kw
0.4
0.8
1.5
3
4.5
7.5
13
13
18.5
Rotation
speed
r/min
1380
Current
A
1.25
2.4
4.3
7.6
11
18
30
30
41.7
Travelling
Type
ZDY110-4
ZDY110-4
ZDY111-4
ZDY112-4
ZDY112-4
ZDY121-4
ZDY121-4
ZDY121-4
ZDY121-4
Power
kw
0.06
0.2
0.4
0.8
0.8*2
Rotation
speed
r/min
1400
1380
Current
A
0.3
0.72
1.25
2.4
Connecting Times
120
Working system
intermediate FC=25%
Power source
3P AC 380V 50Hz or according to your requirements
Henan Mine Crane Co., Ltd. was established in 2002 with a registered capital of 1.177 billion yuan, construction area of 1.62 million square meters, more than 4500 employees and more than 3500 sets of advanced processing equipment.
Specializing in the R & D, production, sales and service of more than 110 kinds of cranes and supporting parts in three series of "Kuangyuan" brand bridge cranes, gantry cranes and electric hoists.
Our company is a national high-tech enterprise with a technical team composed of more than 10 industry top experts and more than 200 middle and senior engineers. It is responsible for the innovative design and development of products. At present, it has obtained more than 300 national patents and provincial scientific and technological achievements
In 2020, the production and sales of all kinds of single beam and double beam lifting equipment will be nearly 100,000 sets, with sales of 5.675 billion yuan and tax payment of 205 million yuan. The company has 428 sales and service organizations all over the country, serving more than 6000 medium and high-end customers, and has made remarkable achievements in more than 50 key industries such as aerospace, automobile and ship, steel smelting, petrochemical industry, electronic information, electric power industry, water conservancy, railway and military industry.
The developed intelligent storage crane, precision positioning crane, automatic container gantry crane, nuclear grade special crane, clean explosion-proof automatic crane, multi fulcrum flexible crane, simulated maritime rescue crane and other sophisticated products serve Baosteel, China Railway, MCC, CNNC, AVIC and other large enterprises. The products cover more than 80 countries and regions.

We have rich experience in production and export:
We have exported our cranes to Australia, Bangladesh, Iraq, Pakistan, Philippines, USA, Egypt, Peru, India, Turkmenistan, Singapore, Ethiopia, South Africa, Saudi Arabia, Malta, Albania, Ukraine, Vietnam, Kenya, Nigeria, UAE, Cameroon, Uruguay, Bahrain, Thailand, Kazakhstan, Germany, Sultan,
Chile, Oman, Romania, Malaysia, Armenia, Jordan and so on, received good confirmation and welcomed from them!
We are China Wire Rope Electric Metallurgy Hoist (YH Model) manufacture and supplier,You can get more details with Email,you will get cheap price or factory price.
Tags:
Electric Hoist
,
Metallurgy Hoist
,
Small Electric Hoist