Winch Trolly Type Double Girder Casting Overhead Crane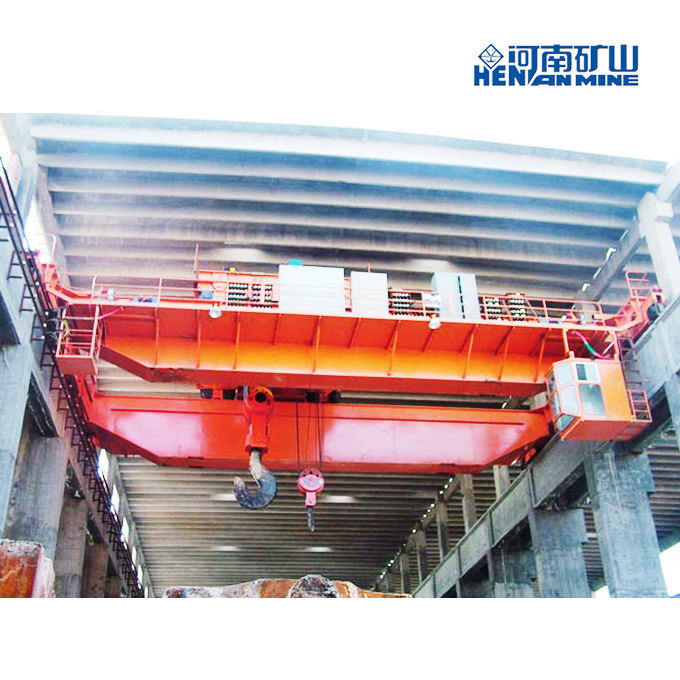 Winch Trolly Type Double Girder Casting Overhead Crane image
Basic Info.
Crane Hook
Forged Hook to Resist High Temperature
Control Method
Cabin Control with Automatic Control Panel
Motor
Casting Motor to Resist Harsh Working Condition
Cable
High Temperature Type Cable
Polyurethane Material Buffer
Included
Current Overload Protection System
Included
Voltage Lower Protection Function
Included
Lifting Mechanism
Movable Heacy Duty Trolley System
Main Electrical Parts
Siemens Brand
Capacity
2t, 3t, 5t, 10t, 15t, 16t, 20t, 25t, 30t, 32t~500t
Transport Package
Exporting Standard
Specification
Chinese Standard
Origin
Xinxiang, Henan Province, China
Production Capacity
6000sets/Year
Product Description
Product Description
Casting Bridge Overhead Crane for Foundry (YZ Model)
The kind of casting overhead crane is designed and manufactured by international standards with great variety and superior quality which can meet the crafts and transport of large and medium-sized steel plants or steel mill. The main products are: Feeding, casting, stripper, tongs, roll tongs, electromagnetic beam five, six purpose carrier beam, quenching, forging, multi-functional aluminum-refined machine group, etc.
Processing Facility
Main product showcase
Packaging & shipment

Safety features:
1. Overhead protection: If the material is over the capacity, the crane will give a sharp warning for protection itself.
2. Emergency brake: If the operation staff encounters some emergency situation, we could start the emergency brake system to protection the related treasure.
3. Control Method: Room control or remote control to avoid any injures to the operation staff.
4. Main lifting motor: With thermal protection and currency protection.
Crane girder:
The casting crane girder is of welded girder construction. This result in lower dead weight with a high degree of vertical and horizontal rigidity and small wheel loads being transmitted to the crane runway! Also the crane girder have thermal insulating layer on the crane girder bottom to resist the ladle mouth hight temperature.
Design and construction rules:
All the standards which are required for the crane are the Chinese standard.
Painting:
Primer and finishing paint.
Color: According to your demand.
Average thickness: About 100 microns.
We design and manufacture custom-built cranes according to customer specifications. When you order the cranes from us, please give us the detail of your requirements and your using situation, we will be the one to ensure what we offer is totally according to your requirement. And our components are designed with the idea of adjustment free and according to the lift time of the crane, so you can always rely on the functioning of the cranes.
Customer Care:
Our philosophy is that the customer should be happy with the system performance and enormous improvement in work environment. And our aim is reducing the labor inputs for eternity working together with customer and ensuring that the work is executed to the utmost satisfaction of the customer.
Henan Mine Crane Company concentrate to have positive and flexible approach towards customer need through its comprehensive solution and service capabilities, professionally and cost effectively. As a company whose success derives from mains fully committed to develop close working partnership with its customer.
Welcome to contact us by E-mail or online, you will receive our prompt and careful reply!
| | | |
| --- | --- | --- |
| Title | Unit | Specs |
| Load: | Gn | 80T,100T,125T,160T,200T,250T,320T,500T |
| Span: | S | 7.5m-30m |
| Lifting Height: | H | 6m-30m |
| Power source | | 3p A.C 50HZ 380V |
| Class: | jc | A7,A8 |
We are China Winch Trolly Type Double Girder Casting Overhead Crane manufacture and supplier,You can get more details with Email,you will get cheap price or factory price.
Tags:
Double Girder
,
Overhead Crane
,
Overhead Crane for Foundry