Travel Lift Boat Lifting Gantry Crane Used for Boat Yacht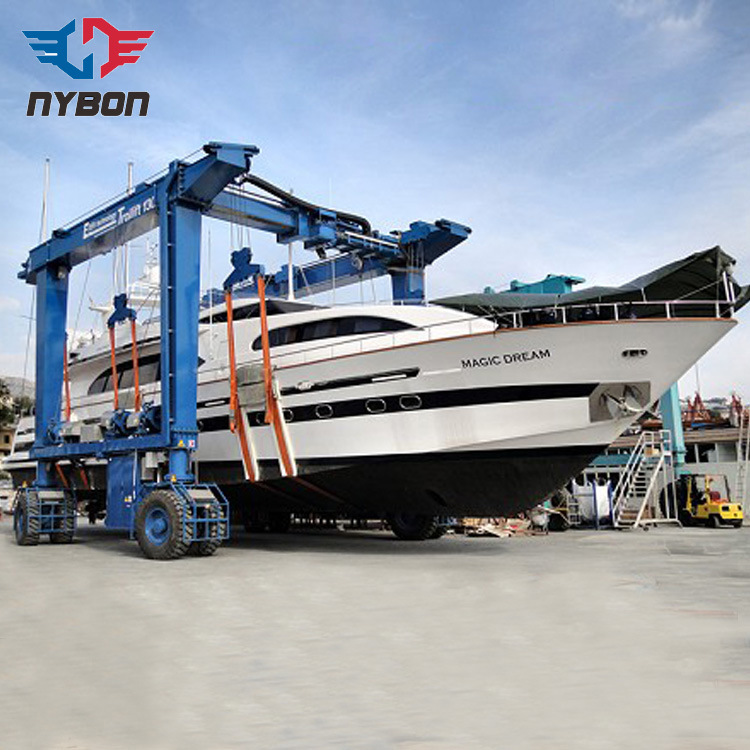 Travel Lift Boat Lifting Gantry Crane Used for Boat Yacht image
Basic Info.
Operation Form
Air Operation+Ground Operation
Type
Shipbuilding Gantry Crane
Main Girder Form
Double Girder
Product Name
Travel Lift Boat Lifting Gantry Crane Used for Boa
Application
Yacht Manufacturing
Max. Lifting Height
3~20m
Transport Package
Wooden Package & Container
Origin
Henan Province, China
Production Capacity
100 Sets Per Month
Product Description

Travel Lift Boat Lifting Gantry Crane Used for Boat Yacht
Description:
Rubber tyred gantry crane for boat lifting is used for shipyard, yacht club, and water entertainment center, and navy,, mainly
used for boat repair and maintenance work, whose rated capacity is 25~800t, full hydraulic drive, used flexible lifting belt to pull the
boat bottom, multi-point lifting at the same time. Running and steering method is diverse, General speaking,
it can be straight running, skew running, cross running, yaw running and pivot running. Our clients can choose different
configurations according to their needs.
Parts show :
Rubber tyred gantry crane for boat lifting is composed of leg, longitudinal beam, cross beam, hydraulic winch, crane
travelling mechanism, hydraulicpump station, diesel unit and so on.
Product features:
1, It can realize 12 walking functions such as straight line, oblique line, transverse line, in-place rotation and Ackerman
turning etc.to meet the requirements of different working conditions. And it have 4% climbing ability;
2, It adopts all-hydraulic driving , built-in diesel generator to provide power, good liquidity;
3, Adopt the way that travelling mechanism is hinged to longitudinal beam to eliminate the stress caused by uneven road
surface when walking;
4, Lifting mechanism adopts the load-sensitive hydraulic system, the lifting point distance can be adjusted to keep the
simultaneous lifting of multi-lift points and output power according to the load conditions, so that the energy consumption of
the whole machine is reduced.
Product installation
Testing and debugging:
1. Q: What's your MOQ?
A: 1 Set;
2. Q: What's your package?
A: Main body in plywood box or in plastic woven cloths; Spare parts in plywood boxes;
3. Q: What's your delivery period?
A: Within 10/25/40 days after your prepayment received; exact period should be based on detailed requirements
and actual period;
4. Q: What's your warranty period?
A: 12 months from winches accepted;
5. Q: Do you have engineer oversea installation service?
A: Yes; We have;
6. Q: What kinds of products do you have?
A: All kinds of industrial electric winch (especially non-standard); Overhead Crane; Gantry Crane, Electric Hoist;
Screw Hoist; Radial/Flat Gate Hoist; Steel Gate; etc.
7. Q: Do you provide lift tools?
A: Yes, we can provide any kinds of lift tools such as lift sling belt, lift clamp, grab, magnet , pulley blocks, hook,
lock catch, wire rope, fiber rope, etc.
8. Q: Could your winches drag inclined?
A: Yea, our electric winches could drag horizontal, drag inclined, hoisting vertical.

We are China Travel Lift Boat Lifting Gantry Crane Used for Boat Yacht manufacture and supplier,You can get more details with Email,you will get cheap price or factory price.
Tags:
Gantry Crane
,
Travel Lift Boat Lifting Gantry Crane Used for Boat Yacht
,
Yacht Lift Gantry Crane