Single Speed Monorail Electric Wire Rope Hoist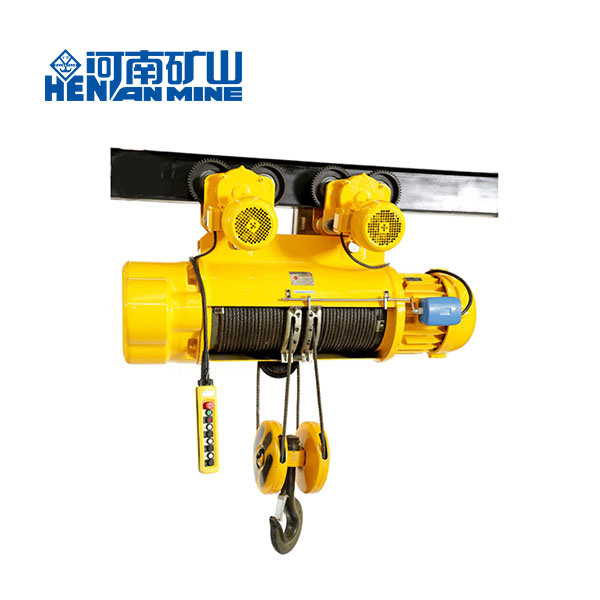 Single Speed Monorail Electric Wire Rope Hoist image
Overview
Product Description
Detailed Photos
Product Parameters
Packaging & Shipping
Company Profile
Our Advantages
FAQ
Basic Info.
Certification
CE, ISO9001:2000, GOST BV
Weight Overload Protection Device
Include
Voltage Lower Protection Function
Include
GB/T 24001-2004 Idt ISO14001: 2004
Pass
GB/T 19001-2000 Idt ISO 9001: 2000
Pass
Painting Color
According to Your Demand
Current Overload Protection System
Include
GB/T 28001-2001, Ohsas18001: 1999
Pass
Industrial Voltage
According to Your Demand
Electric Hoist Double Limit
Include
Transport Package
Packed by Plywood Crate All by Export Standard
Specification
China National standard
Origin
Xinxiang, Henan Province
Production Capacity
88, 000 Sets/Year
Product Description
Single Speed Monorail Electric Wire Rope Hoist
Wire rope electric hoists are widely used and very popular among user because of their characteristics of tight structure, smart body, safety and reliability, common-used parts, well changeable property, strong lifting capacity as well as convenient maintenance.
The hoists exist in form of stationary Style and crab-style. The former is divided into four styles that is, A1, A2, A3, and A4 according to the position (up, down, left, and right) of the fixed trestle. It can be installed directly on the frame. The latter with movable function can be installed on the track. CD1 model lifts with single speed, and MD1 model not only with usual speed but also with low speed.
On such a basis, single speed and double speed hoist and WH164 20t, 32t are developed by our technicians. They share the same structure principles and installation ways with the original CD1 and MD1. The following contents all take CD1 and MD1for example.
Our running scope mainly lies in series of electric hoist with 0.25~32t load and 3m~30m height. In addition, your special needs shall be met and non-standard hoists shall be manufactured.
Type
Electric wire rope hoist
Cap.
t
0.25
0.5
1
2
3
5
10
16
20
Hook Path
m
3 /6 / 9 / 12 / 18 / 24 / 30
Speed
Hoisting
m/min
8
7
3.5
4
Travelling
20/30
Wire
Rope
Dia.
mm
3.6
4.8
7.7
11
13
15
17.5
19.5
Construction
6*19
6*37+1
6*37+1
6*37+1
6*37+1
6*37+1
6*37+1
6*37+1
6*37+1
Track
16-22b
16-28b
16-28b
20a-32c
20a-32c
25a-45c
32b-63c
45b-63c
56b-63c
Motor
Hoisting

Type

ZD112-4

ZD121-4

ZD122-4

ZD131-4

ZD132-4

ZD141-4

ZD151-4

ZD151-4

ZD152-4
Power
kw
0.4
0.8
1.5
3
4.5
7.5
13
13
18.5
Rotation
speed
r/min
1380
Current
A
1.25
2.4
4.3
7.6
11
18
30
30
41.7
Travelling
Type
ZDY110-4
ZDY110-4
ZDY111-4
ZDY112-4
ZDY112-4
ZDY121-4
ZDY121-4
ZDY121-4
ZDY121-4
Power
kw
0.06
0.2
0.4
0.8
0.8*2
Rotation
speed
r/min
1400
1380
Current
A
0.3
0.72
1.25
2.4
Connecting Times
120
Working system
intermediate FC=25%
Power source
3P AC 380V 50Hz or according to your requirements
Features:
1. High durability
2. Low maintenance cost
3. Hassle free operation
4. Easy handling
5. Long working life
Main use
The crab-model installed on many kinds of cranes of suspending from T-steel can lift heavy objects straight or in a curve. The stationary ones installed on fixed trestle can lift objects vertically or from different angles.
The products are widely used at industrial ore enterprises, railway, harbors, warehouses and materials sites etc. They are indispensable machinery to improve working conditions and efficiency in manufacturing.
Control mode
Remote control model, Pendant Control
Applicable scope and working conditions
The product applies to such an environment as no faire, no explosive danger, no corrosive media and no dirt exist. And the temperature is between 20° C below zero and 40° C up zero, the wetness is no higher than 85%, the applicable power source is 3_phase alternating current (A. C for short), 50 Hz (60Hz) frequency and (380V~66V) voltage. Their rated load must be reduced by 20%accordingly as their working grade increases by one grade compared to their middle-lever working grade.
Safety features:
Overload protection, Main lifting motor with thermal protection, Hooks with latch, Rubber buffers
Protective earthing, Crane switch and travel end switch, Emergency switch.
Sub-assemblies characteristic are tested before assembly.
All cranes must be pre-assembled and tested before leaving factory and offer the certification of test.
Design and construction rules:
All the standards which is required for the crane is the Chinese standard
Painting:
Primer and finishing paint
Average thickness: About 100 microns.
Color: According to your demand.
Our company manufactures electric hoists with different capacity as your specific drawing. Feel free to contact with us for the detailed specification if you are interested in, each products can be designed and manufactured as your local actual condition. We continue improving on design, techniques, and method of inspection on various projects.
Henan Mine Crane Co., Ltd. was established in 2002 with a registered capital of 1.177 billion yuan, construction area of 1.62 million square meters, more than 4500 employees and more than 3500 sets of advanced processing equipment.
Specializing in the R & D, production, sales and service of more than 110 kinds of cranes and supporting parts in three series of "Kuangyuan" brand bridge cranes, gantry cranes and electric hoists.
Our company is a national high-tech enterprise with a technical team composed of more than 10 industry top experts and more than 200 middle and senior engineers. It is responsible for the innovative design and development of products. At present, it has obtained more than 300 national patents and provincial scientific and technological achievements
In 2020, the production and sales of all kinds of single beam and double beam lifting equipment will be nearly 100,000 sets, with sales of 5.675 billion yuan and tax payment of 205 million yuan. The company has 428 sales and service organizations all over the country, serving more than 6000 medium and high-end customers, and has made remarkable achievements in more than 50 key industries such as aerospace, automobile and ship, steel smelting, petrochemical industry, electronic information, electric power industry, water conservancy, railway and military industry.
The developed intelligent storage crane, precision positioning crane, automatic container gantry crane, nuclear grade special crane, clean explosion-proof automatic crane, multi fulcrum flexible crane, simulated maritime rescue crane and other sophisticated products serve Baosteel, China Railway, MCC, CNNC, AVIC and other large enterprises. The products cover more than 80 countries and regions.

We have rich experience in production and export:
We have exported our cranes to Australia, Bangladesh, Iraq, Pakistan, Philippines, USA, Egypt, Peru, India, Turkmenistan, Singapore, Ethiopia, South Africa, Saudi Arabia, Malta, Albania, Ukraine, Vietnam, Kenya, Nigeria, UAE, Cameroon, Uruguay, Bahrain, Thailand, Kazakhstan, Germany, Sultan,
Chile, Oman, Romania, Malaysia, Armenia, Jordan and so on, received good confirmation and welcomed from them!
We are China Single Speed Monorail Electric Wire Rope Hoist manufacture and supplier,You can get more details with Email,you will get cheap price or factory price.
Tags:
Crane Hoist
,
Electric Hoist
,
Hoist