Single Girder Overhead Crane-Electric Hoist Trolley Overhead Crane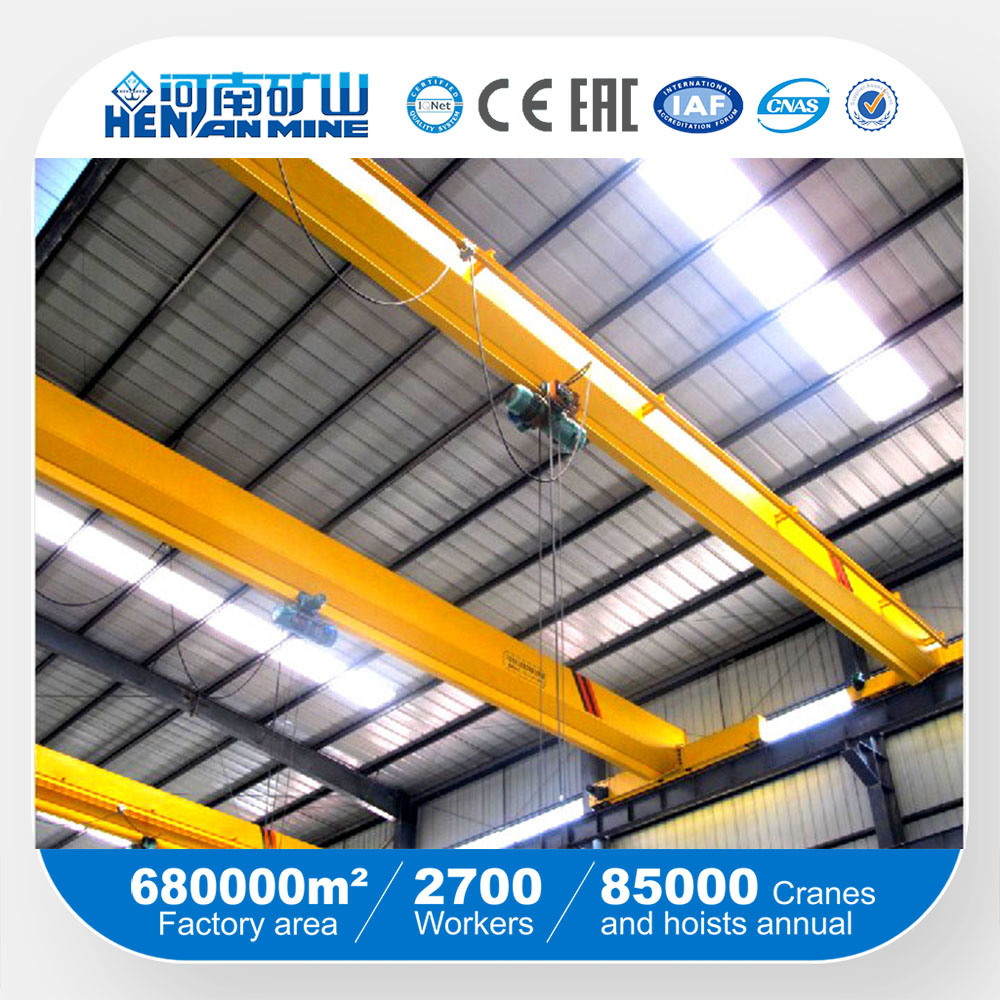 Single Girder Overhead Crane-Electric Hoist Trolley Overhead Crane image
Basic Info.
Transport Package
Standard Exporting Package
Production Capacity
30000sets/Year
Product Description
Single Girder Overhead Crane is widely used in plants,warehouses,materials stocks to lift goods or materials.It is prohibited to use this equipment in the combustible,explosive and corrosive environment.
Crane girder:
The crane girder is of welded girder construction. This result in lower dead weight with a high degree of vertical and horizontal rigidity and small wheel loads being transmitted to the crane runway!
Safety feature:
1)Overload protection;
2)Main lifting motor with thermal protection;
3)Hooks with latch;
4)Rubber buffers;
5)Protective earthing;
6)Crane switch and travel end switch;
7)Emergency switch can stop all movement when dangerous happened;
8)Sub-assemblies characteristic are tested before assembly;
9)All cranes must be preassembled and tested before leaving factory and offer the certification of test.
Conventional configuration:
1) Pendant control or remote control.
2) Single or double speed of steel wire rope hoist.
3) Using single speed cage motor for travelling or traversing crane.
4) Driver's room is opened or closed types.
5) Working ambient temperature: -20°C~+45°C. It's not suitable for lifting blazing and melting metal or toxicant as well as explosion-proof or insulating working condition
Features of Single Girder Suspension Eot Crane :
1) Reasonable structure
2) Favorable performance
3) Smooth starting and stopping
4) Safe and reliable traveling
5) Low noise, commodious cabin and good view
6) Convenient maintenance, excellent exchangeability for parts and components
7) Saves electricity
Technical parameter:
Lifting capacity (T)

1,2,3,5,10T

16,20T

Span(M)

5.5-31.5M

Crane travelling mechanism

Travelling speed(m/min)

20

30

45

60

75

20

30

45

60

75

Reducer ratio

58.78

39.38

26.36

19.37

15.88

58.78

39.38

26.36

19.37

15.88

Motor

Model

ZDY21-4

ZDY21-4

ZDY122-4

ZDY131S-4

ZDY112L1-4

Power(kw)

2×0.8

2×1.5

1.5×2

2.2×2

2.2×2

Rotation (m/min)

1380

1380

Lifting mechanism

(electric hoist)&electric hoist travelling mechanism

Electric hoist model

CD1/MD1

MD1/HC

Lifting speed (m/min)

8,8/0.8 7,7/0.7

3.5 3.5/0.35

Lifting height (m)

6 ,9 ,12, 18, 24, 30

12,18,24,30

Travelling speed (m/min)

20(30)

20(30)

Motor

Taper Squirrel-cage type

Taper Squirrel-cage type

Work duty

A3-A5

Power supply

380V 50HZ three phase and as you demand

Wheel diameter

270mm

370mm

Width of trail

37-70mm

37-70mm
1.Main beam – The main traveling structure of the crane which spans the width of the bay and travels in a direction parallel to the runway. The bridge consists of two end trucks and one or two bridge girders depending on the equipment type. The bridge also supports the trolley and hoisting mechanism for up and down lifting of load.
2. End trucks – Located on either side of the bridge, the end trucks house the wheels on which the entire crane travels. It is an assembly consisting of structural members, wheels, bearings, axles, etc., which supports the bridge girder(s) or the trolley cross member(s).
3. Bridge Girder(s) – The principal horizontal beam of the crane bridge which supports the trolley and is supported by the end trucks.
4. Runway – The rails, beams, brackets and framework on which the crane operates.
5. Runway Rail – The rail supported by the runway beams on which the crane travels.
6. Hoist – The hoist mechanism is a unit consisting of a motor drive, coupling, brakes, gearing, drum, ropes, and load block designed to raise, hold and lower the maximum rated load. Hoist mechanism is mounted to the trolley.
7. Trolley – The unit carrying the hoisting mechanism which travels on the bridge rails in a direction at right angles to the crane runway. Trolley frame is the basic structure of the trolley on which are mounted the hoisting and traversing mechanisms.
8. Bumper (Buffer) – An energy absorbing device for reducing impact when a moving crane or trolley reaches the end of its permitted travel, or when two moving cranes or trolleys come into contact. This device may be attached to the bridge, trolley or runway stop.
FAQ
Welcome your visiting and any question~
RFQ——-Just inform us your
1. lifting capacity?
2. Span or how wide is the workshop?
3. Lifting height?
4. Industrial voltage?
5. Working duty?
6. other special working requiremtent?
We are pleasure to offer you our best design and reasonable price for your reference
We are China Single Girder Overhead Crane-Electric Hoist Trolley Overhead Crane manufacture and supplier,You can get more details with Email,you will get cheap price or factory price.
Tags:
Crane
,
Eot Crane
,
Overhead Crane