Single Girder Hoist Bridge Crane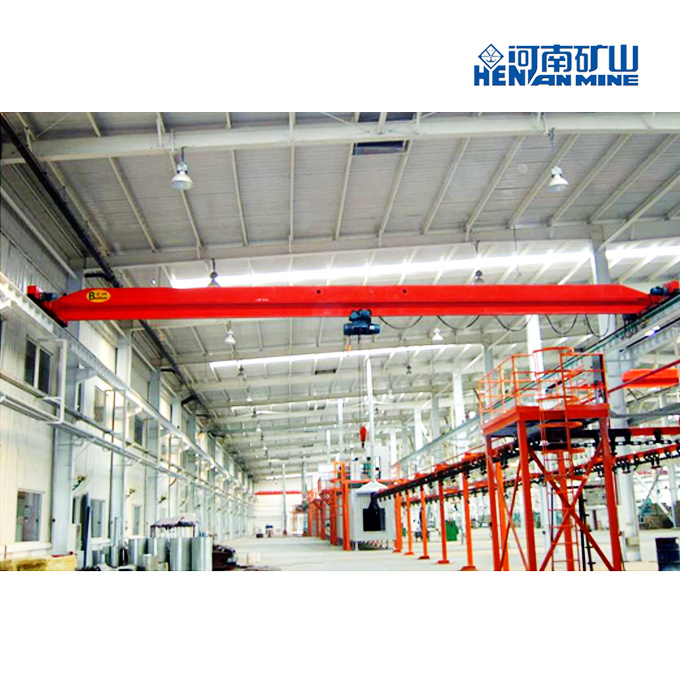 Single Girder Hoist Bridge Crane image
Basic Info.
Painting Color
According to Your Demand
Lifting Mechanism
Electrical Hoist
Main Electrical Parts
Siemens Brand
GB/T 19001-2000 Idt ISO 9001: 2000
Pass
GB/T 28001-2001, Ohsas18001: 1999
Pass
Current Overload Protection System
Include
Voltage Lower Protection Function
Include
Power Supply
According to Your Demand
Transport Package
Export Standard
Specification
Chinese Standard
Production Capacity
20000sets/Year
Product Description
Product Description
Single Girder Workshop Bridge Crane (LDA)
Specifications:
1) Load: 10t
2) Span: 10.5-35.5m
3) Lifting height: According to your requirements.
4) Working duty: A3.
Processing Facility
Main product showcase
Packaging & shipment

LDA model single girder workshop bridge cranes are widely used in various places such as factory, warehouse, and stuff yards to lift goods, forbidden to be used in flammable, explosive and corrosive environment. The work class is A3. Hoisting Capacity: 10T, span: 10.5-31.5m. These kinds of products are operated by ways of ground and cabin control. There are open and closed styles for driver's cabin; It could be divided into left and right installation according to practical situations. Entrance direction adopts profile and top entering to satisfy different needs of customer's choice. The crane can be used for both indoor and outdoor operations and water-proof cloth is needed in out door operation.
This kind of crane usually work together with electric hoist as a light lifting equipment, alo can work with many other lifting tools like grab bucket, magnet and so on.
Customer Care:
Our philosophy is that the customer should be happy with the system performance and enormous improvement in work environment. And our aim is reducing the labor inputs for eternity working together with customer and ensuring that the work is executed to the utmost satisfaction of the customer.
Henan Mine Crane Company concentrate to have positive and flexible approach towards customer need through its comprehensive solution and service capabilities, professionally and cost effectively. As a company whose success derives from mains fully committed to develop close working partnership with its customer.
Welcome to contact us by E-mail or online, you will receive our prompt and careful reply!
Lifting capacity (T)
1, 2, 3, 5, 10T
Span(M)
7.5-22.5M
Crane traveling mechanism
Traveling speed(m/min)
20
30
45
60
75
20
30
45
60
75
Reducer ratio
58.78
39.38
26.36
19.37
15.88
58.78
39.38
26.36
19.37
15.88
Motor
Model
ZDY21-4
ZDY21-4
ZDY122-4
ZDY131S-4
ZDY112L1-4
Power(kw)
2× 0.8
2× 1.5
1.5× 2
2.2× 2
2.2× 2
Rotation (m/min)
1380
1380
Lifting mechanism
(electric hoist)& electric hoist traveling mechanism
Electric hoist model
CD1/MD1
MD1/HC
Lifting speed (m/min)
8, 8/0.8 7, 7/0.7
3.5 3.5/0.35
Lifting height (m)
6, 9, 12, 18, 24, 30
12, 18, 24, 30
Traveling speed (m/min)
20(30)
20(30)
Motor
Taper Squirrel-cage type
Taper Squirrel-cage type
Work duty
A3-A5
Power supply
380V 50HZ three phase
Wheel diameter
270mm
370mm
Width of trail
37-70mm
37-70mm
We are China Single Girder Hoist Bridge Crane manufacture and supplier,You can get more details with Email,you will get cheap price or factory price.
Tags:
Bridge Cranes
,
Cranes
,
Single Girder Crane