Qd Model Double Girder 30 Ton Overhead Crane for Sale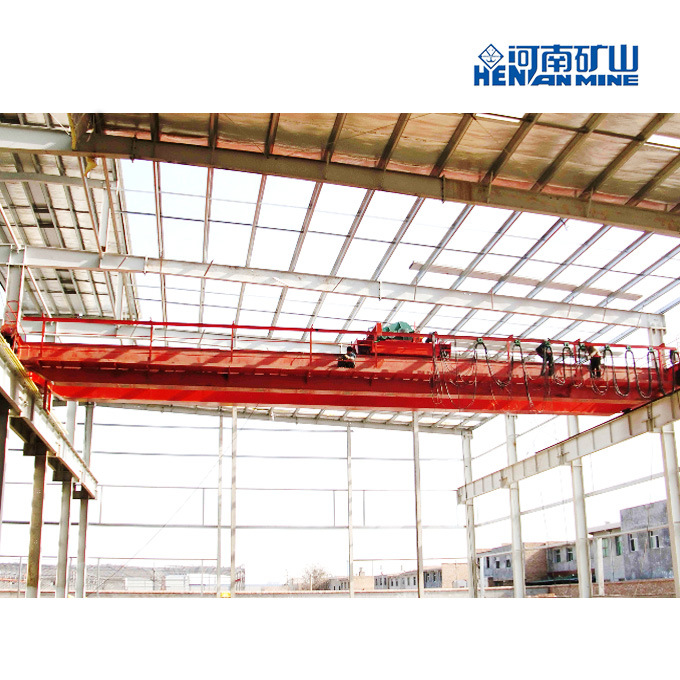 Qd Model Double Girder 30 Ton Overhead Crane for Sale image
Basic Info.
GB/T 24001-2004 Idt ISO14001: 2004
Pass
GB/T 19001-2000 Idt ISO 9001: 2000
Pass
GB/T 28001-2001, Ohsas18001: 1999
Pass
Main Electrical Parts
Siemens Brand
Frequency Inverter
According to Your Demand
Tower Crane Type
Under Slewing Cranes
Transport Package
Export Standard
Specification
Chinese Standard
Origin
Xinxiang, Henan Province, China
Production Capacity
9000sets/Year
Product Description
Product Description
Bridge crane is widely used in indoor and outdoor warehouses, factories, docks and outdoor storage yard, etc. Bridge crane can be divided into general bridge crane, simple beam bridge crane and metallurgical special bridge crane
Compents: 1) Girder Frame 2) Crane Travel Device 3) The Trolley with Lifting and Moving Device.
The whole crane assembly ——No. 1 in China
Our group ————Score No. 1 on double girder crane for continuous 6years
Motor——- Top quality in China.
Control mode ——Pendent wire. Cabin control Remote control
Working duty ——–A3~A7
Crane body——- Strong box type
Crane main girder ———-One whole plate on every side, no welding, strong and beautiful.
Main electrical parts——- Schneider brand (France Famous brand)
Wheel and gear ——–Manufactured by our Group with unique special technique, so high quality could be controlled. Wheels are vacuum casting and medium frequency quenching.
Safety features ———Weight overload protection device; Crane traveling limit switch; Top quality long time bearing polyurethane materials buffer; Current overload protection system; Voltage lower protection function; Cross traveling limit switch; Lifting limit switch; Emergency stop system; Zero voltage protection; Phase sequence protection; Protective earthing, etc.
Painting:
Painting will be completed in the factory before shipping.
After manufacturing (after welding)
Average thickness: About 100 microns
Electrical elements
The crane that we are offering is designed to meet the required functions and requirement stated in your specifications, as well as for the operating conditions.
The sub-assemblies used by are standardized equipment of renowned manufactures and have been approved for specific crane operation by our test laboratory. Their characteristics regarding impact, vibrations, wear and safety were examined. A continuous high quality standard is ensured by series production and standardized sub-assemblies.
The electrical equipment is accommodated in robust steel plate control cubicles, on the crane girder.
All movements can be switched off by actuating the emergency-off switch at the control station via a main contactor.
Power supply cable and control cable along the girder
A protective earth conductor is fitted as standard. A crane switch is provided.
Travel end switches
Long and cross travel limited by means of preliminary and final limit switches
Main product showcase

Processing Facility

Packaging & shipment
1. Hoist and electric parts will be packed by plywood crate, for avoiding the demage from goods crash and impact during the delivery.
2. Girders and other main parts will be packed by plastic woven cloth, for preventing rust from soppy condition during the transportation.
3. Only the best transport solution will be taken for saving your cost uttermost on finance, security and time.
Lifting capacity (t)

32/5

Span (m)

10.5

13.5

16.5

19.5

22.5

25.5

28.5

31.5

Max. lifting height

Main hook

16

Aux. hook

18

Speed (m/min)

Hoisting

Main hook

A5

7.5

A6

9.5

Aux. hook

15.5

Cross travelling

42.4

Long travelling

A5

87.6

74.2

74.6

A6

89

75.3

Power source

Three-phase AC. 127~480V 50/60Hz
We are China Qd Model Double Girder 30 Ton Overhead Crane for Sale manufacture and supplier,You can get more details with Email,you will get cheap price or factory price.
Tags:
Bridge Crane
,
Crane
,
Overhead Crane