Nucleon Heavy Duty Traverse Beam 5 Ton Electromagnetic Eot Crane Double Girder for Steel Mill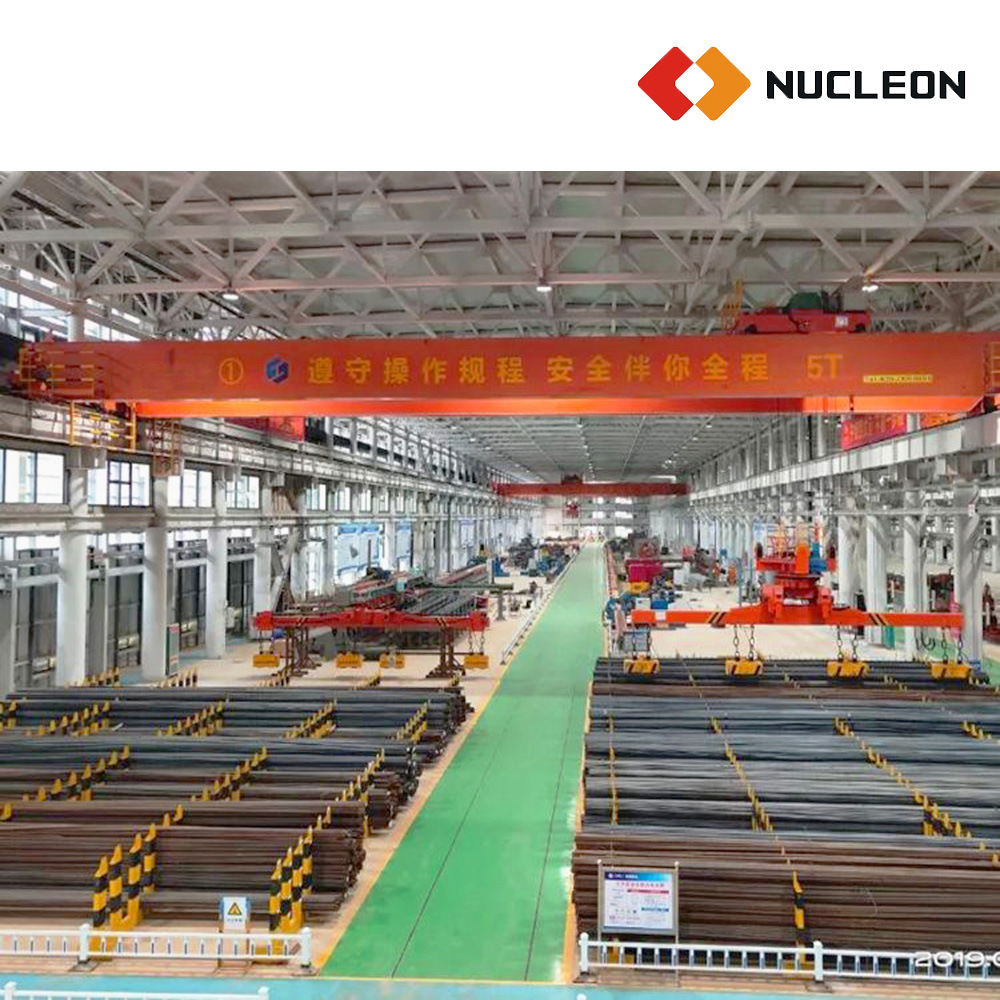 Nucleon Heavy Duty Traverse Beam 5 Ton Electromagnetic Eot Crane Double Girder for Steel Mill image
Basic Info.
Maximum Lifting Weight
<20t
Main Girder Form
Double Girder
Type
Electric Overhead Traveling Crane
Load Capacity
up to 16 Ton (Weight Below Magnet)
Height of Lift
up to 20 Meters
Control
Operation Cabin/Radio Remote Control
Power Supply
380~480V, 50~60Hz, 3phase
Hoisting Speed
1.5~15 M/Min (VFD)
Hoist Travel Speed
4~40 M/Min (VFD)
Crane Travel Speed
8~80 M/Min (VFD)
Applications
Rolling Mill/Rebar Storage Plant
Installation
Video Tutorial, Site Installation & Commissioning
Random Files
Operation & Maintenance Manual, Wiring Diagram
Spare Parts
Provide Random Spares for Two Year Maintenance
Transport Package
Wooden Case, Waterproof Film, Steel Pallet
Specification
Standard Swivel Hook/Magnet Beam or Crab Rotate
Production Capacity
600 Sets Per Annum
Product Description
1. Technical advisory of the best material handling solution before sale to maximize efficiency while optimize investment plan on the other hand through our 30 years dedications to lifting performance.
2. Installation service of overhead crane available with:
Video tutorial support for whole installation process.
7/24 remote assistance for crane installation guidance and commissioning.
Field engineer service of installation, commissioning and training.
3. Twelve months warranty after successful crane commissioning.
4. Annual inspection service at customer's site.
Nucleon Crane is recognized as one of the first-class industrial crane manufacturers among Chinese crane industry with total 3,500.000 sq ft factory production area accompanied by over 3,000 sets modernized manufacturing facilities and testing equipment. We committed to high reliable overhead crane supply with product line up diversified from light crane system, general overhead cranes and process cranes for vast majority industrial sectors such as workstation and manufacturing site to rolling mill, power plant, biomass processing plant etc. Today, our trusted partners out from hundreds of plants in over 80 countries are benefiting with our material handling solutions for their daily production task.
Visit Nucleon Manufacturing Facilities Online with 360° Panorama

Get to Know More About Nucleon Crane

We are China Nucleon Heavy Duty Traverse Beam 5 Ton Electromagnetic Eot Crane Double Girder for Steel Mill manufacture and supplier,You can get more details with Email,you will get cheap price or factory price.
Tags:
Magnet Crane
,
Magnetic Crane
,
Magnetic Overhead Crane