Motor-Driven Single Beam Overhead Crane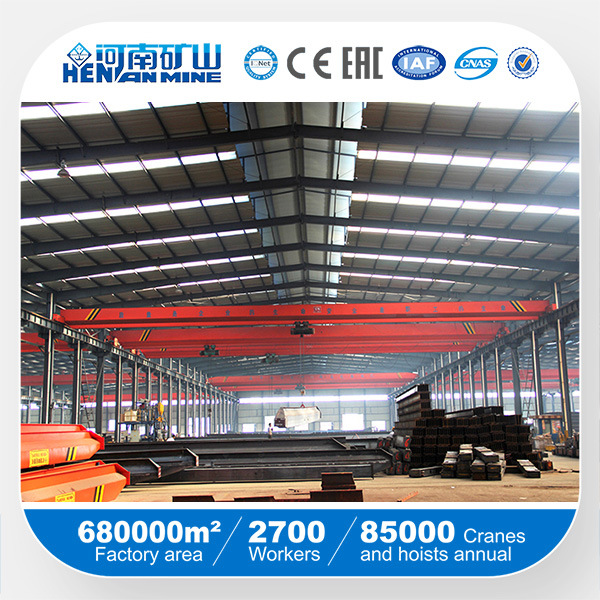 Motor-Driven Single Beam Overhead Crane image
Basic Info.
GB/T 24001-2004 Idt ISO14001: 2004
Pass
GB/T 19001-2000 Idt ISO 9001: 2000
Pass
GB/T 28001-2001, Ohsas18001: 1999
Pass
Lifting Mechanism
Electrical Hoist
Current Overload Protection System
Include
Voltage Lower Protection Function
Include
Painting Color
According to Your Demand
Application
Construction Usage, Workshop Usage, Container Usag
Transport Package
Export Standard
Specification
Chinese Standard
Production Capacity
20000sets/Year
Product Description
Single Beam Bridge/Overhead Crane
Basic Data of LDA
Capacity (lifting Weight): 1~20ton;
Span: 7.5~22.5m
Lifting/hook height: 6~30m
Working duty (classification): A3
Main Structure & Features
Crane Beam:
Weld by steel plate and I steel to make a lower dead weight and higher degree rigidity. Small wheel loads can be transmitted to the crane runway.
Motors:
Steady starting, reversing and braking. Insulation class is F and IP54 protection for hoisting, CT & LT motions.
Gear Box:
The helical/spur gear for smooth operation and long life. Gear and pinion: Hardness: 250~350BHN (carbon alloy steel); Antifriction type ball/roller bearings with constant splash lubrication.
Wheels:
Selfmade wheels in the special vacuum casting workshop (no sand inclusion technic), which makes the wheels more elastic and outer surface hard
Wearing and durable.
Electrical Panel:
Modular design; Ease to install and maintain; Reliable operation; Fuse less circuitry, ducted wiring and compact terminals.
Limit Switch:
Safety limit switches for stoppers to prevent over travelling in all motions.
Application
With features of light structure and easy installation, it is widely used to lift materials in factories, warehouses, stockyards and other places. DO NOT use in the environment with inflammable, explosive and corrosive media. Its span is 7.5~22.5m (Non-standard deign can be done according to the user's requirements. ), and the working temperature is -25~40
What kind of product can be supplied for you?
1) High Quality and Best Price
China Well-known Trademark —— "KUANGYUAN"
Powerful Technical Support—–Research center of Engineering and Technology of Hoisting and Transport Machinery of Xinxiang City
Various Quality Certifications—- ISO9001-2008; ISO14001: 2004; CE; GOST; SGS; BV; TUV;
Quality forges brand; Integrity builds future. We Promise to you the Products with Top Quality and Best Price.
2) Safety
Each Design is for Your Workers and Factory!
Protection Device for Weight overload
Top Quality Polyurethane Buffer
Travelling and Lifting Limit Switch
Voltage Lost Protection
Emergency Stop System to Protect Workers and Relevant Property.
Current Overload Protection Function.
Phase Protection Function
3) Easy Operation and Long Working Life
With the advanced technology and careful production, the cranes or spare parts supplied will be operated easily and have less maintenance in order to Save Time and Cost!
4) Perfect After-sale Service
Client-oriented Concept
Professional Pre-sales and After-sales Team
After-sales Information Network
Free Service Provided During Three Guarantees' Period
Preferential Service Beyond the Period
Timely, Serious and Complete Service
We can manufacture products according to your requirements. If needed, please inform us the following data:
A) Lifting capacity/weight
B) Span
C) Lifting height
D) Working conditions
E) Other special requirements
Any questions, please feel free to contact us and we will be of service to you!
Welcome to Henan Kuangshan Crane Co., Ltd.!
Lifting capacity (T)
1, 2, 3, 5, 10T
16, 20T
Span(M)
7.5-22.5M
Crane traveling mechanism
Traveling speed(m/min)
20
30
45
60
75
20
30
45
60
75
Reducer ratio
58.78
39.38
26.36
19.37
15.88
58.78
39.38
26.36
19.37
15.88
Motor
Model
ZDY21-4
ZDY21-4
ZDY122-4
ZDY131S-4
ZDY112L1-4
Power(kw)
2× 0.8
2× 1.5
1.5× 2
2.2× 2
2.2× 2
Rotation (m/min)
1380
1380
Lifting mechanism
(electric hoist)& electric hoist traveling mechanism
Electric hoist model
CD1/MD1
MD1/HC
Lifting speed (m/min)
8, 8/0.8 7, 7/0.7
3.5 3.5/0.35
Lifting height (m)
6, 9, 12, 18, 24, 30
12, 18, 24, 30
Traveling speed (m/min)
20(30)
20(30)
Motor
Taper Squirrel-cage type
Taper Squirrel-cage type
Work duty
A3-A5
Power supply
380V 50HZ three phase
Wheel diameter
270mm
370mm
Width of trail
37-70mm
37-70mm
We are China Motor-Driven Single Beam Overhead Crane manufacture and supplier,You can get more details with Email,you will get cheap price or factory price.
Tags:
Bridge Crane
,
Overhead Crane
,
Single Beam Overhead Crane