Lh20t Span 11m Lifting Height 17m Double Girder Electric Hoist Overhead Crane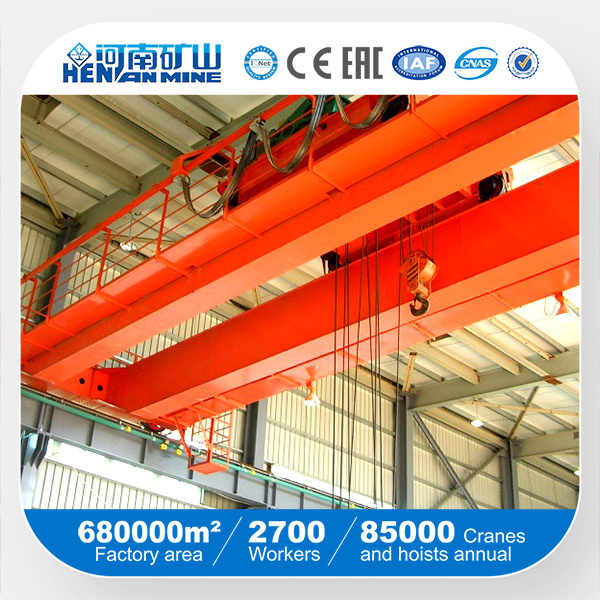 Lh20t Span 11m Lifting Height 17m Double Girder Electric Hoist Overhead Crane image
Basic Info.
Application
Workshop Usage
Crane Type
Overhead Crane
GB/T 24001-2004 Idt ISO14001: 2004
Pass
GB/T 19001-2000 Idt ISO 9001: 2000
Pass
GB/T 28001-2001, OHSAS18001: 1999
Pass
Current Overload Protection System
Include
Voltage Lower Protection Function
Include
Electric Hoist Double Limit
Include
Weight Overload Protection Device
Include
Painting Color
Yellow, Red
Power Source
380V50Hz3phac
Transport Package
Packed by Plywood Crate and Plastic Woven Cloth.
Specification
Overhead crane
Origin
Xinxiang, Henan Province
Production Capacity
6000 Sets/Year
Product Description
Double girder Electric Hoist Overhead crane
Double girder Electric hoist overhead hoist crane is double girder electric hoist trolley as the lifting unit,it could be used in mechanical processing workshop, warehouse,material yard and power plant for transferring, assembly, inspection maintenance and loading procedures.
It can be used in steel coil workshop to lift steel coil for loading and unlading.
Capacity:20tons
Span:11m
Lifting height:17m
Control mode:pendent line control
Working voltage:415v50hz3ph
Lifting speed 3.5m/min
Cross traveling speed 20m/min
Long traveling speed 20m/min
Safety feature:
Weight overload protection device,
Top quality long time bearing polyurethane materials buffer,
Crane traveling limit switch,
Gravity limit switch for lifting
Voltage lower protection function,
Emergency stop system,
Current overload protection system,Etc.
Control method:
Pendent line with press button or remote control or both
Design and construction rules:
All the standards which is required for the crane is the Chinese national standard GB/T14405-2011.
Crane girder:
The crane girder is of welded girder construction. This result in lower dead weight with a high degree of vertical and horizontal rigidity and small wheel loads being transmitted to the crane runway!

Service:
Design, Manufacture, Quality Assurance, Test, After Sale Service, and we could provide Turn-key installation as your demand.
User information:
The basic parameters should be informed by the users,i.e
What material to be lifted?
What is the max.weight of the material to be lifted?
What is the crane span?
What is the lifting height?
What is the working voltage?
You want pendent control or remote control?
What is the long traveling distance?and do you need rail and bus bar from us?
Welcome contact us by E-mail or online, you will receive our prompt and careful reply!
Painting:
Primer and finishing paint
Color: According to your demand.
Average thickness: About 100 microns.
Capacity
T
5
10/3
16/3
20/5
32/10
Operational method
Pendent line with push button /cabin
Speed
Mainhook Lifting

m/min
8, 8/0.8
7, 7/0.7
3.5
5
5
Aux. hook Lifting
8
8
7
Cross travelling
20
20
20
20
20
Long travelling
Ground
30
30
30
30
30
Cabin
60
60
60
60
45.75
Motor
Lifting
Type /kw
ZD141-4/7.5
ZD151-4/13/
ZD132-4/4.5
ZD151-4/13/
ZD132-4/4.5
ZD151-4/13
ZD152-4/18.5
ZD162-4/30
Cross travelling
ZDY122-4/0.8× 2
ZDY122-4/1.5× 2
ZDY122-4/1.5× 2
ZDY122-4/1.5× 2
ZD131-4/3
Long travelling
Ground
ZDY122-4/1.5× 2
YZPEY2200-4/2.2× 2
YZPEY2200-4/2.2× 2
ZDDY31M-4/12/2× 3.1/1.0
ZD131-4/3× 2
Cabin
ZDY122-4/1.5× 2
ZDR112L2-4/3× 2
ZDR112L2-4/3× 2
ZDR112L2-4/3× 2
YZRS114M-4/5× 2
Electric hoist
Type
CD1/MD1
CD1/MD1
CD1/MD1
CD1/HC
HC
Lifting height
m
6, 9, 12, 18, 24, 30
9, 12, 18, 24
Working duty
A3
Power supply
(As your demand)
Span
m
7.5-22.5
Recommend rail
38kg/m
43kg/m
We are China Lh20t Span 11m Lifting Height 17m Double Girder Electric Hoist Overhead Crane manufacture and supplier,You can get more details with Email,you will get cheap price or factory price.
Tags:
Crane
,
Double Girder Hoist Crane
,
Hoist Crane