LDP Model Partial Hang Hoist Single Beam Eot/Overhead Crane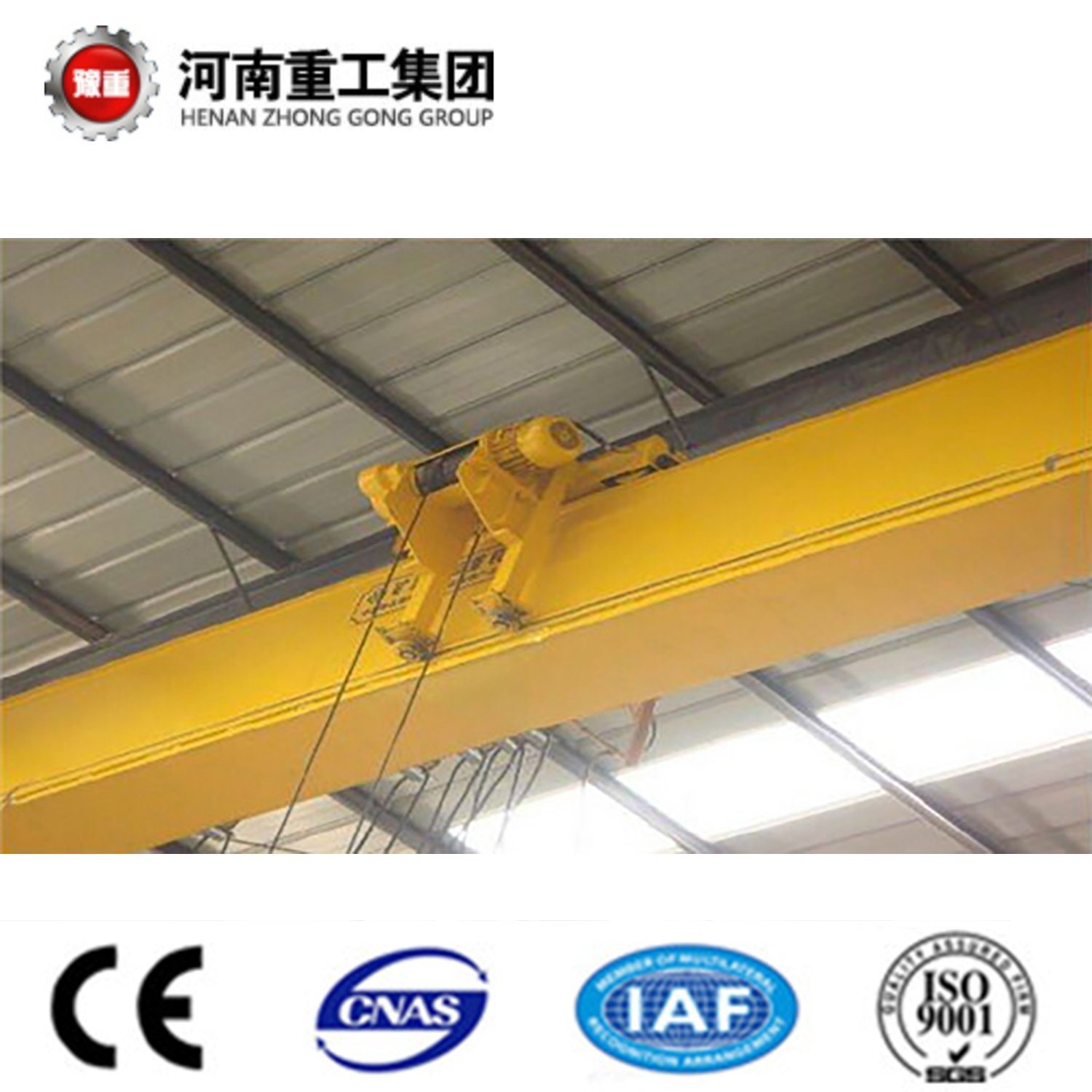 LDP Model Partial Hang Hoist Single Beam Eot/Overhead Crane image
Basic Info.
Max. Lifting Height
30m or as Per Demand
Max. Span
31.5m or as Per Demand
Control Stype
Remote Control/Wireless Control
Guarantee Period
12 Months
Free Service
Design, Spare Parts Supply
Transport Package
High Quality Plywood Crate and Plastic Woven Cloth
Specification
China Standard
Origin
Changyuan, Henan, China
Production Capacity
10000 PCS/Year
Product Description
About Company: Henan Zhonggong Group Crane Technology Co., Ltd
1. With more than 30 years development, Henan Zhonggong Group has 5 holding subsidiaries, covers an area of 240,000 square meters and 100,000 square meters construction area, possesses nearly 1000 sets various producing equipements, is a member unit of Bridge Crane branch of "China Heavy Machinery Industry Association". now we have 1200 staff of which more than 160 professional engineers and management colleagues, company has passed ISO9001, ISO14001 and OHSAS18001. Brand "YUZHONG" products have been granted titles such as "Top 10 brand Well-Known Cranes in China", "Well-Known Commodity in Henan Province" and "Henan Famous Trademark".
2. Group R&D Center has been recognized as the engineering technology research center of cranes for application at Xinxiang nuclear power station and serves as the only China R&D in the nuclear area. company can supply electrical hoist, single girder crane, double girder crane, gantry crane, overhead crane, grab, explosion-proofinsulation crane, hydraulic hoist, container handling crane, ship crane, metallurgic crane, quenched crane, elecromagnetic series crane and special crane for nulear power station.
About Product: LDP Type Singel Girde Overhead Crane
LDP electric single-girder crane is a small -size low headroom crane. The electric hoist is at one side of the girder, which increases the work space of the hook and reduces the workshop height and cost. It is applicable to the places where the workshop's headroom is low.
The crane is composed of box-shaped girder weld by steel plates, end girder, crab and traveling mechanism. The crab consists of traveling end girder, cram frame and fixed electric block. The crab is partially hung and runs at one side of the girder. The electric hoist is raised to the upside of the girder from under the girder, which effectively increasing the lifting altitude.


General Features:
1). First class quality with competitive price
2). Compact design, optimal use of the size of work areas
3). Reasonable structure, favorable performance
4). Control the load easily and position the load exactly
5). Smooth starting and stopping
6). Superior safety and reliability
7). Low noise, commodious cabin and good view
8). Minimum& Easy maintenance, excellent exchangeability for parts and components
9). Saves electricity specifications
10). "One-Stop Shop" for your crane and hoist needs
11), Make full use of limited space to ascend higher
Safety features:
1. Overload protection: If the material is over the capacity, the crane will give a sharp warning for protection itself.
2. Emergency brake: If the operation staff encounter some emergency situation, we could start the emergency brake system to protection the related treasure.
3. Control Method: Room control or remote control to avoid any injure to the operation staff
4. Main lifting motor: With thermal protection and currency protection.
5. Hooks with latch
6. Rubber buffers
7. Protective earthing
8. Crane switch and travel end switch
9. Sub-assemblies characteristic are tested before assemly.
10. All cranes must be preassmebled and tested before leaving factory and offer the certification of test.
Design and construction rules:
All the standards which is required for the crane is the Chinese standard.
You can also give us the layout of the place where the crane will be used, that we can recommend the right one for your reference!
Painting:
Primer and finishing paint
Color: According to your demand.
Average thickness: About 100 microns.
After-sale Service
1. One year warranty for whole machines from crane running
2. Providing free spare parts
3. Low charge for continue maintenance when warranty is expired
4. Exclusive engineer support at any time
5. We can provide free training to end-users
Lifting capacity (T)
1,2,3,5,10T
16,20T
Span(M)
7.5-31.5M
Overhead Crane travelling mechanism
Travelling speed(m/min)
20
30
45
60
75
20
30
45
60
75
Reducer ratio
58.78
39.38
26.36
19.37
15.88
58.78
39.38
26.36
19.37
15.88
Motor
Model
ZDY21-4
ZDY21-4
ZDY122-4
ZDY131S-4
ZDY112L1-4
Power(kw)
2×0.8
2×1.5
1.5×2
2.2×2
2.2×2
Rotation (m/min)
1380
1380
Lifting mechanism
(electric hoist)&electric hoist travelling mechanism
Electric hoist model
CD1/MD1
MD1/HC
Lifting speed (m/min)
8,8/0.8 7,7/0.7
3.5 3.5/0.35
Lifting height (m)
6 ,9 ,12, 18, 24, 30
12,18,24,30
Travelling speed (m/min)
20(30)
20(30)
Motor
Taper Squirrel-cage type
Taper Squirrel-cage type
Work duty
A3-A5
Power supply
380V 50HZ three phase or according to your requirements
We are China LDP Model Partial Hang Hoist Single Beam Eot/Overhead Crane manufacture and supplier,You can get more details with Email,you will get cheap price or factory price.
Tags:
Crane
,
Eot Crane
,
Overhead Crane