HYJI Type Metallurgical Electric Wire Rope Hoist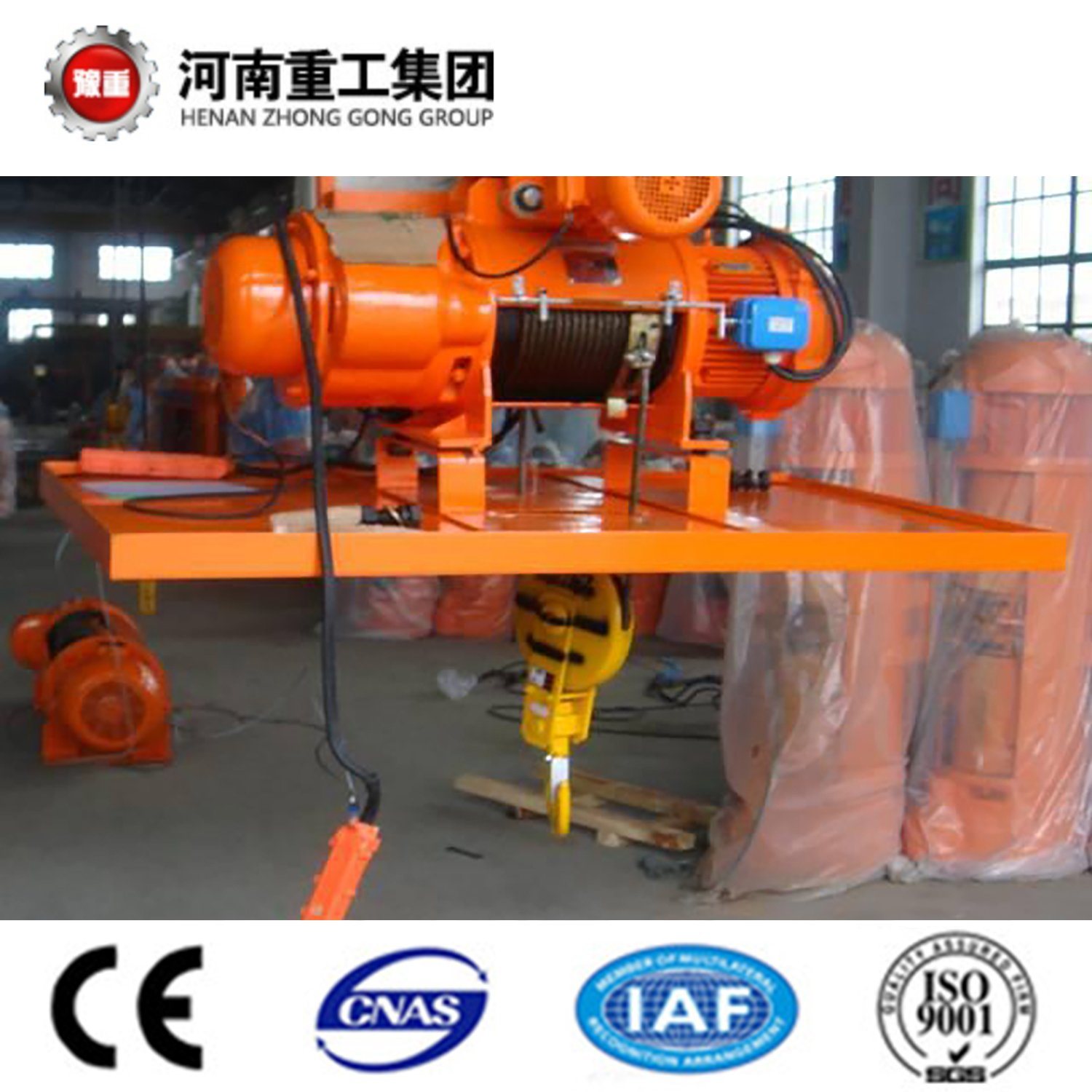 HYJI Type Metallurgical Electric Wire Rope Hoist image
Basic Info.
Lifting Height
3m-30m or as Per Demand
Lifting Speed
3.5/7/8m/Min; 3.5/0.35, 7/0.7, 8/0.8m/Min
Traveling Speed
20/30m/Min
Power Supply
Customization
Operation Method
Remote Control
Emergency Stop System
Included
Warranty Period
12 Months
Free Service
Spar Parts Supply
Transport Package
Wooden Case
Specification
China Standard
Origin
Changyuan, Henan, China
Production Capacity
50000 PCS/Year
Product Description
About Company: Henan Zhonggong Group Crane Technology Co., Ltd
1. With more than 30 years development, Henan Zhonggong Group has 5 holding subsidiaries, covers an area of 240,000 square meters and 100,000 square meters construction area, possesses nearly 1000 sets various producing equipements, is a member unit of Bridge Crane branch of "China Heavy Machinery Industry Association". now we have 1200 staff of which more than 160 professional engineers and management colleagues, company has passed ISO9001, ISO14001 and OHSAS18001. Brand "YUZHONG" products have been granted titles such as "Top 10 brand Well-Known Cranes in China", "Well-Known Commodity in Henan Province" and "Henan Famous Trademark".
2. Group R&D Center has been recognized as the engineering technology research center of cranes for application at Xinxiang nuclear power station and serves as the only China R&D in the nuclear area. company can supply electrical hoist, single girder crane, double girder crane, gantry crane, overhead crane, grab, explosion-proofinsulation crane, hydraulic hoist, container handling crane, ship crane, metallurgic crane, quenched crane, elecromagnetic series crane and special crane for nulear power station.
About Product: Single/Double Speed Explosion-proof Electric Wire Rope Hoist

YH series electric hoist for metallurgy is a metallurgy crane equipment mainly used for lifting molten metal. Its lifting capacity is less than or equal or equal to 10T and lifting height is less than or equal to 20m. The working environment temperature is -10~60 centigrade and relative humidity is less than 50% under the condition of 40 centigrade temperature.
Electric hoist has many protection functions such as double braking/double spacing/heat insulation plate and so on.

Metallurgy electric hoist is a perfect light-duty metallurgy hoisting equipment that can be used together with LDY type metallurgy single girder crane and can be installed under workshop fixed suspending rail to use individually.

Design and manufacture of metallurgy electric hoist meet the requirements of AQSIQ Doc#(2007)375. Other situation that lifts fusion non-metallic material or hot solid metal also can refer!


Product Description:
1.Metallurgical lifting dedicated motor, the motor with Class H insulation.
2.Installed there are two sets of independent brake(braking).
3.Installed from the weight limiter.
4.Installed in different forms (usually hammer and rotary together) double rise limit position limit (double limit), and should be controlled by different disconnecting means.
5.The SCR stator voltage, eddy current brake, energy consumption brake, SCR power supply, DC unit supply governor, and the governor may cause speeding hoisting mechanism for lifting and molten metal overhead crane of 20t above must have overspeed protection.
6.Hoisting mechanism should have forward and reverse contactor failure protection function to prevent that brakes are still in power leading to stall occurs when the motor lost power.
7.Operation plus remote control functional electric hoist is operating on the basis of the original flashlight door remote control device, it solves a range of activities of the operator restricted (for close lifting, etc.) issues.
8.Has the following characteristics:
1) improve work efficiency, not flashlight door handle line limit, the operator can carry, ready to operate in remote control effective distance;
2) The operator can choose the best position to control electric hoist, thus avoiding operator working in poor visibility, severe pollution, while avoiding operator suffered harmful gas.
9. Rope selection of high temperature. Working level to achieve; M6 class.

Hoist After-sale Service
1.One year warranty for whole machines from running
2.Providing free spare parts
3.Low charge for continue maintenance when warranty is expired
4.Exclusive engineer support at any time
5.We can provide free training to end-users

Model
HYJI
Capacity
Tons
1, 2, 3, 5
10, 16
Hoisting height
M
6, 9, 12, 18, 24, 30
9, 12, 18, 24, 30
Hoisting speed
M/MIN
8(0.8/8)
7(0.7/7), 3.5 (0.35/3.5)
Travel speed
M/MIN
20/30
20/30
Wire rope
Dia. (mm)
7.4, 11, 13, 15
15, 17.5
Spec.
18×7+IWS
18×7+IWS
Power
AC, 380V/50HZ/3P
We are China HYJI Type Metallurgical Electric Wire Rope Hoist manufacture and supplier,You can get more details with Email,you will get cheap price or factory price.
Tags:
Hoist
,
Metallurgical Hoist
,
Metallurgical Wire Rope Hoist