Hot Sale 1t-50t Crane Weight Scale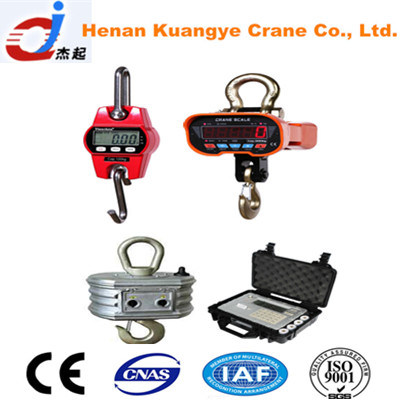 Hot Sale 1t-50t Crane Weight Scale image
Basic Info.
Model NO.
OCS-A/B/C/F/Z/G
Environment
Room Temperature
Sensor Type
Resistance Strain
Color
10 Colours Are Available
Warranty Period
12 Months
Specification
China Standard
Origin
Changyuan, Henan, China
Production Capacity
10000 PCS/Year
Product Description
About Company: Henan Zhonggong Group Crane Technology Co., Ltd
1. With more than 30 years development, Henan Zhonggong Group has 5 holding subsidiaries, covers an area of 240,000 square meters and 100,000 square meters construction area, possesses nearly 1000 sets various producing equipements, is a member unit of Bridge Crane branch of "China Heavy Machinery Industry Association". now we have 1200 staff of which more than 160 professional engineers and management colleagues, company has passed ISO9001, ISO14001 and OHSAS18001. Brand "YUZHONG" products have been granted titles such as "Top 10 brand Well-Known Cranes in China", "Well-Known Commodity in Henan Province" and "Henan Famous Trademark".
2. Group R&D Center has been recognized as the engineering technology research center of cranes for application at Xinxiang nuclear power station and serves as the only China R&D in the nuclear area. company can supply electrical hoist, single girder crane, double girder crane, gantry crane, overhead crane, grab, explosion-proofinsulation crane, hydraulic hoist, container handling crane, ship crane, metallurgic crane, quenched crane, elecromagnetic series crane and special crane for nulear power station.
Crane Weight Scale
Crane scale, electric scale could use on the lifting equipment direct, so it could complete lifting, weighing and recording weight at the same time. Due to operation simple, little volume, low price and so on merits, the scale is widely used in metallurgical industry, building, warehouse, dock, etc.
1. Capacity:1t-50t
2. Enclosure: whole-steel case
3. Hook: American standard rotatable hook(1t-5t)
4. Hook: American standard eye hook(10t-50t)
5. Shackle: American standard fixed shackle(1t-5t)
6. Shackle: American standard bow shackle(10t-50t)
7. Battery: 6V/3.2 Ah rechargeable battery*2
8. Display: Indicator LCD backlight display
9. Function: Zero, tare in/out, hold low voltage alarm, battery supervision, overload alarm, digital calibration,tare set, total/delete/clear total, view total, resolution switch, auto off set, power-saving mode,display luminance set, display speed set, anti-motion set, gravity acceleration set, printing
10. Accuracy class: Equivalent to OIML III
11. Tare range:100% F.S.(FULL SCALE)
12. Zero range: 4% F.S.
13. Safe overload: 120% F.S.
14. Ultimate overload: 400% F.S.
15. Overload alarm: 100% F.S.+9e
16. Battery life: More than 100h
17. Temperature range: -10ºC~40ºC
We are China Hot Sale 1t-50t Crane Weight Scale manufacture and supplier,You can get more details with Email,you will get cheap price or factory price.
Tags:
Crane Weight Scale
,
Scale
,
Weight Scale