High Quality Wire Rope Construction Electric Hoist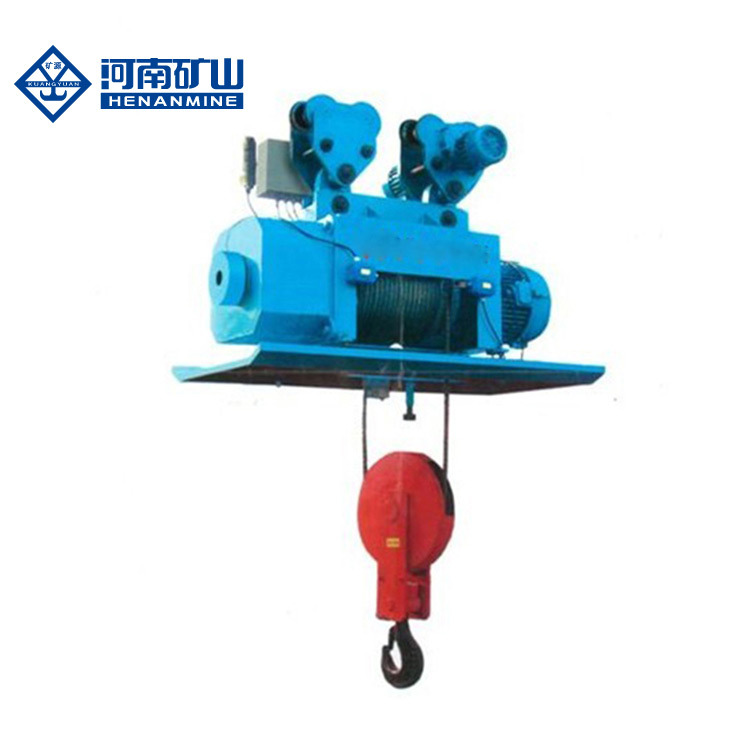 High Quality Wire Rope Construction Electric Hoist image
Basic Info.
Weight Overload Protective Device
Included
Current Overload Protectiion Function
Included
Voltage Lower Protection Function
Included
Transport Package
Polywood Case
Specification
GB12476.1-2000
Production Capacity
18000sets Per Year
Product Description
CD1 MD1 wire-rope electric hoist
* light-small lifting equipment
* tight structure
* light weight
* small volume
* wide common use
* convenient operation etc.
If reducers with hard gear surface are applied, it will have long life and high mechanical efficiency. Conic rotor brake motors are equipped which has safety limiter in both up and down directions.
CD1 type: 1 single fixed speed.
MD1 type: 2 speeds.
—Our electric hoists can be widely used to hoist heavy objects, or installed on the straight or curve I-steel beam of Single-girder Cranes.
—They can also be used together with Electric Hoist Double-beam, gantry crane and slewing cranes. All the above has made the electric hoists common in industrial and ore enterprises, railway, wharfs and warehouses.
Motors:
1. Synchronous Conical rotor motor with brake inside,
Assorted with reducer
2. Device test convenient
3. Simple control, hoisting height change easily
4. High degree of generalization
5. B or F class insulation, IP44, IP54 protection, IC0141 self-cooling
Lifting Reducer:
1. Three-level dead axle helical gear rotating body, compact structure, silent operation, long service life
2. Gear and the axle made by alloy steel after heat treatment, high intensity, machinery oils
3. Box and cover made from superior cast iron, fully covered, great speed ratio, high accuracy and efficiency
4. Easy to assemble
Rope Drum:
1. Welding rope drum, light dead weight, easily interchangeable, high quality
2. Coil casing made from superior cast iron, high intensity, no disturbance between rope socket
3. Rope guide avoids intertwining of wire rope, ensures normal operation, extend the rope and drum's lifetime
Wire Rope:
1. GB/T 20118-2006(6*37+1) hoisting wire rope, anti-tensile, good flexibility
2. Good resistance to impact, long lifetime
Hook:
20 high quality carbon steel, high security, triple static load
Spring-loaded sturdy safety catch, ensuring slings not release
Electric Parts:
1. Safe trolley conductor high conductivity, small pressure drop
2. Collector ensure continuing power supply, protection class IP55
Control Mode:
1. Pendant and remote control
2. Easy, safe and Smooth operation
3. Waterproof, anti-fall
Safety Feature:
1. Fire stopper
2. Weight limiting stopper
3. Overload limite
Other Type Electric Hoist:
* Frequency inversion functional electric hoist;
* CD1 model wire rope electric hoist;
* Sound & light alarm functioning electric hoist;
* Curve travelling electric hoist;
* Pendant pushbutton with remote control functional electric hoist;
* Overload limiter functional electric hoist;
* Low headroom electric hoist
* STI series wire rope electric hoist;
* BCD model wire rope explosion-proof electric hoist;
About Us
1. We are in Crane Hometown of China, could supply you the best quality crane, grab bucket and electromagnet with high technique, and the price is the best.
2. We could supply you all kinds of industry cranes from 0.25tons to 900tons, pass GB/T 19001-2000 idt ISO 9001: 2000, GB/T 24001-2004 idt ISO 14001: 2004, GB/T 28001-2001, OHSAS 18001: 1999, CE, GOST and so on.
Capacity (ton)
0.5
1
2
3
5
10
16
20
Lifting height (m)
6, 9, 12, 18, 24, 30
Working duty
M3
M6
Control way
Pendant control, or Remote control
Power source
380V 50HZ 3phase (Could supply it as yours)
I-beam type
16-28b
20a -32c
25a -63c
45a-63c
Lifting mechanism
Electric hoist model
CD1 single speed, MD1 double speed
Wire rope
Diameter
4.8
7.4
11
13
15
15
17.5
20
Structure form
D-6 × 37+1
Lifting speed (m/min)
Single
8
7
3.5
Double
0.8 / 8
0.7 / 7
0.35/3.5
Motor power (KW)
Single speed
0.8
1.5
3
4.5
7.5
13
13
18.5
Double speed
0.2/0.8
0.2/1.5
0.4/3
0.4/4.5
0.8/7.5
1.5/13
1.5/13
3.0/18.5
Rotation speed (n/min)
1380
1400
Traveling mechanism
Traveling speed (m/min)
20 or 30
Motor power (KW)
0.2
0.2
0.4
0.4
0.8
2 × 0.8
2 × 0.8
4 × 0.8
Rotation speed (n/min)
1380
We are China High Quality Wire Rope Construction Electric Hoist manufacture and supplier,You can get more details with Email,you will get cheap price or factory price.
Tags:
Construction Electric Hoist
,
Construction Hoist
,
Wire Rope Construction Electric Hoist