Henan Mine Crane 5 Ton Single Girder Overhead Crane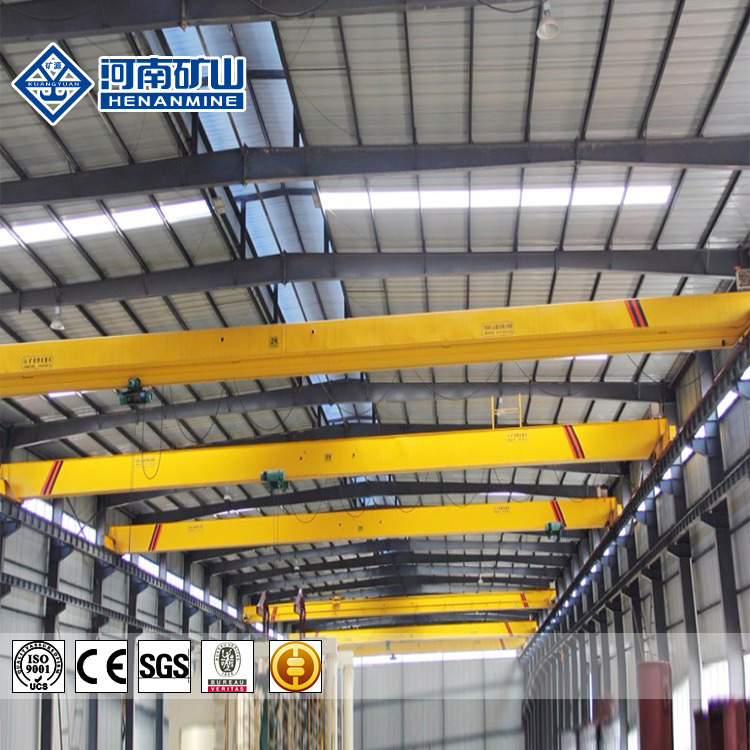 Henan Mine Crane 5 Ton Single Girder Overhead Crane image
Basic Info.
Maximum Lifting Weight
<20t
Main Girder Form
Single Girder
GB/T 24001-2004 Idt ISO14001: 2004
Pass
GB/T 19001-2000 Idt ISO 9001: 2000
Pass
GB/T 28001-2001, OHSAS18001: 1999
Pass
Industrial Voltage
Include
Current Overload Protection System
Include
Weight Overload Protection Function
Include
Main Electrical Parts
Siemens Brand
Voltage Lower Protection Function
Include
Buffer
Polyurethane Materials
Application
Workshop Usage, Mineral Area Usage
Installation
Overall Rapid Disassembly
Transport Package
High Quality Plywood Crate and Woven Plastic Cloth
Specification
National standard
Production Capacity
5000000sets/Year
Product Description
Henan Mine Crane 5 Ton Single Girder Overhead Crane
LDA Single Girder Overhead Crane has two operational methods, ground or operational room which has open model and closed model and can be installed on left or right side according to the practical situation. And the direction of entering the gate has two forms, sideway and ends in order to satisfy the users' Choice users' different conditions.
Features:
1) Reasonable structure
2) Favorable performance
3) Smooth starting and stopping
4) Safe and reliable traveling
5) Low noise, commodious cabin and good view
6) Convenient maintenance, excellent exchangeability for parts and components
7) Saves electricity
Control method:
Pendent line with press button or remote control or cabin or both
Crane girder:
The crane girder is of welded girder construction. This result in lower dead weight with a high degree of vertical and horizontal rigidity and small wheel loads being transmitted to the crane runway!
Bridge Crane system consists of three major components.
The Bridge Crane, which traverses across the runway
The hoist & trolley, which traverses across the bridge and lifts up and down
The runway, which is tied to the building structure.
Top Running vs. Under Running
Capacity – Although under running can be up to 25 ton capacity, the practical limit is more like 15 tons and the economic sweet spot is 1 to 7.5 ton range.
Support Structure – Under running can be suspended directly from the overhead steel (for lighter cranes). Top running cranes will require a bracket off the building support steel (up to 10 tons capacity) or independent columns for heavier capacities.
The top running configuration is best used in cases where the end user has issues with headroom. The most space efficient configuration is the double girder, top running crane system. When headroom is not an issue a top or under running configuration can be used with either the double or single girder bridge crane.
Painting:Primer and finishing paint
Color: According to your demand.
Average thickness: About 100 microns.
Lifting capacity (T)
1, 2, 3, 5, 10T
16, 20T
Span(M)
7.5-22.5M
Crane travelling mechanism
Travelling speed(m/min)
20
30
45
60
75
20
30
45
60
75
Reducer ratio
58.78
39.38
26.36
19.37
15.88
58.78
39.38
26.36
19.37
15.88
Motor
Model
ZDY21-4
ZDY21-4
ZDY122-4
ZDY131S-4
ZDY112L1-4
Power(kw)
2× 0.8
2× 1.5
1.5× 2
2.2× 2
2.2× 2
Rotation (m/min)
1380
1380
Lifting mechanism
(electric hoist)& electric hoist travelling mechanism
Electric hoist model
CD1/MD1
MD1/HC
Lifting speed (m/min)
8, 8/0.8 7, 7/0.7
3.5 3.5/0.35
Lifting height (m)
6, 9, 12, 18, 24, 30
12, 18, 24, 30
Travelling speed (m/min)
20(30)
20(30)
Motor
Taper Squirrel-cage type
Taper Squirrel-cage type
Work duty
A3-A5
Power supply
380V 50HZ three phase
Wheel diameter
270mm
370mm
Width of trail
37-70mm
37-70mm
We are China Henan Mine Crane 5 Ton Single Girder Overhead Crane manufacture and supplier,You can get more details with Email,you will get cheap price or factory price.
Tags:
Crane
,
Overhead Crane
,
Steel Factory Crane