Heavy Duty Qd Model 100 Ton Double Girder Overhead Traveling Crane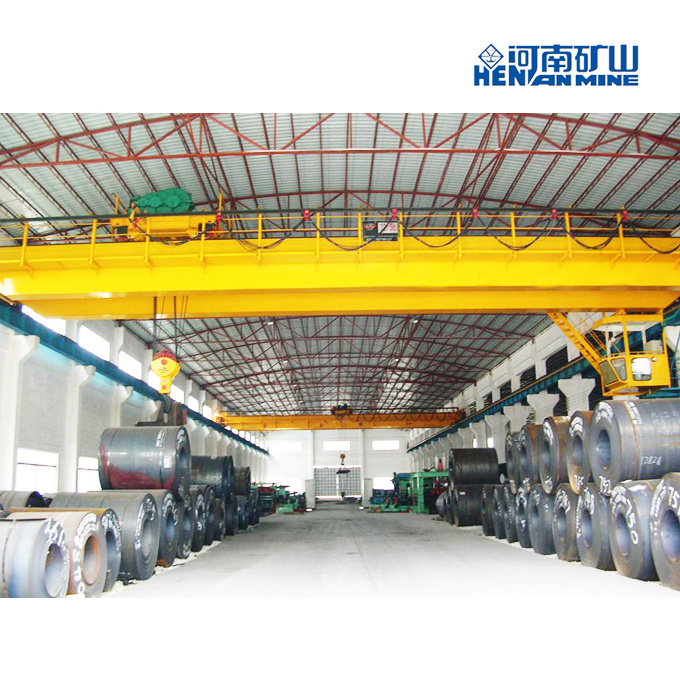 Heavy Duty Qd Model 100 Ton Double Girder Overhead Traveling Crane image
Overview
Product Description
Detailed Photos
Product Parameters
Packaging & Shipping
Company Profile
Our Advantages
Basic Info.
GB/T 24001-2004 Idt ISO14001: 2004
Pass
GB/T 19001-2000 Idt ISO 9001: 2000
Pass
GB/T 28001-2001, Ohsas18001: 1999
Pass
Main Electrical Parts
Siemens Brand
Frequency Inverter
According to Your Demand
Tower Crane Type
Under Slewing Cranes
Transport Package
Export Standard
Specification
Chinese Standard
Origin
Xinxiang, Henan Province, China
Production Capacity
9000sets/Year
Product Description
Double Girder Overhead cranes sometimes also called bridge cranes and eot crane, which are cranes with a hoist or winch traveling along the bridge beween parallel runways. They are designed to meet the medium to heavy industrial lifting requirements, covering all parts of the manufacturing process.
Compents:
1) Girder Frame 2) Crane Travel Device 3) The Trolley with Lifting and Moving Device.
The whole crane assembly ——No. 1 in China
Our group ————Score No. 1 on double girder crane for continuous 6years
Motor——- Top quality in China.
Control mode ——Pendent wire. Cabin control Remote control
Working duty ——–A3~A7
Crane body——- Strong box type
Crane main girder ———-One whole plate on every side, no welding, strong and beautiful.
Main electrical parts——- Schneider brand (France Famous brand)
Wheel and gear ——–Manufactured by our Group with unique special technique, so high quality could be controlled. Wheels are vacuum casting and medium frequency quenching.
Safety features ———Weight overload protection device; Crane traveling limit switch; Top quality long time bearing polyurethane materials buffer; Current overload protection system; Voltage lower protection function; Cross traveling limit switch; Lifting limit switch; Emergency stop system; Zero voltage protection; Phase sequence protection; Protective earthing, etc.
Painting:
Painting will be completed in the factory before shipping.
After manufacturing (after welding)
Average thickness: About 100 microns
Electrical elements
The crane that we are offering is designed to meet the required functions and requirement stated in your specifications, as well as for the operating conditions.
The sub-assemblies used by are standardized equipment of renowned manufactures and have been approved for specific crane operation by our test laboratory. Their characteristics regarding impact, vibrations, wear and safety were examined. A continuous high quality standard is ensured by series production and standardized sub-assemblies.
The electrical equipment is accommodated in robust steel plate control cubicles, on the crane girder.
All movements can be switched off by actuating the emergency-off switch at the control station via a main contactor.
Power supply cable and control cable along the girder
A protective earth conductor is fitted as standard. A crane switch is provided.
Travel end switches
Long and cross travel limited by means of preliminary and final limit switches
Mechanism

Item

Lift Mechanism

Mechanism

Item

Travel Mechanism

Main Lift Hook

Aux Lift Hook

Trolley

Crane

Lift Capacity

t

10

3.5

Gauge

mm

2000

20000

Lift Speed

m/min

10.4

19.7

Travel Speed

m/min

43.8

116.8

Work Duty

M6

M5

Work Group

M5

M6

Max Lift Height

m

16

18

Track

mm

2300

4050

Power

380V 3AC 60HZ

Wire Rope

Work Tension

KN

17.4

8.26

Buffer Stroke

mm

60

140

Wheel Diameter

mm

Φ400×1500

Φ300×1500

Rail Type

24kg/m

43kg/m

Pulley Diameter

mm

Max Wheel Load

KN

35.25

135

Reducer

Type

ZQ500-3CA

ZQ400-3CA

Reducer

Type

ZSC-400-1-1

ZQ350-1/2

Speed Ratio

40.17

23.34

Speed Ratio

22.4

12.64

Motor

Type

YZR 200L-6

YZR 160L-6

Motor

Type

YZR132M1-6

YZR160M2-6

Power

kw

22

13

Power

KW

2.5

2×7.5

Rotation Speed

r/min

964

942

Rotation Speed

892

940

Brake

Type

YWZ -300/45

YWZ 200/25

Brake

Type

YWZ-100/18

YWZ-200/25

Brake Torture

N.m

2X630

200

Brake

Torture

Nm

40

2×200

Pusher Type

YT -45Z/5

YT1-25ZB/4

Pusher Type

YT1-18Z/2

YT1-25ZB/4

Limit Switch

DZX multifunctional switch of LX10-31

Limit Switch

LX10-11

LX10-11
Main product showcase

Processing Facility

1. Hoist and electric parts will be packed by plywood crate, for avoiding the demage from goods crash and impact during the delivery.
2. Girders and other main parts will be packed by plastic woven cloth, for preventing rust from soppy condition during the transportation.
3. Only the best transport solution will be taken for saving your cost uttermost on finance, security and time.
Henan Mine Crane Co., Ltd. was established in 2002 with a registered capital of 1.177 billion yuan, construction area of 1.62 million square meters, more than 4500 employees and more than 3500 sets of advanced processing equipment.
Specializing in the R & D, production, sales and service of more than 110 kinds of cranes and supporting parts in three series of "Kuangyuan" brand bridge cranes, gantry cranes and electric hoists.
Our company is a national high-tech enterprise with a technical team composed of more than 10 industry top experts and more than 200 middle and senior engineers. It is responsible for the innovative design and development of products. At present, it has obtained more than 300 national patents and provincial scientific and technological achievements
In 2020, the production and sales of all kinds of single beam and double beam lifting equipment will be nearly 100,000 sets, with sales of 5.675 billion yuan and tax payment of 205 million yuan. The company has 428 sales and service organizations all over the country, serving more than 6000 medium and high-end customers, and has made remarkable achievements in more than 50 key industries such as aerospace, automobile and ship, steel smelting, petrochemical industry, electronic information, electric power industry, water conservancy, railway and military industry.
The developed intelligent storage crane, precision positioning crane, automatic container gantry crane, nuclear grade special crane, clean explosion-proof automatic crane, multi fulcrum flexible crane, simulated maritime rescue crane and other sophisticated products serve Baosteel, China Railway, MCC, CNNC, AVIC and other large enterprises. The products cover more than 80 countries and regions.
We have rich experience in production and export:
We have exported our cranes to Australia, Bangladesh, Iraq, Pakistan, Philippines, USA, Egypt, Peru, India, Turkmenistan, Singapore, Ethiopia, South Africa, Saudi Arabia, Malta, Albania, Ukraine, Vietnam, Kenya, Nigeria, UAE, Cameroon, Uruguay, Bahrain, Thailand, Kazakhstan, Germany, Sultan,
Chile, Oman, Romania, Malaysia, Armenia, Jordan and so on, received good confirmation and welcomed from them!

We are China Heavy Duty Qd Model 100 Ton Double Girder Overhead Traveling Crane manufacture and supplier,You can get more details with Email,you will get cheap price or factory price.
Tags:
Bridge Crane
,
Crane
,
Overhead Crane