Good Quality Single Girder Electric Overhead Traveling Crane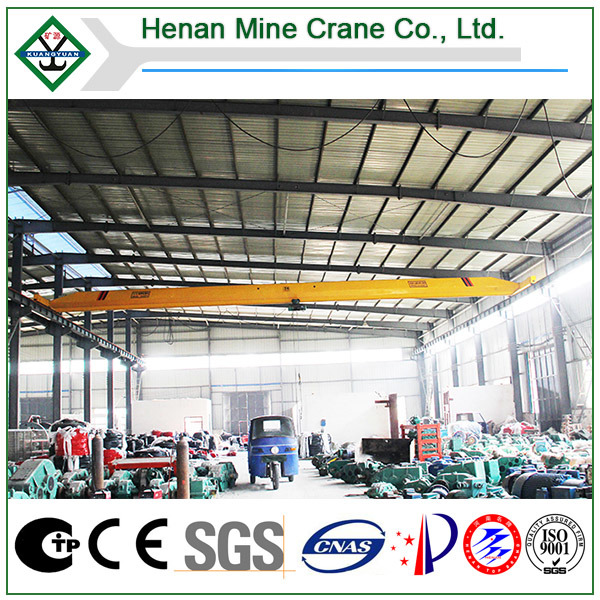 Good Quality Single Girder Electric Overhead Traveling Crane image
Basic Info.
Model NO.
LDA Overhead Crane
Maximum Lifting Weight
20t
Main Girder Form
Single Girder
GB/T 24001-2004 Idt ISO14001: 2004
Pass
Electric Current
380V 50Hz Three-Phase
Application
Construction Usage, Workshop Usage
Transport Package
Packed by Plywood Crate and Plastic Woven Cloth.
Specification
China National standard
Origin
Xinxiang, Henan Province
Production Capacity
18, 000 Sets/Year
Product Description
Good Quality Single Girder Electric Overhead Traveling Crane
Kuangyuan 10-ton cranes performing material handling jobs, consistently and reliably, day in and day out, in a wide variety of industries and applications-factories, shipping, transportation, hazardous environments and many others-any situation that demands rigorous, repetitive operation. We are engaged in saving our customers downtime and maintenance costs for optimal productivity, longevity and return on investment.
Some of the features of our range are
Modern design

Safe operation as per ISO

Capacity – 0.5 ton to 20 ton

Span – 3Mtrs to 25Mtrs and above

Hoist – CD/MD wire rope Hoist with Motorized Trolley

Speed – Single speed or dual speed for Hoisting, Cross travel and long Travel Speeds
Rope Drum
Steel fabricated/seamless pipe drum is machine grooved and designed to accommodate the whole length of wire rope in one layer.
Wire Rope
6X37 construction steel/fiber core wire rope with minimum factor of safety of 6 is provided.
Gear Box
Complete gear train for hoisting motion is in an enclosed casing provided with oil bath lubrication. The gears are made from alloy steel.
Lifting Hook
Forged steel shank type hook with thrust bearing for swivel is incorporated.
Trolley
Runner wheel can be factory adjusted for various sizes I-beams, trolley, motor driven, hand chain driven or pull push type can be provided as per requirements.
Motor
Motors are of squirrel cage, 40% CDF rating in class B insulation manufactured by own make.
Hoist Brake
The hoist motor is fitted with in electromagnetic brake of shoe/disc type. The brake is selected for 150% of load torque to ensure safe holding of load.
Limit Switch
Snap action type limit switches are provided to avoid over hoisting and over lowering.
Control
The hoist is controlled from ground level by means of pendent type push buttons operating on low voltage of 36 safe volts to ensure safety of the operator. Control panel is of enclosed type, easily removable cover complete with transformer contactors and fuses.
Construction
These hoists are of fabricated construction, which consists of separate
individual units such as brake, motor, gearbox, wire rope drum, electrical control panel and traveling trolley. All these units are easily accessible for repairs & maintenance without disturbing each other.
Many plants work with materials whose air/gas mixtures are liable to explode with proximity to equipment prone to sparking. Such explosions endanger the live and health of persons and cause material damage. Hence, we recommend the useflame proof electrical wire rope hoist for material handling, which minimizes the occurrences catastrophe.
Optional Features:
Micro speed for hoisting and cross travel
Power collection systems
Safety limit switches
For – cross travel, hoisting emergency, overload limiter, wire rope
Overload relays, mains on – off, isolator switch, single phase preventors incorporated in control panel

Lifting capacity (T)
1,2,3,5,10T
16,20T
Span(M)
7.5-22.5M
Crane travelling mechanism
Travelling speed(m/min)
20
30
45
60
75
20
30
45
60
75
Reducer ratio
58.78
39.38
26.36
19.37
15.88
58.78
39.38
26.36
19.37
15.88
Motor
Model
ZDY21-4
ZDY21-4
ZDY122-4
ZDY131S-4
ZDY112L1-4
Power(kw)
2×0.8
2×1.5
1.5×2
2.2×2
2.2×2
Rotation (m/min)
1380
1380
Lifting mechanism
(electric hoist)&electric hoist travelling mechanism
Electric hoist model
CD1/MD1
MD1/HC
Lifting speed (m/min)
8,8/0.8 7,7/0.7
3.5 3.5/0.35
Lifting height (m)
6 ,9 ,12, 18, 24, 30
12,18,24,30
Travelling speed (m/min)
20(30)
20(30)
Motor
Taper Squirrel-cage type
Taper Squirrel-cage type
Work duty
A3(China standard for single beam overhead crane)
Power supply
(As your demand)
Wheel diameter
270mm
370mm
Width of trail
37-70mm
37-70mm
We are China Good Quality Single Girder Electric Overhead Traveling Crane manufacture and supplier,You can get more details with Email,you will get cheap price or factory price.
Tags:
Electric Overhead Traveling Crane
,
Overhead Crane
,
Single Girder Overhead Crane