European Standard Single Beam Overhead Crane with Good Price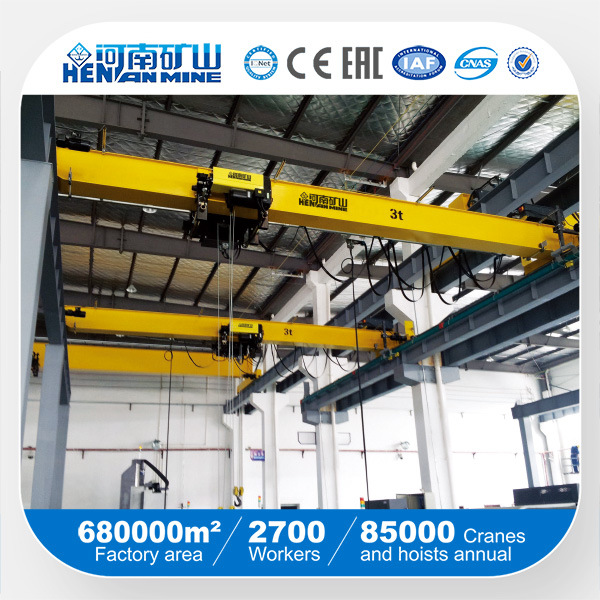 European Standard Single Beam Overhead Crane with Good Price image
Basic Info.
Exprting Experience
More Than 6 Years
Exporting Countries
More Than 100 Countries
Service
Turnkey Project Can Be Supplied
Features 2
Safety and Reliable
Features 3
Fast and Easy Positioning
Features 4
Green Production Technology
Features 5
Safety Monitoring System (Optional)
Tower Crane Type
Under Slewing Cranes
Transport Package
High Quality Plywood Crate
Production Capacity
2000sets/Year
Product Description
European standard single beam overhead crane with good price
Product Description
HD European Standard Single Beam Bridge Crane is our new designed crane for the low workshop and high lifting height demands. It has many advantages such as: Strong rigidity, light dead weight, outstanding structure design, etc. It could save your factory space and investment effectively. Its technology is advanced and design is based on international standard: DIN (Germany), FEM (Europe), and ISO (International). Its particular and special travelling structure is your best choice. HD electric single girder overhead crane could be widely used to handle materials in many industries' workshop and warehouse, such as machinery manufacture, warehouse, logistic, food, paper making, electronics industries workshop and other material handling situations. The lifting hoist adopts M5 working class with double lifting speed, motor with ABM German brand motor. Travelling motor uses SEW European brand in one motor gear motors. Cross and long traveling are variable travelling speed. Electric parts adopt Siemens brand. The protection class is IP 54 high class. The working class can reach to A5/M5 class under ISO standard.
20T European Style Single Girder Overhead Crane Advantages:
Optimized designing, DIN/FEM/ISOstandard, smaller wheel load, space saving
Max. Safe working load 32t
Flexible solution for all lifting needs
Excellent driving properties, stepless control, smoothly moving
Single welding box girder, DIN/FEM standard deflection
Fe37Fe52Q235BQ345B
Material Fe37 or Fe52
Whole length CNC cutting for complete web plate, high deflection accuracy
High quality automatic welding and NDT inspection
Shot-blasting Sa2.5 for complete girder after welding, stress release
Class High tension bolts mounting between girder and legs, life time safety connection
Compacted gear motor driving, stepless control, harden gear, safety disc brake
IP55F40% ED
High protection class IP55, F class, 40% ED
Double flanged or flat wheels, anti-friction bearings, cellular buffers, derailment protectors
Phase control guard opens the main contactor in case of phase failure
All hoist and crane movements are independent and can be run simultaneously.
span
m
7.5
10.5
13.5
16.5
19.5
22.5
25.5
capacity
t
1~12.5t
total weight
kg
1781~12086
trolley weight
kg
405~740
max. wheel load
kn
13.5~90.94
travel rail
P24~P43
lifting speed
m/min
0.8/5
0.8/5
0.8/5
0.8/5
0.8/5
0.8/5
0.8/5
lifting height
m
≥ 6
≥ 6
≥ 6
≥ 6
≥ 6
≥ 6
≥ 6
total motor power
kw
4.31
4.31
4.31
4.31
4.67
4.67
4.67
crane speed
m/min
3-30
3-30
3-30
3-30
3-30
3-30
3-30
trolley speed
m/min
2-20
2-20
2-20
2-20
2-20
2-20
2-20
working duty
M5/A5
– Ever since 1984, Henan Mine Crane has been and continues to be a professonal overhead crane manufacturer.
Since 2003 year, we have new brand KUANGYUAN, then Kuangshan Group is produced.
– Up to now, Henan Mine Crane has been an Overhead Crane Industry Leader, expecially in overhead cranes for steel industry.
– Our focus is to provide our customers a cost effective solution that will meet their material handling needs.
– We provide whole series of overhead bridge cranes with capacity from 0.5 ton to 550 ton.
– Our products not only for overhead crane, we still have transfer cart, gantry crane, jib crane, hoist and other crane parts.
– We supply crane parts to many crane manufactures in China and outside.
– We have BV, CE and ISO certificate.
Professional team:
1. One to one service guarantees you the best purchasing experience.
2. Strong production capacity and professional workmen guarantee you the short delivery.
3. Strict delivery inspection guarantees you the high quality products.
4. The short delivery time
Free to contact us:
1. One year warranty for whole machines
2. Providing free quick-wear part
3. Low charge for continue maintenance when warranty is expired
4. Exclusive engineer support at any time.
5. Highly professional training to end-users
Contact us
Henan Mine(Kuangshan) Crane Co.,Ltd
Tel: +86-373-3088011 | Fax: +86-373-3352688
Mob: +86-13503736037



Add: No.18 Changnao Industry Park, Changyuan County, Henan Province, China
—————————————————-
QUALITY FORGES BRAND INTEGRITY BUILDS FUTURE
We are China European Standard Single Beam Overhead Crane with Good Price manufacture and supplier,You can get more details with Email,you will get cheap price or factory price.
Tags:
European Single Beam Bridge Crane
,
New Type Crane
,
Overhead Crane Price