Electric Hoist Traveling Bridge Crane-Double Girder Overhead Crane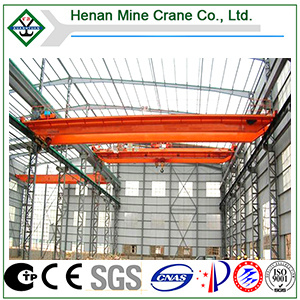 Electric Hoist Traveling Bridge Crane-Double Girder Overhead Crane image
Basic Info.
Lifting Mechanism
Electrical Hoist
Main Electrical Parts
Siemens Brand
GB/T 24001-2004 Idt ISO14001: 2004
Passed
GB/T 19001-2000 Idt ISO 9001: 2000
Passed
Polyurethane Material Buffer
Included
Voltage Lower Protection Function
Included
Painting Color
According to Your Demand
Power Supply
380V 50Hz Three-Phase or Customized
Transport Package
Export Standard
Specification
Chinese Standard
Production Capacity
10000sets/Year
Product Description
Electric Hoist Traveling Bridge Crane-Double girder Overhead Crane
Capacity
T
5
10/3
16/3
20/5
32/10
Operational method
Pendent line with press button /cabin/remote control
Speed
Mainhook Lifting

m/min
8 ,8/0.8
7,7/0.7
3.5
5
5
Aux. hook Lifting
8
8
7
Cross travelling
20
20
20
20
20
Long travelling
Ground
30
30
30
30
30
Cabin
60
60
60
60
45.75
Motor
Lifting
Type /kw
ZD141-4/7.5
ZD151-4/13/
ZD132-4/4.5
ZD151-4/13/
ZD132-4/4.5
ZD151-4/13
ZD152-4/18.5
ZD162-4/30
Cross travelling
ZDY122-4/0.8×2
ZDY122-4/1.5×2
ZDY122-4/1.5×2
ZDY122-4/1.5×2
ZD131-4/3
Long travelling
Ground
ZDY122-4/1.5×2
YZPEY2200-4/2.2×2
YZPEY2200-4/2.2×2
ZDDY31M-4/12/2×3.1/1.0
ZD131-4/3×2
Cabin
ZDY122-4/1.5×2
ZDR112L2-4/3×2
ZDR112L2-4/3×2
ZDR112L2-4/3×2
YZRS114M-4/5×2
Electric hoist
Type
CD1/MD1
CD1/MD1
CD1/MD1
CD1/HC
HC
Lifting height
m
6,9,12,18,24,30
9,12,18,24
Working duty
A5
Power supply
Adjustable
Span
m
7.5-22.5
Recommend rail
38kg/m
43kg/m
Type/Model
LH Double Girder Overhead Traveling Crane
Structure
Main Beam, End Carriage, Hoist trolley, Complete Electrical system and control system
Quality Standard
ISO 9001:2000 ISO 14001:2004 and OHSAS 18001
Motor
Cage motor , Built-in brake ,dust proof construction foot
Brakes:
Independent Hydraulic Brake
Gear Box :
All gears & pinions running on antifriction type ball / roller bearings in totally enclosed oil bath giving constant splash lubrication
Limit Switch
Safety limit switches for stoppers will be provided to prevent over traveling in all motions.
Optional Features :
Wireless Radio Remote control Shrouded DSL system for power feeding Flameproof Anti-explosion Cabin Operated PLC automatic Control system
Double beam overhead crane is one of the most widely used cranes, it can be used in indoor or outdoor places, the lifting capacity is from 5t-40t, span is 7.5~31.5m. It is applicable to transfer, assemble, check and repair as well as load and unload at mechanic processing workshop, subsidiary workshop of metallurgical mills, warehouses, goods yard and power station, etc.
The bridge crane system mainly consists of three major components:
1. The Bridge Crane, which traverses across the runway
2. The hoist & trolley, which traverses across the bridge and lifts up and down.
3. The runway, which is tied to the building structure.
It is operated in the driver's cabin. There are open and the closed styles for the driver's cabin, the cabin is divided into open-style and closed style. It can be installed on the left or right according to actual conditions. The operator can enter the cabin from one side, rear or top, which depends on the different user's requirements.
Advantage:
1). Compact design, optimal use of the size of work areas
2). Control the load easily and position the load exactly
3). Superior safety and reliability
4). Minimum& Easy maintenance
5). "One-Stop Shop" for your crane and hoist needs
Safety
Overload protection,
Main lifting motor with thermal protection,
Hooks with latch,
Rubber buffers
Protective earthing,
Crane switch and travel end switch,
Emergency switch can stop all movement when any dangerous happened,
Sub-assemblies characteristic are tested before assembly.
All cranes must be preassembled and tested before leaving factory and offer the certification of test.
Design and construction rules:
All the standards which are required for the crane are the Chinese standard.
Painting:
Primer and finishing paint
Color: According to your demand.
Average thickness: About 100 microns.
Please write down what you expect the new crane to do. Points to consider will the maximum lifting capacity; The weight of the average load that the crane will need to lift; How many loads you expect that will need to be lifted per hour, per shift, shifts per day, day per week; What are the typical travel distances and how fast must the crane move those distances.
Customer Care:
Our philosophy is that the customer should be happy with the system performance and enormous improvement in work environment. And our aim is reducing the labor inputs for eternity working together with customer and ensuring that the work is executed to the utmost satisfaction of the customer.
Henan Mine Crane Company concentrate to have positive and flexible approach towards customer need through its comprehensive solution and service capabilities, professionally and cost effectively. As a company whose success derives from mains fully committed to develop close working partnership with its customer.
Welcome to contact us by E-mail or online, you will receive our prompt and careful reply!
We are China Electric Hoist Traveling Bridge Crane-Double Girder Overhead Crane manufacture and supplier,You can get more details with Email,you will get cheap price or factory price.
Tags:
Crane
,
Eot Crane
,
Overhead Crane