Electric Hoist Top Running Qd Model 20 Ton Overhead Crane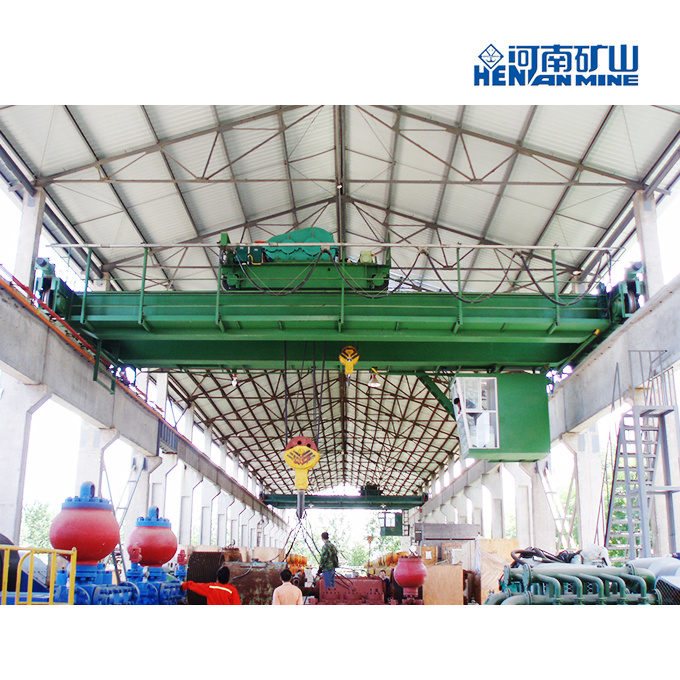 Electric Hoist Top Running Qd Model 20 Ton Overhead Crane image
Basic Info.
Max. Lifting Load
320/80t
Crane Traveling Limited Switch
Include
Weight Overload Protection Device
Include
Transport Package
High Quality Plastic Woven Cloth!
Specification
GB/T3695-2008
Origin
Xinxiang City, China
Production Capacity
4000sets/Year
Product Description
20 ton overhead crane price is a type of crane found in industrial environments. The bridge crane consists of parallel runways with a traveling bridge spanning the gap. A hoist, the lifting component of a crane, travels along the bridge.
In many instances the cost of a bridge crane can be largely offset with savings from not renting mobile cranes in the construction of a facility that uses a lot of heavy process equipment.
Safety features
1. Overload protection: If the materials or electric current overstep the capacity, the QD type double beam overhead crane will give a sharp warning for protection itself.
2. Emergency brake: If there's emergency situation, it could stop the double beam overhead crane to protect operator and goods.
3. Control Method: Room control or remote control to avoid any injure to the operation staff for double beam overhead crane.
4. Main lifting motor: with thermal protection and currency protection.
5. Hooks with latch:to prevent goods fall down;
6. Rubber buffers
Operation model: Round handle; remote control; cabin (open and closed)
Load handling device: The double beam overhead crane can also be furnished with motor grab, electromagnetic chuck according to the requirements of varied types of materials.
Motor: The QD type double beam overhead crane travelling motor can be soft start motor and frequency adjustable-speed motor to start steadily and run safely.

ifting Capacity T
5
10
16/3.2
20/5.0
25/5.0
32/5.0
50/10.0
Span M
10.5-31.5
Lifting height(M)
Main Hook
16
16
16
12
12/11.0
16
12
Aux Hook
18
11
14/13
18
16
Speed(M/min)
hoist
Main hook
A5
12.5
8.5
7.9
7.2
7.3
7.8
5.9
A6
15.5
13.3
13
9.7
9.8
9.5
7.8
Aux hook
14.5
12.7
12.7
19.5
13.2
Trolley traveling
37.2
43.8
44.6
44.6
37
42.4
38.5
Bridge traveling
A5
89.8 /92.3
89.8-91.9
84.7-87.6
84.7/ 87.6
85.5/88
74.2-87.6
74.6
A6
116.2/ 117.4
112.5-116.8
112.5
112.5/ 101.4
112/ 101.4
86.8-101.4
87.3
Weight(Kg)
Trolley
A5
2126
3424
6227
6856
7185
10877
15425
A6
2224
3562
6427
7180
7856
11652
15765
Total Weight
A5
12715-31405
14270-34405
19128-39428
19947-41497
20795-42796
26901-52748
35317-64880
A6
12991-31596
14719-34699
20045-41315
20984-44225
22632-16324
28061-55272
36075-67242
Max Wheel Load KN
A5
74-125
102-160
141-205
163-231
185-255
237-327
333-450
A6
75-126
104-162
145-211
167-239
189-263
242-335
336-457
Rail recommended
Trolley
15kg/m
43kg/m
Bridge
43kg/m
QU70
QU80
Power Source
380V 50HZ 3Phase or based on your request
Henan Mine Cranes meet the factory, workshop, port, mining, waste disposal, goods scattered, petrochemical, aerospace and other industries of universal bridge crane, overhead crane, eot crane, door crane, universal gantry crane, rubber tyre and rail mounted container gantry crane four link type portal crane, quayside container crane, crane, crane hook, mining grab crane, gantry crane, ship loader, grab bucket ship unloader, stacker reclaimer, dredger, mobile platforms and other types of hydraulic crane technical requirements.
The 2,700-plus-member factory covers over 680,000 square meters and has a total asset of RMB 660 million. The 1,200-plus equipment enable the company to independently conduct over 20 technological flows, including lathing, milling, planning and grinding, The 180-plus intermediate and senor technical staff are responsible for R&D and production of all the products. The products have passed CE SGS TUV BV and CU-TR verification, and factory passed ISO9001-2008 international certification, IS014001:1996 environmental and ISO28001-2001 quality, health and safety certification. Our company has perfect quality-control system, strict and comprehensive management system, strong production capability and advanced test measures, guaranteeing high quality, output, competitiveness and market share.
Main product showcase
Processing Facility

Packaging & Delivery
Packaging Details
Packing & Delivery terms:
1. Hoist and electric parts will be packed by plywood crate, for avoiding the demage from goods crash and impact during the delivery.
2. Girders and other main parts will be packed by plastic woven cloth, for preventing rust from soppy condition during the transportation.
3. Only the best transport solution will be taken for saving your cost uttermost on finance, security and time.
Delivery Time
Shipped in 30 days after receive deposit
We are China Electric Hoist Top Running Qd Model 20 Ton Overhead Crane manufacture and supplier,You can get more details with Email,you will get cheap price or factory price.
Tags:
Bridge Crane
,
Double Girder Overhead Crane
,
Overhead Bridge Crane