Electric Hoist Gantry Crane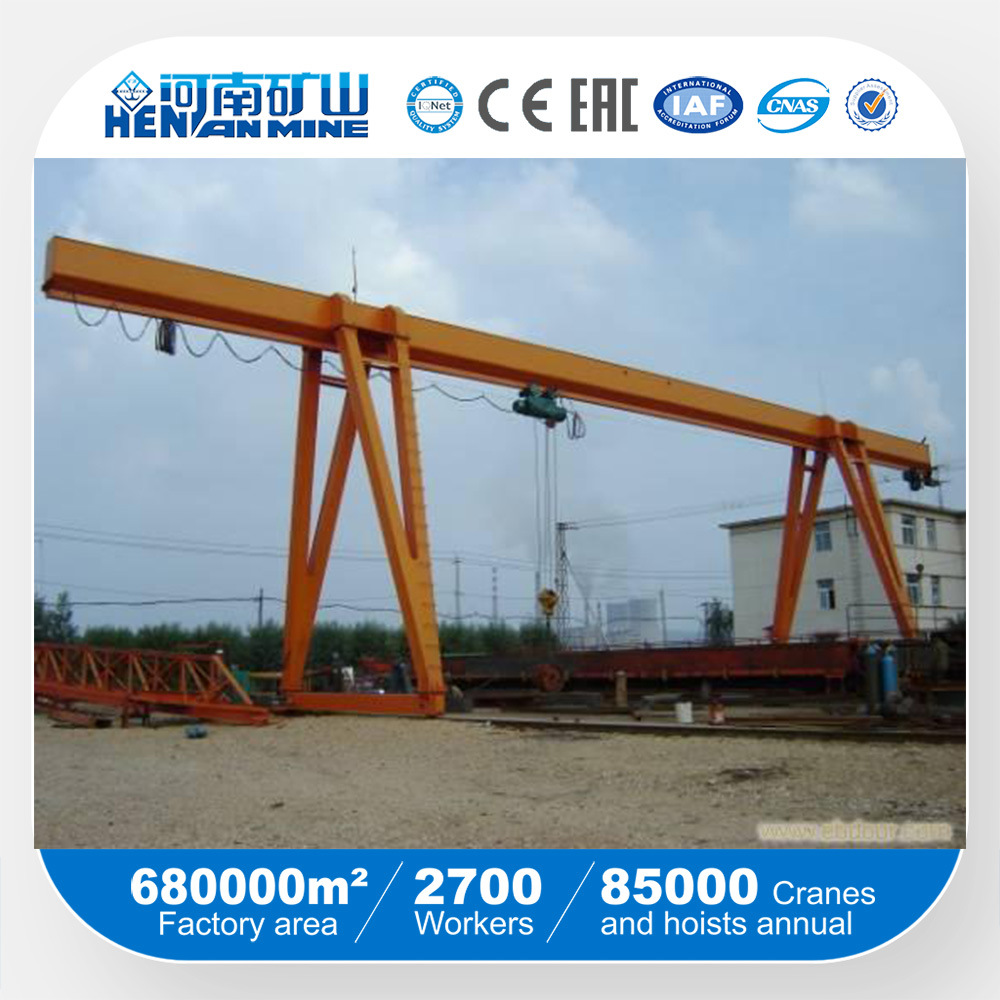 Electric Hoist Gantry Crane image
Basic Info.
Main Girder Form
Single Girder
Transport Package
1.Girder and End Truck Are Packed by Rain-Proof Pl
Production Capacity
10000sets/Year
Product Description
Description:
ELectric single beam gantry crane with hook is applied outside warehouse or railway sideways to do common lifting and unloading works, this kind of crane is composed of bridge, support legs, crane traveling organ, electric equipment, strong lifting winch, the frame adopts boxed-type welding mechanism, crane traveling mechanisms are operated in the driver cabin or remote control, Power is supplied by cable or slide wire.
Safety feature:
Weight overload protection device, Top quality long time bearing polyurethane materials buffer, Crane traveling limit switch, Voltage lower protection function, Emergency stop system, current overload protection system and so on!
Control method:
Pendent line with press button or remote control or cabin or both
Design and construction rules:
All the standards which is required for the crane is the Chinese standard
Technical data:
Capacity

T

3

5

10

16

20

Span

m

12,16,20,24,30

Operational method

Pendent Line With Press Button /Cabin/ Remote

Speed

Lifting

m/min

8 ,8/0.8

8,8/0.8

7,7/0.7

3.5

3.5

Cross travelling

20

20

20

20

20

Long travelling

Ground

20

20

20

20

20

Cabin

20, 30,45

20, 30,40

30,40

30,40

30,40

Motor

Lifting

Type /kw

ZD41-4/4.5
ZDS1-4/0.4/4.5

ZD141-4/7.5 ZDS10.8/4.5

ZD151-4/13 ZDS11.5/4.5

ZD151-4/13

ZD152-4/18

Cross travelling

ZDY12-4/0.4

ZDY121-4/0.8

ZDY21-4/0.8×2

ZDY121-4/0.8×2

YZD-4/0.8×4

Long travelling

Ground

ZDY21-4/0.8×2
ZDY21-4/1.5×2

YZY22-4/1.5×2
YZR132M2-6/3.7×2

YZR22-4/1.5×2

YZR160M1-6/6.3×2
YZR160M2-6/8.5×2

YZR160M1-6/6.3×2
YZR160M2-6/8.5×2

Cabin

ZDR100-4/1.5×2
ZDR112-4/2.1×2

YZR112L1-4/2.1×2
YZR160M1-6/2.1×2

YZR112L1-4/2.1×2
YZR160M2

YZR160M2-6/8.5×2
YZR160L2-6/11×2

YZR160M2-6/8.5×2
YZR160L2-6/11×2

Electric hoist

Model

CD1/MD1

CD1/MD1

CD1/MD1

CD1

HC

Lifting height

m

6,9

Working duty

A3

Power supply

380V 60HZ 3phase AC (According to your demand )
Company profile
Henan Mine Crane Co., Ltd. (hereinafter called "HMC"), a shareholding industry enterprise which is established in 2002 and engaged in the manufacture and sale of "Kuangyuan" brand, mainly producing electric hoist, overhead crane, gantry crane, cranes for special industries and crane parts. The General Administration of Quality Supervision, Inspection and Quarantine of PRC have granted HMC the production, installation and maintenance licences. What's more, HMC is awarded the director-level member of China Lifting Industry Association and China Heavy Machinery Industry Association.
HMC has more than 2700 staffs, owning floor area of 680,000 m2, RMB 0.38 billion capital fund and over 380 sales branches around the world. More than 1200 sets of advanced equipments enable HMC to finish over 20 technological flows independently which include lathing, milling, planning and grinding. Moreover, HMC possesses exceed 180 medium and senior technical staffs and they are all professional for the design or production guidance with the whole crane products. The company has obtained ISO9001:2000 (the quality management system certification), ISO14001:1996(the environmental management system certification ) and OHSAS18001(the occupational health management system certification), having a perfect quality-control system, a strict management system, strong production capability and advanced testing measures to ensure the products with high quality.
HMC is a new and professional technology enterprise in Henan Province, developing new products and improving the technological products to meet the market demands with higher quality hoisting equipment through continuous technology innovation. On the basis of the digestion and absorption of advanced crane design and manufacturing technology from China and abroad, HMC makes the great effort to redesign the electric hoists and single or double beam cranes, keeping pace with other international companies and having occupied a leading position in the market.
Our company is located in China's central plain, possessing superior geographical position and enormous persons with scientific management system, automatic office system, huge production capacity, advanced inspection ways and strong sales network. It producing the "Kuangyuan" brand series products which has high quality and reasonable prices to serve the markets. HMC's employees has the determination to make the company to be the first class enterprise in the crane industry of China, trying their best and using their wisdom and ability to write the most brilliant flying chapter of Chinese nation's industrial!
Quality forges the brand and integrity weaves bright future. Your ideal is HMC's pursuit and HMC sincerely hopes to cooperate with all friends from all over the world and creates larger brilliance together!!
CERTIFICATIONS

CLIENTS VISIT

We are China Electric Hoist Gantry Crane manufacture and supplier,You can get more details with Email,you will get cheap price or factory price.
Tags:
Hot Sale Electric Hoist Gantry Crane
,
Single Girder and Double Girder Gantry Crane
,
Workshop Gantry Crane