Double Girders or Beams Heavy Duty Cabin Control Rmg Crane or Rail Mounted Container Gantry Crane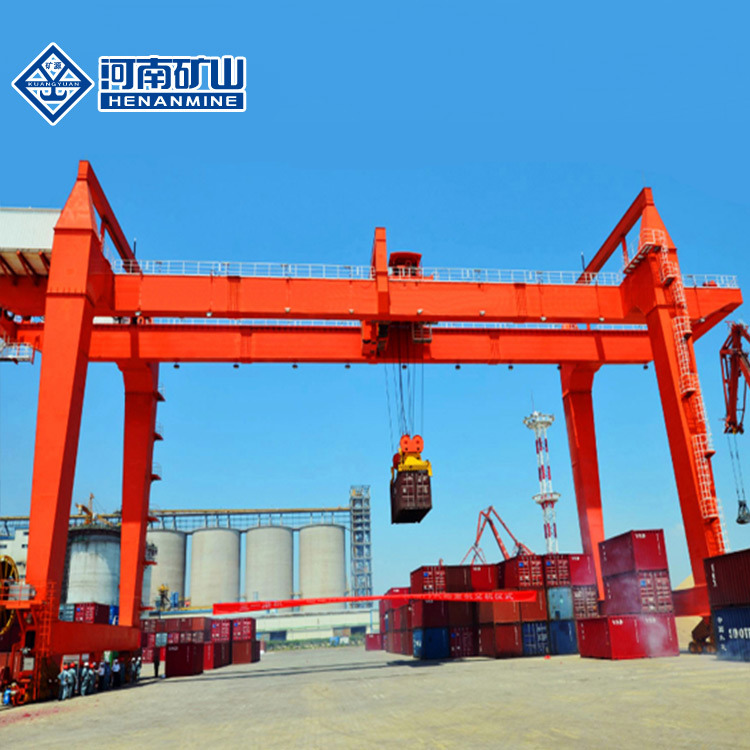 Double Girders or Beams Heavy Duty Cabin Control Rmg Crane or Rail Mounted Container Gantry Crane image
Basic Info.
Main Girder Form
Double Girder
GB/T 24001-2004 Idt ISO14001: 2004
Pass
GB/T 19001-2000 Idt ISO 9001: 2000
Pass
GB/T 28001-2001, Ohsas18001: 1999
Pass
Current Overload Protection System
Include
Voltage Lower Protection Function
Include
Weight Overload Protection Device
Include
Painting Color
According to Your Demand
Working Duty
A5, A6, A7, A8
Transport Package
Packed by Plywood Crate and Plastic Woven Cloth.
Specification
China National standard
Origin
Xinxiang, Henan Province
Production Capacity
18, 000 Sets/Year
Product Description
RMG Container Double Girder Gantry Crane-Rail Mounted Gantry Crane
Double beam gantry crane is applied to open air warehouse or railways for loading and unloading as well as lifting work. Accompanied with particular lifting tools, it could be used for container.
It is widely used in open warehouses, material stocks area, cement plant, granite industry, construction industry, engineering industry, railway station to lifting and loading unloading goods. It also can be used together with other lifting appliance for special purpose.
Lifting Weight
t
10
16
20/10
32/10
36/16
50/10
Span
m
18
22
26
30
35
18
22
30
18
22
26
30
35
22
26
22
26
30
35
35
Lifting Height
Main
11.5
10.5
12
10.5
11.5
12
Aux.
11
12
13
Working Duty
A5
Speed
Hoisting
Main
m
/
min
8.5
7.9
7.2
7.5
7.8
6
Aux
10.4
10.5
10.4
Cross Travelling
43.8
44.5
41.9
38.13
Long Travelling
37.6
40
38
36
38
36
40
38
Motor
Hoisting
Main
YZR180L-6/17
YZR225M-8/26
YZR225M-8/26
YZR280S
-10/42
YZR280M-10/55
Aux.
YZR200L-6/26
YZR225M-6/34
YZR200L
-6/26
Cross Travelling
YZR132M1-6/2.5*2
YZR132M2-6/4*2
YZR132M1
-6/6.3*2
YZR160M1-6/6.3*2
Long Travelling
YZR160L-6/13*2
YZR160M1
-6/6.3*4
YZR160L
-6/13*2
YZR160M2-6/8.5*4
YZR160L-6/13*4
Dead Weight
t
63.2
67.2
78
85
100
78
83.4
106
79
85
96
110
120
95
108
106
118
138
155
195
Track Recommended
43kg/m
50kg/m QU70
Working condition:
1. Working temperature: -25-40
2. Working duty: A5- A6.
A)A5: Used in places of medium service, such as machine and assembly shops.
B)A6: Used in places of frequent working such as metallurgy and casting shops.
3. Power source: 380V 50Hz 3Phase. And we can design as your demands.
4. The altitude height of site is ought to be less than 2000M.
5. Flammable, explosive and corrosive gas is forbidden in the work environment.
6. The crane is forbidden to lift fuse and blend deleterious article and flammable explosive article.
Feature:
1)Reasonable structure
2)Favorable performance.
3)Smooth starting and stopping
4)Safe and reliable traveling.
5)Low noise, commodious cabin and good view.
6)Convenient maintenance, excellent exchangeability for parts and computers.
7)Saves electricity specifications.
We have rich experience in production and export:
We have exported our cranes to Australia, Bangladesh, Iraq, Pakistan, Philippines, USA, Egypt, Peru, India, Turkmenistan, Singapore, Ethiopia, South Africa, Saudi Arabia, Malta, Albania, Ukraine, Vietnam, Kenya, Nigeria, UAE, Cameroon, Uruguay, Bahrain, Thailand, Kazakhstan, Germany, Sultan,
Chile, Oman, Romania, Malaysia, Armenia, Jordan and so on, received good confirmation and welcomed from them!
We are China Double Girders or Beams Heavy Duty Cabin Control Rmg Crane or Rail Mounted Container Gantry Crane manufacture and supplier,You can get more details with Email,you will get cheap price or factory price.
Tags:
Container Gantry Crane
,
Crane
,
Gantry Crane