Double Girders and Beams Magnetic or Electromagnetic Overhead Bridge Traveling Eot Crane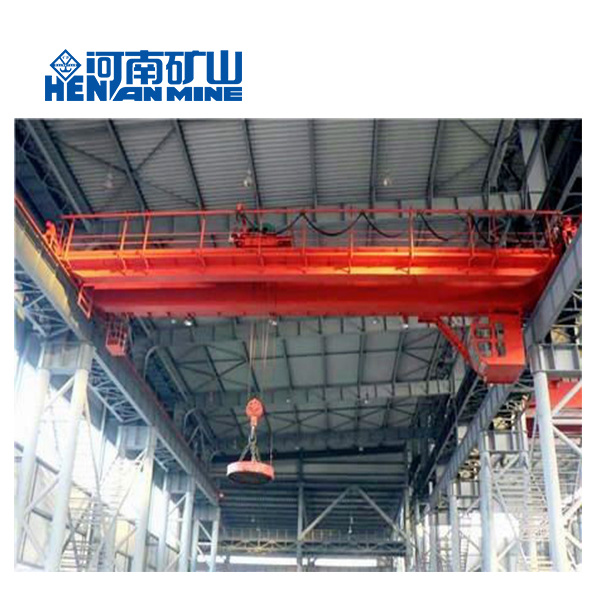 Double Girders and Beams Magnetic or Electromagnetic Overhead Bridge Traveling Eot Crane image
Basic Info.
Main Girder Form
Double Girder
Weight Overload Protection Device
Included
Voltage Lower Protection Function
Included
Electric System
Schneider
Current Overload Protection System
Included
Transport Package
Plastic Woven Cloth, Polywood Case
Specification
GB/T3695-2008
Production Capacity
8000sets Per Year
Product Description
Specifications
Lift capacity

t

5

10

16

Working system

A6

Span

m

10.5 13.5 16.5 19.5 22.5 25.5 28.5 31.5

Max. Lift height

m

16m

s

peed

Hoist

Magnetic

m/min

15.6

13

13

Crab traveling

39.5

43.8

44.5

Trolley traveling

92.7 /93.7

92.7 /93.7/ 86.4

76 /89

Electromagnetic disk

Model

MW-16

MW-16

MW-16

Attracting weight kg

KG

3330

8330

14330

Dead weight kg

1670

1670

1670

Diameter

mm

1180

1180

1180

Steel track recommended

43kg/m

Power supply

3-phase A.C. 50HZ 380V
Description
This crane mainly consists of strong bridge beams, crane travelling mechanism, electric trolley and electric system and magnetic disk system, and could be classified into several working duties, e.g. A5, A6, A7, according to the working frequency and pure working time.
Application
1. Lifting material: cast ingot, steel scraps, steel ball, steel billets
2. Wide use in steel plants, melting plant, waste warehouse, billet processing workshop
3. High working efficiency, safe and reliable operation
4. Perfect performance, low maintenance
Features
1. Reasonable structure and favorable performance.
2. Smooth starting and stopping.
3. Safe and reliable traveling, long life.
4. Low noise, commodious cabin with good view.
5. High quality automatic welding and NDT inspection
6. Crane drive: IP54 or IP44, level F insulation
7. Designed according to your reques
Safety system:
1. Weight overload protection device.
2. Top quality long time bearing polyurethane materials buffer.
3. Crane travelling limit switch.
4. Voltage lower protection function.
5. Emergency stop system.
6. Current overload protection system and so on!
We are China Double Girders and Beams Magnetic or Electromagnetic Overhead Bridge Traveling Eot Crane manufacture and supplier,You can get more details with Email,you will get cheap price or factory price.
Tags:
Bridge Crane
,
Eot Crane
,
Overhead Crane