Double Girder Mobile Electric Overhead Crane for Production Line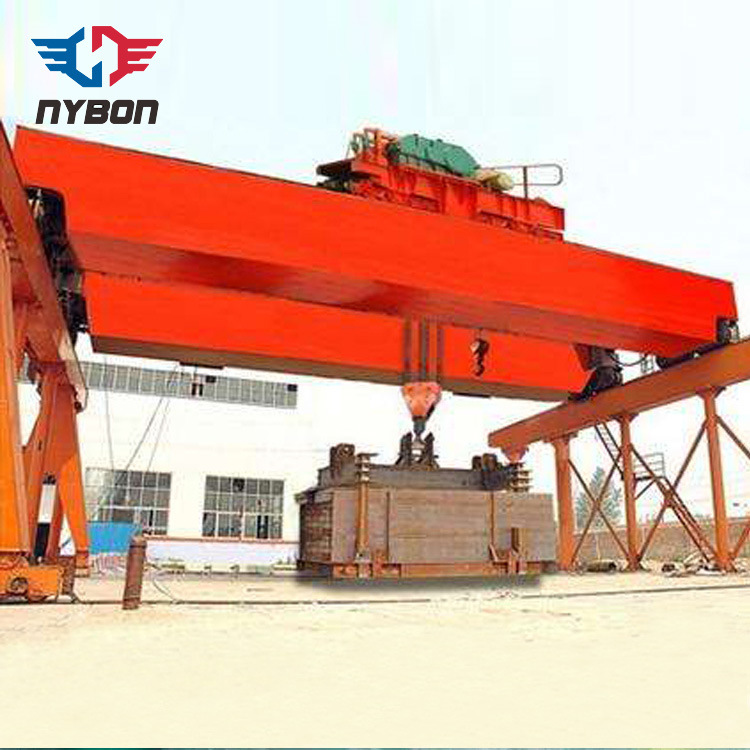 Double Girder Mobile Electric Overhead Crane for Production Line image
Overview
Product Description
Main Technical Parameter
Crane Testing
Production Workshop
Certifications
Packaging & Shipping
FAQ
Basic Info.
Maximum Lifting Weight
10~100 Ton
Main Girder Form
Double Girder
Power Supply
3AC 220~480V 50/60Hz
Trolley Running Speed
40m/Min
Crane Running Speed
40~80 M/Min
Application
Workshop, Production Line, Hydraulic Station
Transport Package
Standard Export Package
Production Capacity
300 Sets/Year
Product Description
Double Girder Mobile Electric Overhead Crane for Production Line

Description:
Electric overhead bridge crane for walking on a roof is composed of box type bridge frame, lifting trolley, crane traveling mechanism, and electrical system. It is an excellent choice where high speeds and heavy service are required. As the widely used hoisting machinery currently especially is suitable for working at warehouses and freight yard and other department it is prohibited to use the equipment in the combustible, explosive or corrosives environment.
It is rely on the bridge frame along the workshop orbital direction moving longitudinal, the trolley along the main beam direction moving transverse and the hook lifting movement to work. High lifting capacity of this crane is designed with two hooks that means two independent sets of hoisting mechanism. The main hook is used to lift heavy objects while the auxiliary used to lift light objects,the auxiliary can also be used for collaborative main hook tilting or tipping the material. However, don't use the two hooks to lift at the same time when goods weight is over the auxiliary rated capacity.

Advantages of double beam bridge crane:
1.Reasonable structure
2.Favorable performance
3.Smooth starting and stopping
4.Safe and reliable traveling
5.Low noise, commodious cabin and good view
6.Convenient maintenance, excellent exchangeability for parts and components
7.Energy saving,reduce energy consumption
8.Using transducer for travelling or traversing crane to realize step speed or stepless speed change
9.Primer and finishing paint
Lifting Capacity

T

5

10

16/3.2

20/5

32/5

50/10

Span

m

10.5-31.5

Speed

Main Hook Lifting

A5

m/min

11.3

8.5

7.9

7.2

7.5

5.9

A6

15.6

13.3

13

12.3

9.5

7.8

Aux. Hook Lifting

16.7

19.5

19.5

10.4

Traveling of Trolley

37.2

43.8

44.6

44.6

42.4

38.5

Traveling of Crab

A5

89.8/91.8

90.7/91.9

/84.7

84.7/87.6

84.7/87.6

87/74.2

74.6

A6

92.7/93.7

115.6/116

/112.5

112.5/101.4

112.5/101.4

101.4/101.8

75/76.6

Operational Model

Cabin; remote control; ground handle

Working Duty

A5,A6

Power Supply

Three-phase A.C. 380V, 50Hz or customized
1. Q: What's your MOQ?
A: 1 Set;
2. Q: What's your package?
A: Main body in plywood box or in plastic woven cloths; Spare parts in plywood boxes;
3. Q: What's your delivery period?
A: Within 10/25/40 days after your prepayment received; exact period should be based on detailed requirements and actual period;
4. Q: What's your warranty period?
A: 12 months from winches accepted;
5. Q: Do you have engineer oversea installation service?
A: Yes; We have;
6. Q: What kinds of products do you have?
A: All kinds of industrial electric winch (especially non-standard); Overhead Crane; Gantry Crane, Electric Hoist; Screw Hoist; Radial/Flat Gate Hoist; Steel Gate; etc.
7. Q: Do you provide lift tools?
A: Yes, we can provide any kinds of lift tools such as lift sling belt, lift clamp, grab, magnet , pulley blocks, hook, lock catch, wire rope, fiber rope, etc.
8. Q: Could your winches drag inclined?
A: Yeah, our electric winches could drag horizontal, drag inclined, hoisting vertical.
We are China Double Girder Mobile Electric Overhead Crane for Production Line manufacture and supplier,You can get more details with Email,you will get cheap price or factory price.
Tags:
Crane
,
Overhead Crane
,
Traveling Crane