Double Girder Grab Bucket Overhead Crane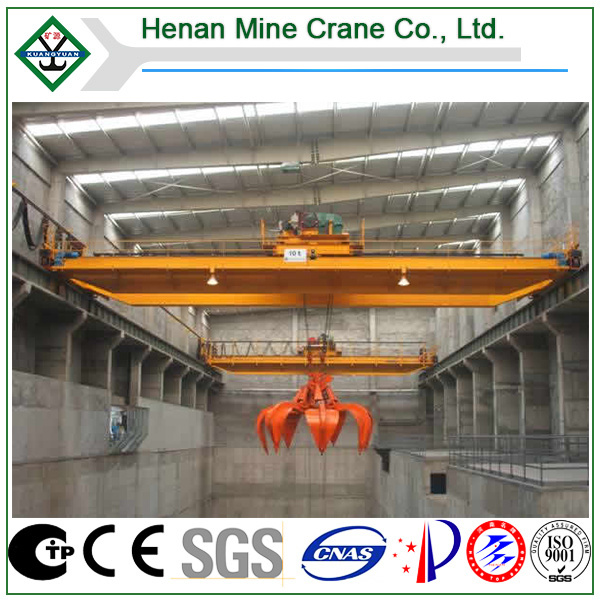 Double Girder Grab Bucket Overhead Crane image
Basic Info.
Certificates
Ce GOST SGS ISO BV
GB/T 28001-2001, Ohsas18001: 1999
Pass
Lifting Mechanism
Electrical Hoist, Elecrtic Trolley Cart
Main Electrical Parts
Siemens Brand
Three Control Methods for Chose
Cabin Control, Pendent Control, Wireless Remote
Painting Color
According to Your Demand
Capacity
2 Ton, 3ton, 5ton, 10 Ton
Application
Construction, Workshop, Container, Mineral
Transport Package
Export Standard
Specification
Chinese Standard
Production Capacity
20000sets/Year
Product Description
Single Girder Bucket Overhead Crane
Durable performance and beautiful design makes the single girder bucket overhead crane widely used in warehouse, power plant, yard for load sundry materials.
QZ type grab crane widely used in power plant, the loading bays, workshop, wharf, bulk material handling transport. This kind of crane is heavy duty. All institutions in the driver indoor operation. Enter the platform door is the direction of the side, end, and top entry. Weight lifting weight includes grab rated Grab open direction parallel and perpendicular has two main girder, and the figure is vertical. Grab any height in open and close. Grab applies only to the accumulation of natural state of granular materials, materials or special underwater when grab materials in order to special This crane can indoors can also be used in outdoor, outdoor use increases rain-cover device.
Single Girder Bucket Overhead Crane
1. Important equipment used in the waste incineration power plant
2. Manual, semi automatic control
Features of Single Girder Bucket Overhead Crane
1. Structural materials are made of Q345B with high strength and fatigue-resistance.
2. The main end carriage is connected with high-strength bolts and is easy in transportation and installation.
3. Trolley frame of the assembled wheel is integrally machined, which prevents the wheel from seizure even under the most serious conditions and thus increase the service life of both the crane and the plan house.
4. The bucket of the 4-lifting points anti-swimming structure prevents it from collision with refuse-pond.
5. Special design of lifting mechanism:
A. Barrel gear coupling with auto-aligning function.
B. Block brake with auto-centering function.
C. Power free cable reel keeps the winding and unwinding speed of cable consistent with the lifting and lowering speed of the bucket.
D. Weighting mechanism with four transducers promised the high accuracy.
6. Automatic operation: The driver may knock the touch screen to realize the entire operation cycle of the crane and finish production tasks.
7. Automatic weighting: The weighting system not only weights, prints out reports and calculates the refuse quantity, but also controls the process under load state.
8. Remote monitor system: The product is connected with server computer through LAN to monitor running state of each item.
9. TV monitor system supervises the conditions of refuse at each feed port, inlet and outlet.
10. Paint:
Prime: Epoxy zinc rich primer
Intermediate paint: Epoxy anti-corrosion pain
Finish paint: Acrylate-PU
The paint film is totally 240 μ M thick to ensure crane appearance quality under high temperature, high-humidity and highly corrosive environment.
Our factory view:
We are China Double Girder Grab Bucket Overhead Crane manufacture and supplier,You can get more details with Email,you will get cheap price or factory price.
Tags:
Bucket Crane
,
Overhead Crane
,
Single Girder Bucket Crane