Double Girder Eot Crane-Heavy Duty Electric Trolley Overhead Crane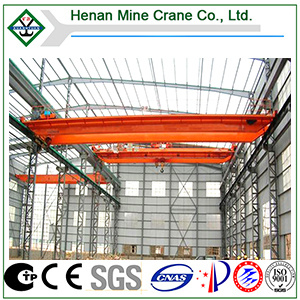 Double Girder Eot Crane-Heavy Duty Electric Trolley Overhead Crane image
Basic Info.
Capacity
2t, 3t, 5t, 10t, 15t, 16t, 20t, 25t, 30t, 32t
Control Method
Cabin, Pendent Line Control, Remote Control
Lifting Height
3m, 6m, 9m, 12m, 16m, 19m, 30m
Hoist Mechanism
CD/Md Wirerope Hosit or Chain Hoist
Electrical Parts Brand
Siemens and Schneider
Power Supply System
Bus Bar
Certificate
CE;GOST;ISO;SGS
Overload Scale
Included in All Motion
Taveling Limit
Included in All Motion
Transport Package
PP Cloth and Wooden Box
Specification
CE; GOST; ISO; SGS CERTIFIED
Production Capacity
3ton~20ton
Product Description
Double Girder Eot Crane-Heavy Duty electric trolley Overhead Crane
Capacity: 0.5 Ton to 20 Ton
Span: 0.5 Mtrs. To 30 Mtrs.
Lift: 0.5 Mtrs. To 50 Mtrs.
Double Girder Eot Crane system
Design, Features & Specifications: 3 Ton to 20ton Double Girder Eot Crane system, The double girder cranes are used when heavy loads, wide spans or high working frequency are required than sigle girder EOT crane. Double girder cranes consist of two torsion-free box girders. This makes double girder cranes especially suitable for lifting and transporting loads over 10 T and for span of more than 25 m. Double girder overhead cranes are available with load capacities up to 100 T and with spans up to 50 M. Heavy duty end carriage joints ensure positive contact of all four wheels with the track.
The profiles of the main girder are optimally produced using a integrated technology which is weldless, so that maximum performance with a minimum of deadweight can be achieved.
Standard Features:
Design: 'Kuangyuan' Brand Electric Overhead Traveling Cranes are designed & manufactured accordance with ISO 9001: 2000 ISO 14001: 2004 and OHSAS 18001 considering factor of safety in respect to appropriate class of duty.
Motors: The motors are used specially crane duty suitable for frequent starting, reversing & braking in accordance with ISO 9001: 2000 ISO 14001: 2004. Motors are totally enclosed in dust proof construction foot / flange mounted TESC / TEFC, Sq. Cage motors with integrated safety brakes, insulation class F, IP54 protection for hoisting, CT & LT motions.
Brakes: Independent Hydraulic Brake make the crane more safe and easier to control
Gear Box: The entire gear boxes are made of accurate hob cut helical / spur gears & pinions having hardness 250 to 350 BHN made from carbon alloy steel. All gears & pinions running on antifriction type ball / roller bearings in totally enclosed oil bath giving constant splash lubrication. The helical / Spur gear designed for adequate strength and optimum wear resistance for smooth operation & long life.
Wheels: The wheels of crane crab, main beam and end carriage are produced in our special Vacuum casting workshop (No sand inclusion technic) ) which make our wheels more elastic and outer surface hard-wearing and durable.
Electrical Panel: -Modular design, ease to install and maintain, reliable operation, fuse less circuitry, ducted wiring and compact terminals. Motor overload protection to prevent overloading.
Limit Switch: Safety limit switches for stoppers will be provided to prevent over traveling in all motions.
Painting: -Two coats of primer before assembly & two coats of synthetic enamel after testing.
Optional Features:
Variable speed through VVF Drive
Soft starter
Slipring motors
Wireless Radio Remote control
Shrouded DSL system for power feeding
Flameproof
Cabin Operated
PLC automatic Control system
Technical specifications:
Lifting capacity (t)
3
5
10
16
20
Span (m)
10.5-31.5
Control type
Cabin control or Pendent ground control
Lifting height (m)
6-18
9-18
6-18
Speed
m/min
Lifting
8, 8/0.8
7, 0.7/7
3.5, 0.35/3.5
6, 0.6/6
Trolley
20
Crane
Pendent
20 (30)
20
Cabin
20 (30)
20
Motor
Lifting
ZD132-4/4.5
ZDS132-0.4/4.5
ZD141-4/7.5
ZDS1- 0.8/7.5
ZD151-4/13
ZD151-4/13
ZD152-4/18.5
Trolley
ZDY121-4
0.8×2
ZDY121-4
0.8×2
ZDY121-4
0.8×2
ZDY121-4
1.5×2
ZDY122-4
1.5×2
Crane
Pendent
//
//
//
//
//
Cabin
//
//
//
//
//
Electric Hoist
CD1 / MD1
Work duty
A4 A5
Power supply
380V, 50Hz, 3-phase
Recommended rail (kg/m)
38-43
Max. wheel loading (Kn)
38.6-124.3
51.5- 124.3
80.8-178
110-225.4
132.6-255.8
Weight
(t)
Pendent control
5.2- 19.9
5.7-21.8
7.2-25.2
8.3-26.9
11.3-30.1
Cabin control
6- 20.7
6.5-23.1
8.0-26.5
9.1-28.2
12.1-31.4
We are China Double Girder Eot Crane-Heavy Duty Electric Trolley Overhead Crane manufacture and supplier,You can get more details with Email,you will get cheap price or factory price.
Tags:
Bridge Crane
,
Crane
,
Eot Crane