Double Girder Electric Magnetic Chuck Overhead Traveling Eot Crane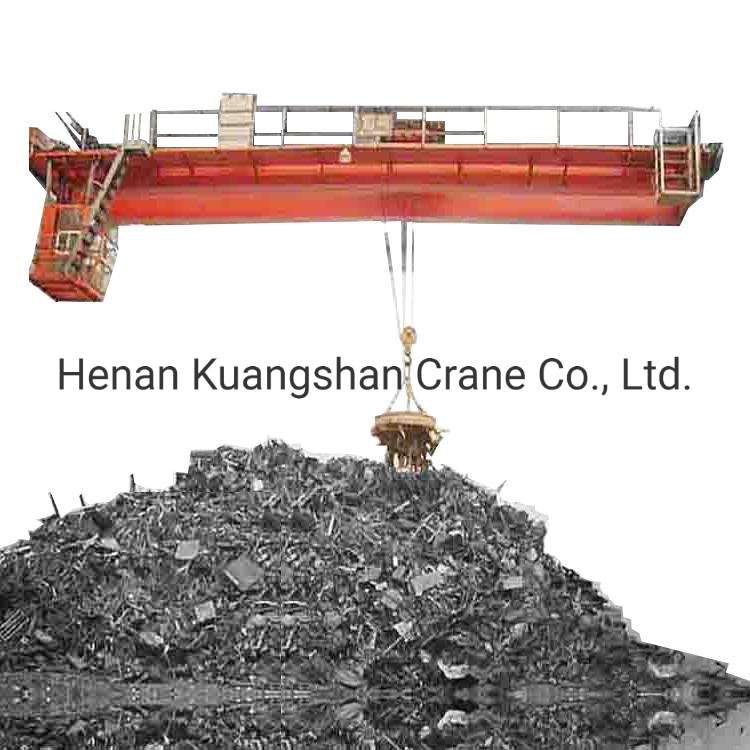 Double Girder Electric Magnetic Chuck Overhead Traveling Eot Crane image
Basic Info.
Maximum Lifting Weight
<20t
Main Girder Form
Double Girder
Current Overload Protection System
Include
Voltage Lower Protection Function
Include
Weight Overload Protection Device
Include
Painting Color
According to Your Demand
Application
Construction Usage, Workshop Usage
Crane Type
Magnetic Chuck Overhead Crane
Sling Type
Magnetic Chuck
Transport Package
Packing by Woven Plastic Cloth and Plywood Crate.
Specification
China National standard
Origin
Xinxiang, Henan Province
Production Capacity
19, 000 Sets/Year
Product Description
Double Girder Electric Magnetic Chuck Overhead Traveling EOT Crane
This Kind of Overhead Crane is connected with a steel scrap magnet, which is widely used in steel making workshop to charge steel scrap to furnace or collect steel scrap. Kuangyuan crane brand is top China famous crane brand,We Henan Mine Crane always consider the safety, efficiency, reasonable design,economic cost etc.
Lifting Weight
t
16/3.2()
Main Magnet
20/5()
Main Magnet
32/5()
Secondary Magnet
Span m
10.5-31.5
10.5-31.5
10.5-31.5
Max Lifting Height

m
16/18

16/18
Working class

A6
Speed
Lift
Primarg hook
m/min
16.6
14.4
12.3
secondary.Hook
19.5
19.5
20
cross travel

44.6
44.6
long travel

112.5
101.4

112.5
101.4
112.5
101.4
Magnet
Model
MW1-16
MW1-16
MW1-45
MW1-16
MW1-45
Pulling weight
kg
14330
18330
14450
4540
3330
Dead weight
1670
1670
5550
460
1670
Diameter
mm
1180
1180
1650
770
1180
Steel track

43kg/m QU70
Power Supply
3-PhaseA.C.50Hz 380V
Billets& steel plate lifting electromagnet overhead crane
This Kind of Overhead Crane is connected with a billets lifting beam with magnets,which is widely used in steel making workshop to transfer square billets,round billets,steel block,steel pipes ,steel plate etc. The lifting magnet carrier beam could be designed as rotating type to suit all direction lifting work for billets. Sometimes they incorporate a rotating trolley in order to position the product correctly in relation to the conveyor. The cranes are designed to be operated efficiently, uninterruptedly and safely in continuous use. The design conforms to the requirements of international standards.
Lifting Capacity(T)
10+10
12.5+12.5
13.5+13.5
16+16
20+20
Span(M)
10.5-31.5
Lifting Height(M)
16
10
13
16
12
Working Duty
A6 – A7

Speed
(M / MIN)
Hoisting
11.4
Rotation
0.8 ( R / MIN )
Travrlling of Trolley
38
Travelling of Crane
88
Industrial Voltage Supply
380V – 440V, 50 – 60 HZ, 3 – Phase
Safety features:
Overload protection,
Main lifting motor with thermal protection,
Hooks with latch,
Rubber buffers
Protective earthing,
Crane switch and travel end switch,
Emergency switch can stop all movement when any dangerous happened,
Sub-assemblies characteristic are tested before assemly.
All crane must be pre-assmebled and tested before leaving factory and offer the certification of test.
We are China Double Girder Electric Magnetic Chuck Overhead Traveling Eot Crane manufacture and supplier,You can get more details with Email,you will get cheap price or factory price.
Tags:
Electromagnetic Overhead Crane
,
Magnetic Overhead Crane
,
Megnet Overhead Bridge