Customized Heavy Foundry/Casting/Ladle/Metallurgy Overhead Crane for Steel plant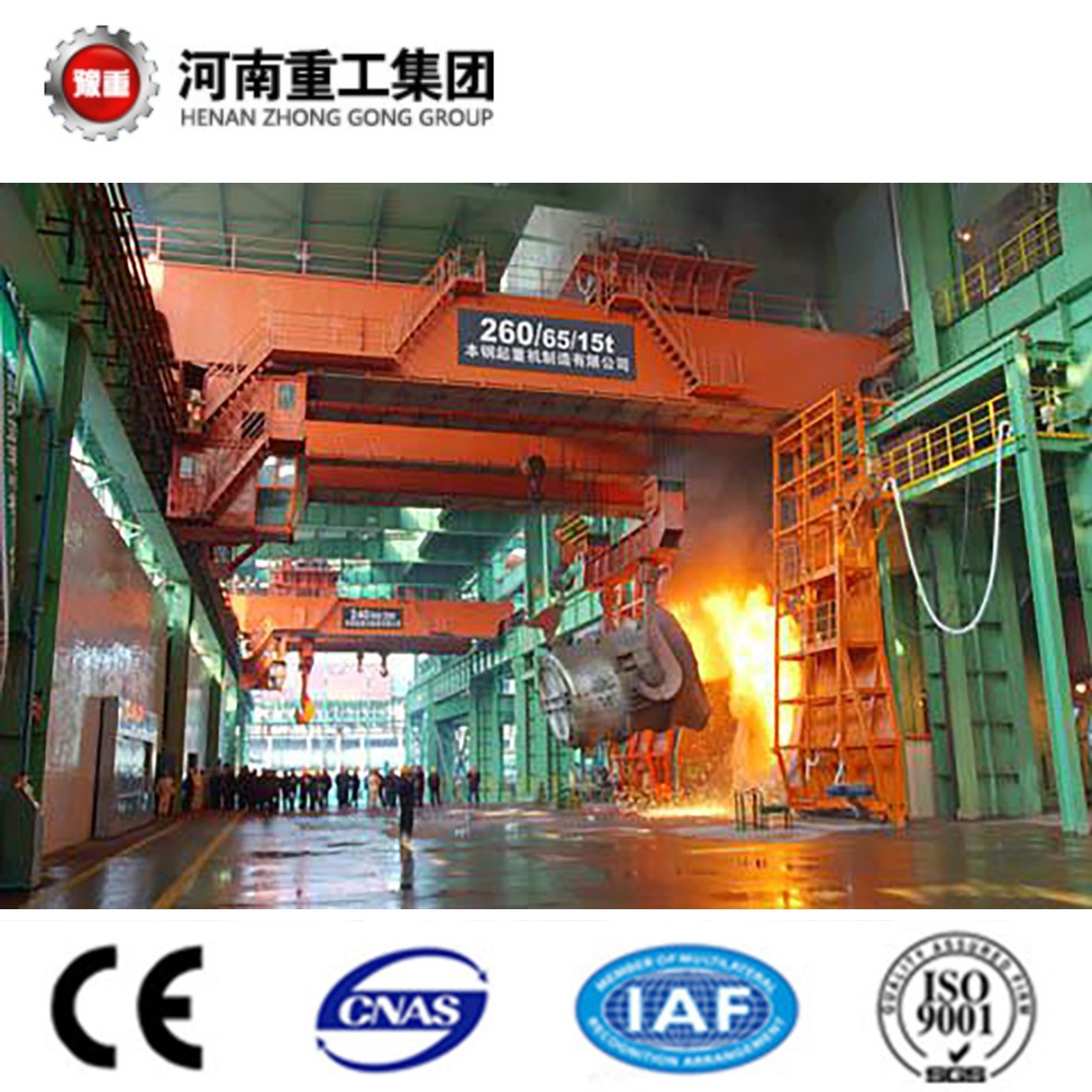 Customized Heavy Foundry/Casting/Ladle/Metallurgy Overhead Crane for Steel plant image
Basic Info.
Lifting Capacity
75t/20t-160/40t
Overload Protection
Included
Control Stype
Cabin/Remote Control/Wireless Control
Guarantee Period
12 Months
Transport Package
Wooden Case, Nude
Specification
FEM/ISO Standard
Production Capacity
1000 PCS/Year
Product Description
About Company: Henan Zhonggong Group Crane Technology Co., Ltd
1. With more than 30 years development, Henan Zhonggong Group has 5 holding subsidiaries, covers an area of 240,000 square meters and 100,000 square meters construction area, possesses nearly 1000 sets various producing equipements, is a member unit of Bridge Crane branch of "China Heavy Machinery Industry Association". now we have 1200 staff of which more than 160 professional engineers and management colleagues, company has passed ISO9001, ISO14001 and OHSAS18001. Brand "YUZHONG" products have been granted titles such as "Top 10 brand Well-Known Cranes in China", "Well-Known Commodity in Henan Province" and "Henan Famous Trademark".
2. Group R&D Center has been recognized as the engineering technology research center of cranes for application at Xinxiang nuclear power station and serves as the only China R&D in the nuclear area. company can supply electrical hoist, single girder crane, double girder crane, gantry crane, overhead crane, grab, explosion-proofinsulation crane, hydraulic hoist, container handling crane, ship crane, metallurgic crane, quenched crane, elecromagnetic series crane and special crane for nulear power station.
About Product: YZ type 75/20~160/40t Four-beam Casting Bridge/Overhead Crane

Casting bridge crane is mainly composed of bridge, crab, connecting traverse, trolley mechanism and electric part. The main hook employs the constant-spacing connecting traverse as the load handling device to hoist steel ladle and the auxiliary hook acts in concert with the main hook to accomplish pouring of molten steel slag, and other auxiliary hoisting.
The trolley traveling mechanism and main electric equipment are installed in the girder. The girder's electric panel room employs rock wool for heat insulation, and has an air cooler inside. To reduce heat radiation of molten steel to metal structural members, a thermal baffle is set along the span direction at the bottom of the girder.
Working condition:
1. Working temperature: -10~+60°C,
2. the relative humidity is no more than 50% when the temperature is +40°C;
3. Work class: A6/A7
4. Power Source: 3ph, 380V, 50HZ or As per customer requirement.
Parts of the Overhead Casting Crane
Main Girder
It contains girder box, platform, pantograph and trolley rail. It applies shot blasting and high quality painting, well-chosen steel plate, advanced welding technology and equipment.
Trolley
It consists of motor, reducer, brake, trolley frame, drum, hook, pulley etc. The trolley includes lifting mechanism and cross traveling mechanism. The trolley is strictly designed according to the application and working environment.
End Beam
It works as long traveling mechanism and combines with beam, wheel, motor, reducer, brake and other parts. The steel plate adopt shot blasting, high quality painting and material. The end beam are on bearing beams.
Electric Parts
We choose high quality electric parts with rain cover. The power supply is conductor bar. We could offer the top brand of electric parts, such as: Siemens.

YZ type Overhead Crane Safety Features
1. Overload protection device
2. Top quality long time bearing polyurethane materials buffer
3. Crane traveling limit switch
4. Voltage lower protection function
5. Emergency stop system
6. Lifting height limit device
Looking forward to receive your enquiry with the below details information:
1. Lifting capacity
2. Span ( rail centre to centre )
3. The required lifting height ( from hook to the ground )
4. Crane travelling length
5. What will be lifted by the crane
6. The crane and hoist movement speed (m/min)
7. The rail length and the height.
8. Single speed or double speed for lifting and travelling?
9. Driver cabine control or pendant control?
10. How many hours work per day?
11. Power source: 380v, 50Hz, 3phase or others?

Double Girder Overhead Crane After-sale Service
1. One year warranty for whole machines from crane running
2. Providing free spare parts
3. Low charge for continue maintenance when warranty is expired
4. Exclusive engineer support at any time
5. We can provide free training to end-users

Specification sheet:
75/20t-160/40 YZ Type Four-beam Cast Bridge Crane
Lifting capacity
Primary handcart
t
75
100
140
160
Second handcart
20
30
40
40
Working class
A6
A6
A7
A6
Span
m
22(18.6)
16
18
22
Lifting height
Primary handcart
m
20
18
20
20
Second handcart
22
19
22
22
Speed
lifting
Primary handcart
m/min
12.99(8.41)
7.54
6.13
6.24
Second handcart
21.16(18.58)
8.93
9.54
9.59
travling
Primary handcart
41.9
35.08
34.5
36.52
Second handcart
44.18
42.44
39
38.5
cart
115(76.7)
76.99
77.3
86.17
Weight
Primary handcart
60(58)
66
79.4
79.95
Second handcart
8.4
10.25
15.97
15.55
Total weight
176
173
213
236
Max wheel load
kn
500(460)
520
530
365
Steel track recommended
QU120
QU120
QU120
QU120
Power source
380V 50HZ 3-phase A.C.
380V 50HZ 3-phase A.C.
380V 50HZ 3-phase A.C.
380V 50HZ 3-phase A.C.
We are China Customized Heavy Foundry/Casting/Ladle/Metallurgy Overhead Crane for Steel plant manufacture and supplier,You can get more details with Email,you will get cheap price or factory price.
Tags:
Casting Crane
,
Crane
,
Ladle Crane