Chinese Made High Quality Steel Plant Overhead Crane for Sale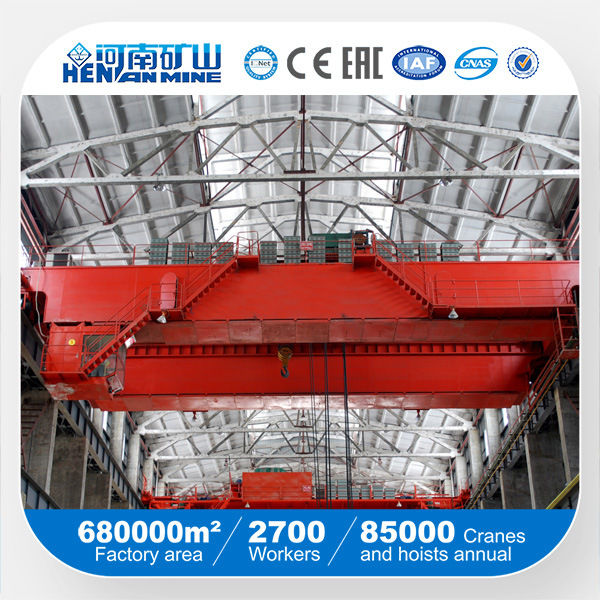 Chinese Made High Quality Steel Plant Overhead Crane for Sale image
Basic Info.
Lifting Mechanism
Electrical Hoist
Main Electrical Parts
Siemens Brand
Current Overload Protection System
Include
Voltage Lower Protection Function
Include
Painting Color
According to Your Demand
Transport Package
Export Standard
Production Capacity
20000sets/Year
Product Description
Chinese Made High Quality Steel Plant Overhead Crane for Sale
* 75/20T foundry crane; * 100/30T foundry crane;
* 125/50T foundry crane; * 140/40Tfoundry crane;
* 160/40T foundry crane; * 200/80T foundry crane;
* 280/75T foundry crane; * 450/80T foundry crane;
Application:
Foundry crane is one of the main equipments in the continuous casting technology of steelmaking. It is mainly used for pouring melted IR on from additive bay of converter to converter; Lifting molten steel from refining bay to refining furnace or lifting molten steel from molten steel bay to ladle turret of continuous Casting machine.
Overall structure:
Two crane gider with two rail or four girder with four rail (for 125t above)
Modern cabin control with Air conditioner to aviod harsh environment
Heat risistance treatment for crane main body
Virable travelling and hoisting speed to meet acurate work.
High working class to make full load and continuous work available.
Safe, reliable, long-lasting and economical, and easy to be maintained.
Technical Functions:
1. The mechanisms can be speed governing ( 1: 10 or larger);
2. The lifting appliances are rotatable;
3. The spacing of portal hook is variable;
4. Limit and warning for over load;
5. Weighing and display of load, PLC control and failure detection, display, record and printing system;
6. Prevent collision between cranes of same span.
Lifting Height
t
180/50
200/50
225/65
240/80
Working Grade
A7
Span
m
28.5
28
27
22
Lifting Height
Main Hook
27
26
32
25
Aux. Hook
m
29
26
34
27
Hoisting Speed
Main Hook
m/min
7.6
6
11
7
Auxiliary
10
10
11
9.6
Travelling Speed
Main Crab
40
41
41
35
Aux. Crab
38
37.6
39.5
38
Crane
80
73
84
80
Max Wheel Load
KN
525
530
550
545
Steel Track Recommend
QU120
Power Source
380V AC 3-Phase
We are China Chinese Made High Quality Steel Plant Overhead Crane for Sale manufacture and supplier,You can get more details with Email,you will get cheap price or factory price.
Tags:
China Overhead Crane for Foundry
,
China Steel Plant Overhead Crane
,
Chinese Made High Quality Steel Plant Overhead Crane for Sale