China Top Brand Double Girder Overhead Crane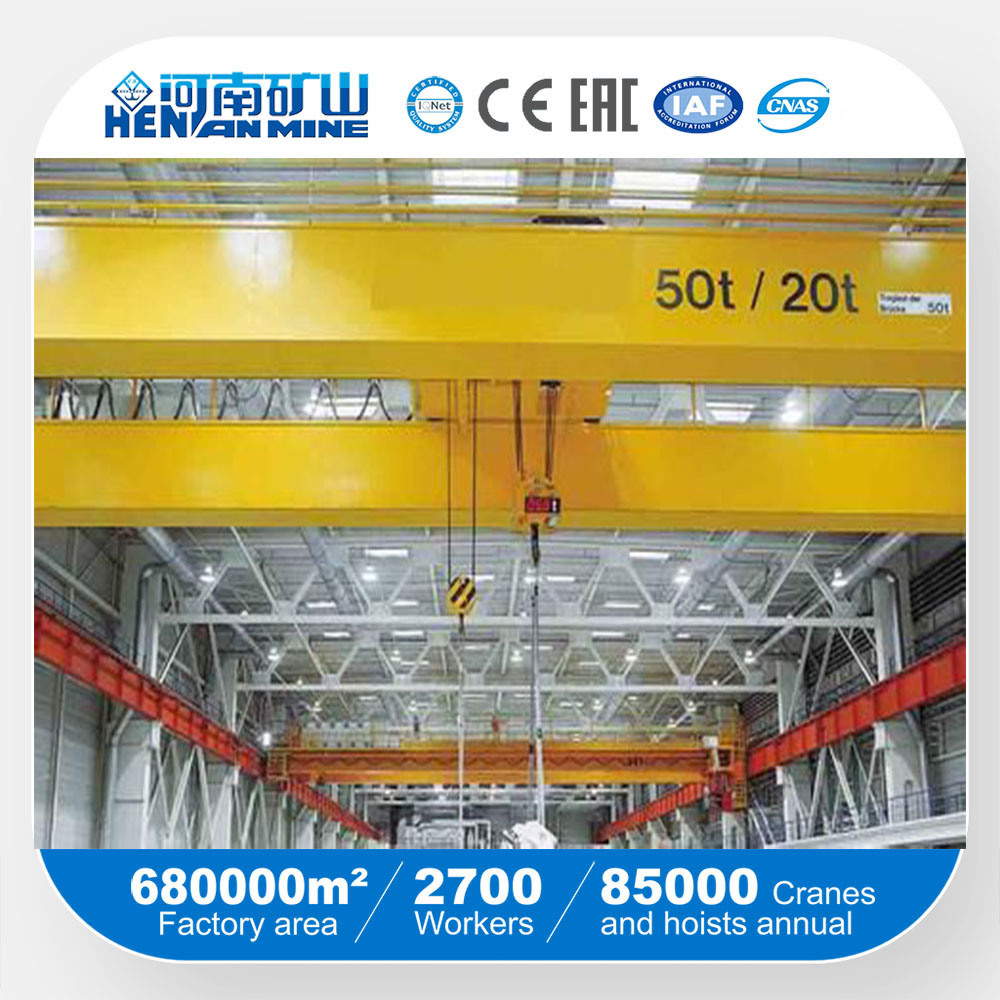 China Top Brand Double Girder Overhead Crane image
Basic Info.
Application
Workshop Usage, Container Usage
Tower Crane Type
Bridge Crane
Transport Package
Electricals and Other Parts Are Packed by High Qua
Production Capacity
1000sets/Year
Product Description
Product information
China top brand double girder overhead crane
mainly consists of strong bridge beams,trolley-traveling mechanism,crab and electrical appliances,and could be classed into several working duties,for instance:A5,A6 and A7 according to the working frequency and time.
Control method:
Remote control or pendent line with press button or cabin or both
Design and construction rules:
The standards which is required for the crane is the Chinese standard
Painting:
Primer and finishing paint
Average thickness:about 100 microns
Technical dates:
Capacity

T

10

16/3

20/5

32/5

50/10

Operational method

Cabin control

Speed

Main hook Lifting

A5

m/min

8.5

7.9

7.2

7.5

5.9

A6

13.3

13

12.3

9.5

7.8

Aux. hook Lifting

16.7

19.5

19.5

13.2

Cross travelling

43.8

44.6

44.6

42.4

38.5

Long travelling

A5

90.7/91.9/84.7

84.7/87.6

84.7/87.6

87/74.2

74.6/85.9

A6

115.6/116.8/112.5

112.5/101.4

112.5/101.4

101.4/101.8

86.8/87.3

Motor

Lifting

Main

A5

Type /kw

YZR180L-6/17

YZR225M-8/26

YZR225M-8/26

YZR280S-10/42

YZR280M-10/55

A6

YZR250M1-6/37

YZR225M2-6/45

YZR280M-8/55

YZR315S-8/75

Auxiliary

YZR200L-6/22

YZR180L-8/13

YZR180L-6/17

YZR180L-6/17

YZR200L-6/26

Cross travelling

YZR132,1-6/2×6.3

YZR132M2-6/4

YZR132M2-6/4

YZR160M-6/6.3

YZR160M2-6/8.5

Long travelling

A5

YZR132M2-6/2×4

YZR160M1-6/2×6.3

YZR160M1-6/2×6.3

YZR160M2-6/2×8.5

YZR160L-6/13

A6

YZR160M1-6/2×5.5

YZR160M2-6/2×7.5

YZR160M2-6/2×7.5

YZR160L-6/2×11

YZR180L-8/13

Max. Lifting height

Main hook

m

16

16

12

16

12

Aux. hook

18

14

18

16

Working duty

A5 ,A6

Power supply

380V 60HZ 3phase AC

Span

m

10.5-31.

Recommend rail

43kg/m

43kg/m or QU70

QU80

QU70

Our company

Company profile
Henan Mine Crane Co., Ltd. (hereinafter called "HMC"), a shareholding industry enterprise which is established in 2002 and engaged in the manufacture and sale of "Kuangyuan" brand, mainly producing electric hoist, overhead crane, gantry crane, cranes for special industries and crane parts. The General Administration of Quality Supervision, Inspection and Quarantine of PRC have granted HMC the production, installation and maintenance licences. What's more, HMC is awarded the director-level member of China Lifting Industry Association and China Heavy Machinery Industry Association.
HMC has more than 2700 staffs, owning floor area of 680,000 m2, RMB 0.38 billion capital fund and over 380 sales branches around the world. More than 1200 sets of advanced equipments enable HMC to finish over 20 technological flows independently which include lathing, milling, planning and grinding. Moreover, HMC possesses exceed 180 medium and senior technical staffs and they are all professional for the design or production guidance with the whole crane products. The company has obtained ISO9001:2000 (the quality management system certification), ISO14001:1996(the environmental management system certification ) and OHSAS18001(the occupational health management system certification), having a perfect quality-control system, a strict management system, strong production capability and advanced testing measures to ensure the products with high quality.
HMC is a new and professional technology enterprise in Henan Province, developing new products and improving the technological products to meet the market demands with higher quality hoisting equipment through continuous technology innovation. On the basis of the digestion and absorption of advanced crane design and manufacturing technology from China and abroad, HMC makes the great effort to redesign the electric hoists and single or double beam cranes, keeping pace with other international companies and having occupied a leading position in the market.
Our company is located in China's central plain, possessing superior geographical position and enormous persons with scientific management system, automatic office system, huge production capacity, advanced inspection ways and strong sales network. It producing the "Kuangyuan" brand series products which has high quality and reasonable prices to serve the markets. HMC's employees has the determination to make the company to be the first class enterprise in the crane industry of China, trying their best and using their wisdom and ability to write the most brilliant flying chapter of Chinese nation's industrial!
Quality forges the brand and integrity weaves bright future. Your ideal is HMC's pursuit and HMC sincerely hopes to cooperate with all friends from all over the world and creates larger brilliance together!!!
Certifications
Clients Visit

Our Services
Pre-Sales Service
Professional team:
1. One to one service guarantees you the best purchasing experience.
2. Strong production capacity and professional workmen guarantee you the short delivery.
3. Strict delivery inspection guarantees you the high quality products.
4. The short delivery time
After-Sales Service
Free to contact us:
1. One year warranty for whole machines
2. Providing free quick-wear part
3. Low charge for continue maintenance when warranty is expired
4. Exclusive engineer support at any time.
5. Highly professional training to end-users
FAQ
Would you please provide more details below?
1. What is the capacity?
2. What about the span gantry crane?
3. Do you need cantilever? How long would you like? You need one side or two sides?
4. What about the lifting height under spreader?
5. The power source of our country is 380V 50Hz, ok to you?
6. How many hours does the crane work per day?
We are China China Top Brand Double Girder Overhead Crane manufacture and supplier,You can get more details with Email,you will get cheap price or factory price.
Tags:
China 30t Hoist Crane
,
China Overhead Crane
,
China Top Brand Double Girder Overhead Crane