China Professional Wireless Remote Control Gantry Crane and Crane Price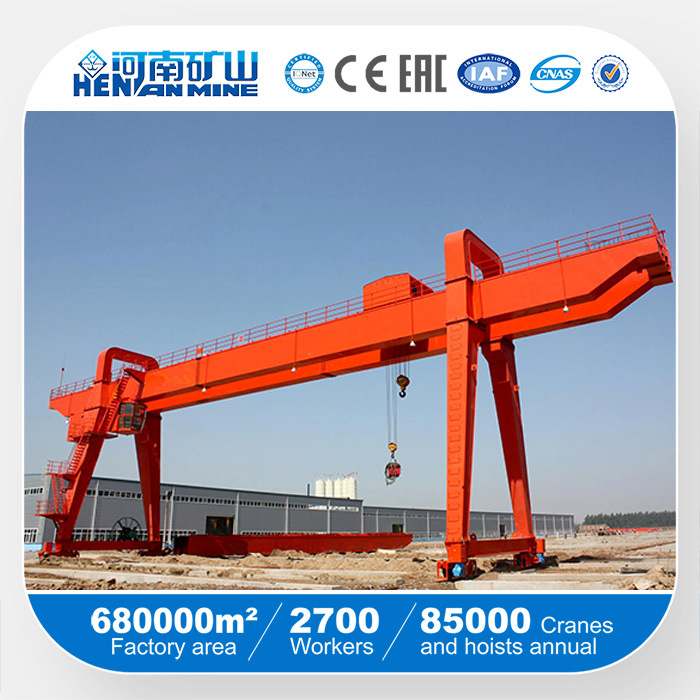 China Professional Wireless Remote Control Gantry Crane and Crane Price image
Basic Info.
Working Duty
A5, A6, A7, A8
Weight Overload Protection Device
Include
Voltage Lower Protection Function
Include
GB/T 24001-2004 Idt ISO14001: 2004
Pass
GB/T 19001-2000 Idt ISO 9001: 2000
Pass
Painting Color
According to Your Demand
Current Overload Protection System
Include
GB/T 28001-2001, Ohsas18001: 1999
Pass
Transport Package
Packed by Plywood Crate and Plastic Woven Cloth.
Specification
China National standard
Origin
Xinxiang, Henan Province
Production Capacity
18, 000 Sets/Year
Product Description
Wireless Remote Control Gantry Crane
Outdoor use goliath crane on rails is applied outside warehouse or railway sideways to do common lifting and unloading works, this kind of crane is composed of bridge, support legs, crane traveling organ, trolley, electric equipment, strong lifting winch, the frame adopts box-type welding mechanism, crane traveling mechanisms are operated in the driver cabin or remote control, Power is supplied by cable or slide wire, there are different capacity double beams gantry crane for your choice according to your different use.
Safety feature:
Weight overload protection device, Top quality long time bearing polyurethane materials buffer, Crane traveling limit switch, Voltage lower protection function, Emergency stop system, current overload protection system and so on
Service:
Design, Manufacture, Quality Assurance, Test, After Sale Service, and we could provide Turn-key installation as your demand.
User information:
The basic parameters should informed by the users, for the capacity, lifting speed and so on, welcome contact us by E-mail or online, you will receive our prompt and careful reply.
Capacity (ton)
5
10
16/3.2
20/5
32/5
50/10
Span (m)
18, 22, 24, 26, 30, 35
Lifting height (m)
10, 11, 12
Working class
A5
Control way
Remote control
Power source
380V 50HZ 3phase (Could supply it as yours)
Trolley lifting mechanism
Lifting speed
(m/min)
Main hook
11.3
8.5
7.9
7.2
7.5
5.9
Auxiliary hook
–
–
14.6
15.4
15.4
10.4
Trolley traveling mechanism
Traveling speed (m/min)
37.3
35.6
36.6
36.6
37
36
Crane traveling mechanism
Traveling speed (m/min)
37.3
39.7
37.3
39.7
39.4
38.5
Motor power(KW)
40.8-51.8
41.5-52.8
80-77
84-81
99.3-117.3
126.5
Steel track recommended
43kg/m
43kg/m or QU70
We are China China Professional Wireless Remote Control Gantry Crane and Crane Price manufacture and supplier,You can get more details with Email,you will get cheap price or factory price.
Tags:
China Gantry Crane
,
China Professional Wireless Remote Control Gantry Crane and Crane Price
,
China Wireless Remote Control Gantry Crane