Cabin Control Double Girders Rail Traveling Gantry Crane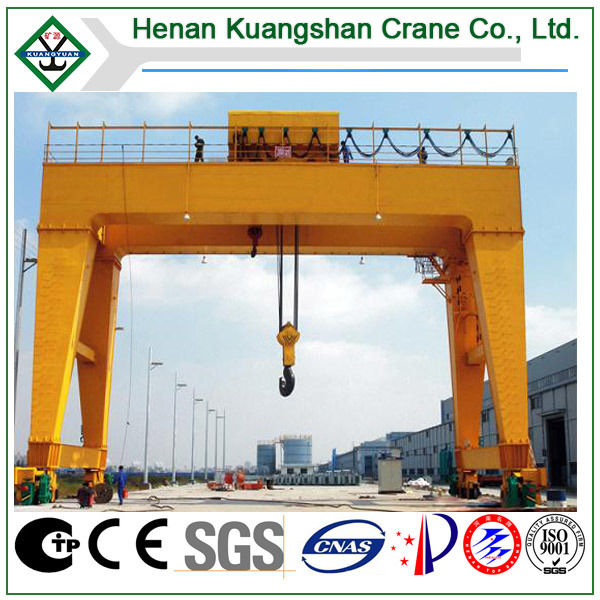 Cabin Control Double Girders Rail Traveling Gantry Crane image
Basic Info.
Main Girder Form
Double Girder
Polyurethane Material Buffer
Included
Current Overload Protection System
Included
Lifting Mechanism
Electrical Hoist
Main Electrical Parts
Siemens Brand
Transport Package
Exporting Standard
Specification
Chinese Standard
Origin
Xinxiang, Henan Province, China
Production Capacity
10000sets/Year
Product Description
double girder gantry crane-Heavy Duty Double Beam Gantry Crane
Long Travelling Mobile Gantry Crane is applied to open air warehouse or railways for loading and unloading as well as lifting work. Accompanied with particular lifting tools, it could be used for container. It has features of beautiful appearance, perfect performance, low cost, easy maintenance, durability and so on.
It is widely used in open warehouses, material stocks area, cement plant, granite industry, construction industry, engineering industry, railway station to lifting and loading unloading goods. It also can be used together with other lifting appliance for special purpose. The lifting capacity is 5~100t, span is of 18~30m.
This machine uses AC frequency control, PLC control, and equipped with intelligent all Chinese "state monitoring control system. " It is composed of beams, crane travelling mechanism, trolley, electric equipment. Beam applies box-type welding structure; Crane travelling mechanism adopts separate drive. All mechanism is operated in the operation cabin, crane power supply is divided into cable and sliding wire, choose one when place the order.
Working condition:
1. Working tempreture: -25-40° C,
2. Work class: A5-A6,
A) A5: Used in places of medium service, such as machine and assembly shops
B) A6: Used in places of frequent working such as metallurgy and casting shops
3. Power Source: 3 phase, 380V, 50Hz or other under customer requirement.
4. The altitude height of site is ought to be less than 2000M.
5. Flammable, explosive and corrosive gas is forbidden in the work environment.
6. The crane is forbidden to lift fuse and blend deleterious article and flammable explosive article.
Feature
1) Reasonable structure
2) Favorable performance
3) Smooth starting and stopping
4) Safe and reliable traveling
5) Low noise, commodious cabin and good view
6) Convenient maintenance, excellent exchangeability for parts and components
7) Saves electricity specifications
Safety
Overload protection,
Main lifting motor with thermal protection,
Hooks with latch,
Rubber buffers
Protective earthing,
Crane switch and travel end switch,
Emergency switch can stop all movement when any dangerous happened,
Sub-assemblies characteristic are tested before assemly.
All cranes must be pre-assmebled and tested before leaving factory and offer the certification of test.
Design and construction rules:
All the standards which is required for the crane is the Chinese standard.
Painting:
Primer and finishing paint
Color: According to your demand.
Average thickness: About 100 microns.
We design and manufacture custom-built cranes according to customer specifications. When you order the cranes from us, please give us the detail of your requirements and your using situation, we will be the one to ensure what we offer is totally according to your requirement. And our components are designed with the idea of adjustment free and according to the lift time of the crane, so you can always rely on the functioning of the cranes.
Welcome contacts us by E-mail or online, you will receive our prompt and careful reply!
Capacity
T
3
5
10
16
20
Lifting height
m
6, 9
Operational method
Pendent line with push button/cabin
Speed
Lifting
m/min
8, 8/0.8
8, 8/0.8
7, 7/0.7
3.5
3.5
Cross traveling
20
20
20
20
20
Long traveling
Ground
20
20
20
20
20
Cabin
30, 40
30, 40
30, 40
30, 40
30, 40
Motor
Lifting
Type/kw
ZD41-4/4.5
ZD141-4/7.5
ZDS10.8/4.5
ZD151-4/13
ZDS11.5/4.5
ZD151-4/13
ZD152-4/18
Cross traveling
ZDY21-4/0.8× 2
ZDY21-4/1.5× 2
ZDY121-4/0.8
ZDY21-4/0.8× 2
ZDY121-4/0.8× 2
YZD-4/0.8× 4
Long traveling
Ground
ZDY21-4/0.8× 2
ZDY21-4/1.5× 2
YZR132M1-6/2.2× 2
YZR132M2-6/3.7× 2
YZR160M1-6/6.3× 2
YZR160M1-6/6.3× 2
YZR160M1-6/8.5× 2
YZR160M1-6/6.3× 2
YZR160M1-6/8.5× 2
Cabin
ZDR22-4/1.5× 2
ZDR24-4/2.2× 2
YZR132M3-6/3.7× 2
YZR160M1-6/5.5× 2
YZR160M1-6/6.3× 2
YZR160M1-6/8.5× 2
YZR160L2-6/11× 2
YZR160M1-6/8.5× 2
YZR160L2-6/11× 2
Electric hoist
Type
CD1/MD1
CD1/MD1
CD1/MD1
CD1
HC
Working duty
A5
Power supply
380V 50Hz 3Phase
Span
m
12, 16, 20, 24, 30
We are China Cabin Control Double Girders Rail Traveling Gantry Crane manufacture and supplier,You can get more details with Email,you will get cheap price or factory price.
Tags:
Crane
,
Door Crane
,
Gantry Crane