5t Single Girder Hoist Overhead Electric Crane Price From China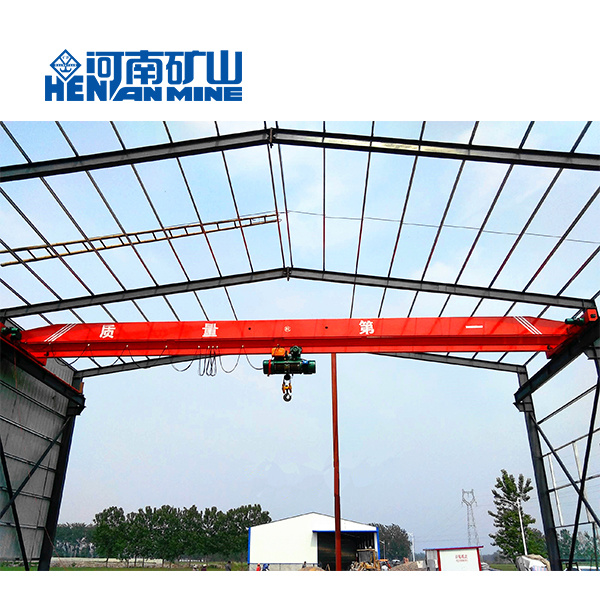 5t Single Girder Hoist Overhead Electric Crane Price From China image
Overview
Product Description
Detailed Photos
Product Parameters
Packaging & Shipping
Company Profile
Our Advantages
FAQ
Basic Info.
Main Girder Form
Single Girder
Application
Cold Forming Workshop
Cross Traveling Speed
20 M/Min
Long Traveling Speed
20m/Min
Transport Package
Wooden Crate and Rain Proof Woven
Specification
5T capacity
Production Capacity
50000 Sets / Year
Product Description
5t Single Girder Hoist Overhead Electric Crane Price from China
LDA single girder electric crane is composed of main girder, end girder, electric hoist and operating mechanism assembled by welding steel plate and I-beam .
The 5t electric hoist runs along the bottom flange of the main I-beam to complete the lifting and transporting of items. It has the features of light structure, convenient installation and maintenance, etc.
It is idely used in factories, warehouses, stockyards and other occasions for lifting goods,
It is forbidden to use in an environment of flammable, explosive and corrosive environments.
The range is 7.5 ~ 22.5m (non-standard design can be made according to user requirements),
The working level is A3, and the working environment temperature is -25 ºC ~ 40 ºC.
The operating mode includes three operating modes: ground handle, wireless remote control and cabin.
The cabin is of two types: open and closed.
The running motor can choose the soft start motor and frequency conversion speed regulation according to user requirements. The crane starts up smoothly and the operation is safe and reliable.
Lightweight structure, convenient installation and maintenance; reasonable structure, strong bearing capacity; low noise, soft start and stop; safe and reliable operation; low maintenance cost and long service life.

Main Features of Bridge single beam overhead crane:
1). Light structure,easy installation and maintenance;
2). Widely used in different places for hoisting such as factories,warehouses and material yards;
3). Reasonable structure,strong bearing capacity ;
4). Low noise, soft starting and stopping ;
5). Safe and reliable operation ;
6). Low cost maintenance, long working life;
7). Strong box type,welding by machine hand.;
8). Wheels,wirerope drum,gears, couplings are processed by CNC manchine center, TOP quality control;
9). Heavy duty slipring motor,Or Sq.cage motor with VVVF, IP54 or IP44,insulation class F or H,soft starting and smooth running.
Safety features:
1. Overload protection: If the material is over the capacity, the crane will give a sharp warning for protection itself.
2. Emergency brake: If the operation staff encounter some emergency situation, we could start the emergency brake system to protection the related treasure.
3. Control Method: Room control or remote control to avoid any injure to the operation staff
4. Main lifting motor: With thermal protection and currency protection.
5. Hooks with latch
6. Rubber buffers
7. Protective earthing
8. Crane switch and travel end switch
9. Sub-assemblies characteristic are tested before assemly.
10. All cranes must be preassmebled and tested before leaving factory and offer the certification of test.
Design and construction rules:
All the standards which is required for the crane is the Chinese standard.
You can also give us the layout of the place where the crane will be used, that we can recommend the right one for your reference!
Painting:
Primer and finishing paint
Color: According to your demand.
Average thickness: About 100 microns.
Lifting Weight

T

1t

2t

3t

5t

10t

16t

20t

Span

m

7.5~22.5m

7.5~31.5

Speed

Lifting

MD1 hoist

m/min

8/0.8 (7/0.7)

3.5/0.35

CD1 hoist

8 (7)

3.5

Traveling of electric hoist

20

20

Traveling of cable trolley crane

20/30

20/30

Wheel diameter

Φ270

Φ370

Width of trail

37~70mm

37~70mm

Operational Model

remote control; ground handle

remote control; ground handle

Working Duty

A3

Power Supply

According to your demands

According to your demands



Henan Mine Crane Co., Ltd. was established in 2002 with a registered capital of 1.177 billion yuan, construction area of 1.62 million square meters, more than 4500 employees and more than 3500 sets of advanced processing equipment.
Specializing in the R & D, production, sales and service of more than 110 kinds of cranes and supporting parts in three series of "Kuangyuan" brand bridge cranes, gantry cranes and electric hoists.
Our company is a national high-tech enterprise with a technical team composed of more than 10 industry top experts and more than 200 middle and senior engineers. It is responsible for the innovative design and development of products. At present, it has obtained more than 300 national patents and provincial scientific and technological achievements
In 2020, the production and sales of all kinds of single beam and double beam lifting equipment will be nearly 100,000 sets, with sales of 5.675 billion yuan and tax payment of 205 million yuan. The company has 428 sales and service organizations all over the country, serving more than 6000 medium and high-end customers, and has made remarkable achievements in more than 50 key industries such as aerospace, automobile and ship, steel smelting, petrochemical industry, electronic information, electric power industry, water conservancy, railway and military industry.
The developed intelligent storage crane, precision positioning crane, automatic container gantry crane, nuclear grade special crane, clean explosion-proof automatic crane, multi fulcrum flexible crane, simulated maritime rescue crane and other sophisticated products serve Baosteel, China Railway, MCC, CNNC, AVIC and other large enterprises. The products cover more than 80 countries and regions.

We have rich experience in production and export:
We have exported our cranes to Australia, Bangladesh, Iraq, Pakistan, Philippines, USA, Egypt, Peru, India, Turkmenistan, Singapore, Ethiopia, South Africa, Saudi Arabia, Malta, Albania, Ukraine, Vietnam, Kenya, Nigeria, UAE, Cameroon, Uruguay, Bahrain, Thailand, Kazakhstan, Germany, Sultan,
Chile, Oman, Romania, Malaysia, Armenia, Jordan and so on, received good confirmation and welcomed from them!
To know more about our 5T single girder overhead crane for cold roll forming workshop, please contact me
We are China 5t Single Girder Hoist Overhead Electric Crane Price From China manufacture and supplier,You can get more details with Email,you will get cheap price or factory price.
Tags:
5t Single Girder Hoist Overhead Electric Crane Price From China
,
China Overhead Crane
,
China Single Girder Overhead Crane