5~450ton Double Girder Hanger Overhead Crane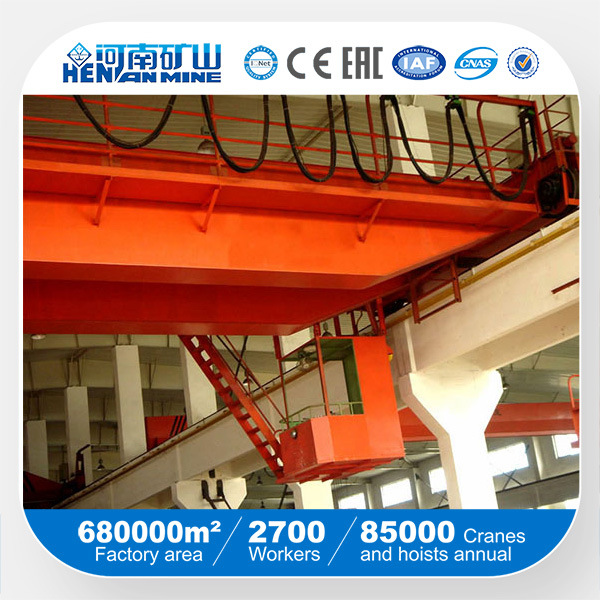 5~450ton Double Girder Hanger Overhead Crane image
Basic Info.
Place of Origin
Henan, China (Mainland)
GB/T 24001-2004 Idt ISO14001: 2004
Pass
GB/T 19001-2000 Idt ISO 9001: 2000
Pass
GB/T 28001-2001, Ohsas18001: 1999
Pass
Main Electrical Parts
Siemens Brand
Frequency Inverter
According to Your Demand
Transport Package
Export Standard
Specification
Chinese Standard
Origin
Xinxiang, Henan Province, China
Production Capacity
9000sets/Year
Product Description
5~450ton Double Girder Hanger Overhead Crane
Compents: 1) Girder Frame 2) Crane Travel Device 3) The Trolley with Lifting and Moving Device.

The whole crane assembly

——

No.1 in China
Our group

————

Score No.1 on double girder crane for continuous 6years
Motor——-

Top quality in China.
Control mode

——

Pendent wire.Cabin control Remote control
Crane body——-

Strong box type
Crane main girder

———-

One whole plate on every side, no welding, strong and beautiful.
Main electrical parts——-

Schneider brand (France Famous brand)
Wheel and gear

——–

Manufactured by our Group with unique special technique, so high quality could be controlled. Wheels are vacuum casting and medium frequency quenching.
Safety features

———

Weight overload protection device; Crane traveling limit switch; Top quality long time bearing polyurethane materials buffer; Current overload protection system; Voltage lower protection function; Cross traveling limit switch; Lifting limit switch; Emergency stop system; Zero voltage protection; Phase sequence protection; Protective earthing, etc.
Painting:
Painting will be completed in the factory before shipping.
After manufacturing (after welding)
Average thickness: About 100 microns
Electrical elements
The crane that we are offering is designed to meet the required functions and requirement stated in your specifications, as well as for the operating conditions.
The sub-assemblies used by are standardized equipment of renowned manufactures and have been approved for specific crane operation by our test laboratory. Their characteristics regarding impact, vibrations, wear and safety were examined. A continuous high quality standard is ensured by series production and standardized sub-assemblies.
The electrical equipment is accommodated in robust steel plate control cubicles, on the crane girder.
All movements can be switched off by actuating the emergency-off switch at the control station via a main contactor.
Power supply cable and control cable along the girder
A protective earth conductor is fitted as standard. A crane switch is provided.
Travel end switches
Long and cross travel limited by means of preliminary and final limit switches
Our philosophy is that the customer should be happy with the system performance and enormous improvement in work environment. And our aim is reducing the labor inputs for eternity working together with customer and ensuring that the work is executed to the utmost satisfaction of the customer.
Henan Mine Crane Company concentrate to have positive and flexible approach towards customer need through its comprehensive solution and service capabilities, professionally and cost effectively. As a company whose success derives from mains fully committed to develop close working partnership with its customer.
Welcome to contact us by E-mail or online, you will receive our prompt and careful reply!

Lifting Weight(t)
5, 10, 16/3.2, 20/5, 32/5, 50/10
75/20, 100/20, 125/32, 160/50, 200/50, 250/50
300/40, 350/75, 400/80, 450/80
Span(m)
10.5-31.5
13.5-31.5
17-22
Max. Lifting Height
Main Hanger
20
22
24
Auxiliary
22
22
32
Steel Track Recommended
43kg/m or QU70
QU100
QU120
Working duty
A3- A7
Voltage supply
380v, 50hz, 3-phase or as your requirements
Working temperature
-10 degree– 40 degree
We are China 5~450ton Double Girder Hanger Overhead Crane manufacture and supplier,You can get more details with Email,you will get cheap price or factory price.
Tags:
Double Girder Crane
,
Hanger Bridge Crane
,
Overhead Crane