50/10tons Span 28.5m Double Beam Bridge Crane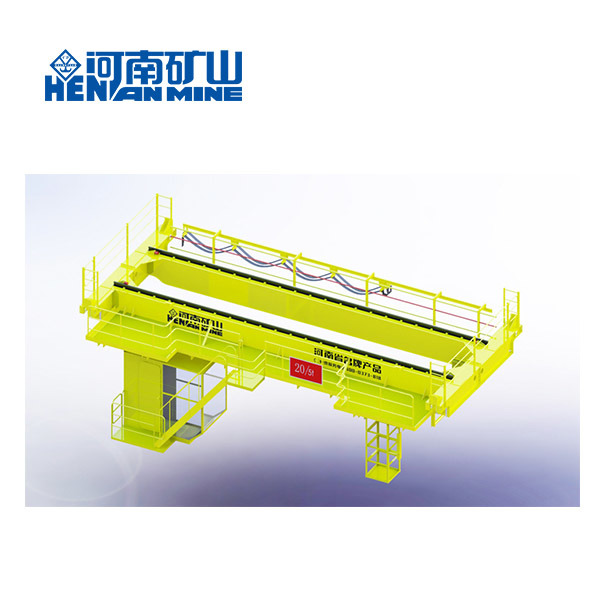 50/10tons Span 28.5m Double Beam Bridge Crane image
Basic Info.
Crane Type
Overhead Crane
Painting Color
According to Your Demand
Current Overload Protection System
Include
Application
Mineral Area, Workshop,Cargo Yard
Control
Cabin,Remote Control
Working Voltage
380V50Hz3phac or Customize
Transport Package
Packing by Woven Plastic Cloth and Plywood Crate.
Specification
China National standard
Origin
Xinxiang, Henan Province
Production Capacity
3000 Sets/Year
Product Description
50/10Tons Double Beam Bridge Crane
QD model double girder overhead crane with hook. It is usually to be used in workshop to lift material,equipment. It mainly consists of Trolley,bridge frame,long traveling unit,hook and wirerope,cabin and eletric control system,etc.
It has reasonable structure,light dead weight,low noise,easy operation and maintenance,low maintenance frequency and cost,superior performance,long service life.
1.Main confirguration c
haracteristics:
Steel
plate
material:Q235B
Heavy duty slipring motor
,IP54,F or H,
Soft,Mid-Hard,hard tooth reducer,
High strength steel wire-rope
DG20Mn high strength forged hook
Gears,Shafts,wheels axis are of 45# or 50# steel
ZG50SiMn vacuum casted wheel
China famous brand bearings
China famous brand hydraulic brake
China Famous brand cables
Speed control:resistor or VVVF
2.Main manufacturing process:
Steel plate pretreatment equipment
Plasma cutting machine to cut steel plate,
Box girder welding by robot,welding adopts CO2 protection welding or Submerged arc welding,
End beam welding by robot,welding adopts CO2 protection welding or Submerged arc welding,
Sand blasting,prime painting
Precision assembly and strict testing
Manual brush painting,even coating thickness and high adhensive force
Quality strict inspection and delivery
3. Protecting devices:
1) Overload limiter to cut off circuit when overload
2) Audible alarm device for warning during crane working time,
3) Hook safety latch
4) Anti collision device(limit switch,infrared ray,laser) to avoid crane collision
5) Overcurrency protection,zero position protection,etc.
6) Emergency stop button
7) Motor thermal protection or overspeed protection,heater of motor
Painting:
By brush by man, Anti-rust painting, primer and finishing paint, yellow or red color, General thickness: About 105 microns

4.Ordering
informations
s:
1,
What is the crane purpose?or what material to be lifted?
2, What's the lifting capacity?
3, What's the span of the crane (from rail center to rail center)?
4, What's the lifting height?
5, What's the working time and how many lifts per hour?
6, What speeds (lifting speed, travel speed) do you need?
7, What's your working voltage there?
8, What color do you need?
9, What is the crane traveling distance:?
10, Do you have other special requirements:?
1. Capacity from 5ton to 50/10 ton
2. The working duty of the crane is A3, A5 and A6.
3. The lifting height (main & auxiliary hook) and span are designed and manufactured according to the customer's demand.
4. There are three speed: The lifting speed, cross travelling speed, long travelling speed. (If our company's speed standard can not satisfy your special demand, we can use the frequency convertor. )
5. There are three operational control mode: Pendent line with press button, remote control, cabin room control or choose any two together!
6. The design and manufacture is according to the Chinese standards.
7. Applied in mechanical processing workshop, subsidiary workshop, warehouse, power plant for transferring and so many places.
8. The top technology: One body shape, no welding for main beam strong and beautiful
9. The whole crane assembly: No. 1 in China
10. The price level: No. 2 in China
11. Our group: Scored No. 1 on overhead crane for continuous 9years
Capacity
T
10
16/3
20/5
32/5
50/10
Operational method
Cabin control
Span
m
10.5-31.5
Speed
Mainhook Lifting
A5

m/min
8.5
7.9
7.2
7.5
5.9
A6
13.3
13
12.3
9.5
7.8
Aux. hook Lifting
16.7
19.5
19.5
13.2
Cross travelling
43.8
44.6
44.6
42.4
38.5
Long travelling
A5
90.7/91.9/84.7
84.7/87.6
84.7/87.6
87/74.2
74.6/85.9
A6
115.6/116.8/112.5
112.5/101.4
112.5/101.4
101.4/101.8
86.8/87.3
Motor
Lifting
Main
A5
Type /kw
YZR180L-6/17
YZR225M-8/26
YZR225M-8/26
YZR280S-10/42
YZR280M-10/55
A6
YZR250M1-6/37
YZR225M2-6/45
YZR280M-8/55
YZR315S-8/75
Auxiliary
YZR200L-6/22
YZR180L-8/13
YZR180L-6/17
YZR180L-6/17
YZR200L-6/26
Cross travelling
YZR132, 1-6/2× 6.3
YZR132M2-6/4
YZR132M2-6/4
YZR160M-6/6.3
YZR160M2-6/8.5
Long travelling
A5
YZR132M2-6/2× 4
YZR160M1-6/2× 6.3
YZR160M1-6/2× 6.3
YZR160M2-6/2× 8.5
YZR160L-6/13
A6
YZR160M1-6/2× 5.5
YZR160M2-6/2× 7.5
YZR160M2-6/2× 7.5
YZR160L-6/2× 11
YZR180L-8/13
Max. Lifting height
Main hook
m
16
16
12
16
12
Aux. hook
18
14
18
16
Working duty
A5, A6
Power supply
380V 50HZ 3phase AC (As your demand)
We are China 50/10tons Span 28.5m Double Beam Bridge Crane manufacture and supplier,You can get more details with Email,you will get cheap price or factory price.
Tags:
Bridge Crane
,
Double Beam Bridge Crane
,
Double Girder Overhead Crane