5-100tons Double Girder Rail Mounted Gantry Cranes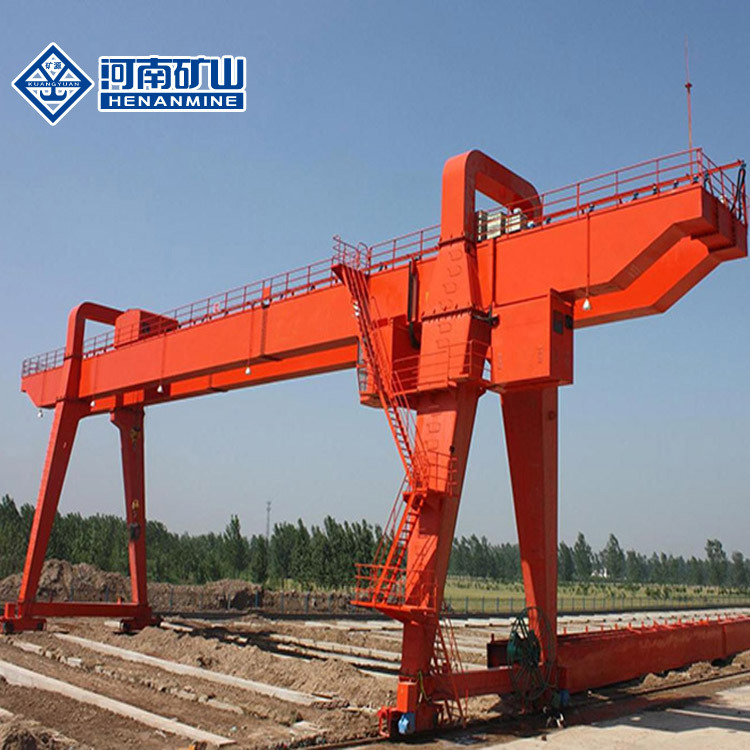 5-100tons Double Girder Rail Mounted Gantry Cranes image
Basic Info.
Main Girder Form
Double Girder
Working Duty
A3 A4 A5 A6 A7
Application
Mineral Area Usage, Construction Usage
Overload Protection Function
Include
Overcurrent Protection
Include
Painting Color
According to Your Demand
Power Source
380V50Hz3pH or Customized
Installation
Overall Rapid Assembly
Transport Package
Packed by Plywood Crate and Plastic Woven Cloth.
Specification
A3 A4 A5 A6 A7
Origin
Xinxiang, Henan Province
Production Capacity
18, 000 Sets/Year
Product Description
5-100tons Double Girder Rail Mounted Gantry Cranes
Product description:
5-100tons Double Girder Rail Mounted Gantry Cranes also called door crane or goliath crane, it is a kind of track travelling mid-heavy type crane, can be used where overhead runways are not practical, or in open areas where columns cannot be accommodated.
The top main girder is mounted on two A shape columns which are further resting on wheel mounted end carriages.
This crane is widely applied to do loading and unloading work in outdoor. Such as material stocks area, cement plant, granite industry, construction industry, and engineering industry and so on.It has features of beautiful and durable appearance, perfect performance, low cost, easy maintenance, high adaptability and so on.It is composed of beam, support legs, crane travelling mechanism, trolley, electric equipment and so on.It could be special design and customize by clients' requirement.
This type of double girder gantry crane consists of 5 main parts, namely, the bridge structure, A-frame support legs, the traveling mechanism, the trolley and the electric equipment. It has box type and trussed type, box type has characteristic of slim body and strong lifting capacity; trussed type has characteristic of small windward surface, small deadweight and strong lifting capacity.
The girder could also have a double girder design for heavy duty applications, where a suitable track is provided on top of the girders for travel of crab wheels.
Technical Parameter(customizable):
Lifting Capacity

T
10
16
20/10
32/10
36/16
50/10
Span
m
22~35m

Speed

Main Hook Lifting
m/min
8.5
7.9
7.2
7.5
7.8
6
Aux. Hook Lifting
10.4
10.4
10.5
10.4
Traveling of Trolley
43.8
44.5
44.5
41.9
41.9
38.13
Traveling of Crane
37.6/40
38/36
38/36
40
40/38
38
Operational Model
Cabin
Working Duty
A5
Power Supply
Three-phase A.C. 380V, 50Hz

We can design and manufacture all kinds of non-standard product according to your requirements
Main Features:
1. According to the shape,the grab can be classified into clamshape grab and orange peel grab, the former consists of two complete buckets, and the latter is made up of three or more than three jaws.
2. It ia mainly designed for handing of power and fine bulk materials such aschemicals,fertilizer,grain,coal,coke,iron ore,sand,particle consreuction materials and amashed rocks etc.
3. It has been widely used in ports,steel plants,power stations,ships and garbage treatment,plants,and is used together with tower cranes,ship cranes,ship unloaders,traveling cranes and other type of cranes.Under running cranes or bridge crane are distinguished by the fact that they are supported from a ceiling structure and run on the bottom flange of structural members
Detailed Images:
Main Products
Henan Mine Cranes meet the factory, workshop, port, mining, waste disposal, goods scattered, petrochemical, aerospace, military and other industries of universal bridge cable trolley crane, overhead cable trolley crane price 20 ton 5ton, eot cable trolley crane, door cable trolley crane, universal gantry cable trolley crane, rubber tyre and rail mounted container gantry cable trolley crane, four link type portal cable trolley crane, quayside container cable trolley crane, cable trolley crane, cable trolley crane hook, mining grab cable trolley crane, gantry cable trolley crane, ship loader, grab bucket ship unloader, stacker reclaimer, dredger, mobile platforms and other types of hydraulic cable trolley crane technical requirements.
Advantages
The 2,700-plus-member factory covers over680,000 square metersand has a total asset of660 million CNY. The 1,200-plus equipment enable the company to independently conduct over20 technological flows, including lathing, milling, planning and grinding. The 180-plus intermediate and senor technical staff are responsible forR&Dand production of all the products. The products have passedCE SGS TUV BVandCU-TRverification, and factory passed ISO9001-2008 international certification, IS014001:1996 environmental and ISO28001-2001 quality, health and safety certification. Our company has perfect quality-control system, strict and comprehensive management system, strong production capability and advanced test measures, guaranteeing high quality, output, competitiveness and market share.
FAQ
A: Can you provide custom service?
B: Yes, of course. We are manufacturer and we have our own engineer group. They can work out customized design according to your requirement. The most important thing is that you should tell us what you need.
A: Are there any professional technicians to assist our installation?
B: Yes. We have a professional installation team, who has already been to many countries to assist the installation.If you need our technicians to offer this service, please let us know in advance. So that we can arrange the suitable technicians to your country.
A: Whether or not you can offer the matched spare parts?
B: Yes, as a Single girder 10 ton overhead crane sale manufacturer, we can offer all the related spare parts. Such as motor, hoists, drums, wheels,grabs, hooks, rails, travel beams, enclosed bus bar, etc.
A: How can you ensure the quality?
B: Before delivery, every product will be tested strictly and we will send you the quality certification. You are alsowarmly welcomed to our factory to make the inspections.
We are China 5-100tons Double Girder Rail Mounted Gantry Cranes manufacture and supplier,You can get more details with Email,you will get cheap price or factory price.
Tags:
Double Beam Gantry Crane
,
Double Girder Gantry Crane
,
Gantry Crane