3 Ton Outdoor Steel Pipe Lifting Gantry Crane with Hoist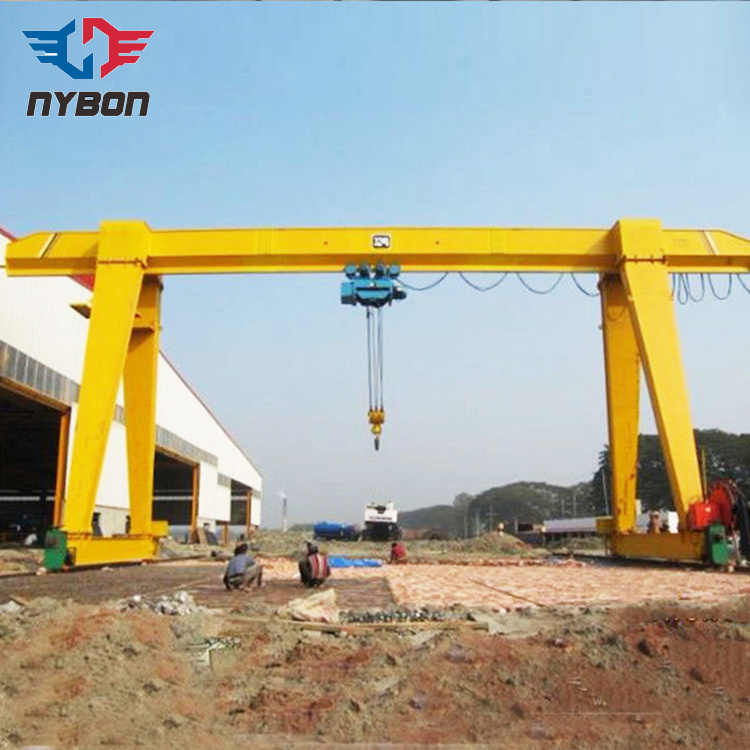 3 Ton Outdoor Steel Pipe Lifting Gantry Crane with Hoist image
Basic Info.
Operation Form
Ground Operation
Main Girder Form
Single Girder
Rated Loading Capacity
0.5t-32t or Customized
Control Method
Pendent Button, Wireless Remote, Cabin
Lifting Speed
3-8m/Min or Customized
Color
Yellow or Customized
Transport Package
Special Waterproof Plastic Close for Expor, 40ot
Production Capacity
100 Sets Per Month
Product Description
3 ton outdoor steel pipe lifting gantry crane with hoist
Single girder gantry crane-Introduction
Hot sale single girder gantry crane specifications is a kind of track travelling light type crane, can be used where
overhead runways are not practical, or in open areas where columns cannot be accommodated. The top main girder
is mounted on two A shape columns which are further resting on wheel mounted end carriages.
Single girder gantry crane-Application
Hot sale single girder gantry crane specifications is widely applied to do loading and unloading work in outdoor. Such
as material stocks area, cement plant, granite industry, construction industry, and engineering industry and so on.
Single girder gantry crane-Features
It has features of beautiful and durable appearance, perfect performance, low cost, easy maintenance, high adaptability
and so on.
Single girder gantry crane-Main Structure
It is composed of beam, support legs, crane travelling mechanism, trolley, electric equipment and so on.
Single girder gantry crane-Safety Devices
To guarantee the normal operation of crane and avoid the personal casualty and mechanical damage, the safety device
we provide are not only the electric protective devices or alarm bell but also other equipments as following:
1.Overload Limit Switch
2.Rubber Buffers
3.Electric Protective Devices
4.Emergency Stop System
5.Voltage Lower Protection Function
6.Current Overload Protection System
7.Rail Anchoring
8.Lifting Height Limit Device

arts show:

Main technical parameter:
Rated load/ton

5

10

16

20

32

Span/m

10-40

Lifting height/m

30

Working class

A3/1bM

Lifting speed/m/min

8

7

3.5

3.5

3

Trolley running speed/m/min

20

20

20

20

20

Crane running speed/m/min

20

20

20

20

20

Dead weight/t

10.5~37.5

16.8~52

18.9~65

24.5~77

27.5~98

Number of wheel

4

4

4

4

4/8

Max. wheel pressure/KN

52.5~12.1

95~183

131~242

167~298

238~41.5

Steel track recommended

P24

P38

P43

P43

P43

Power supply

3AC 220~480V 50/60Hz

It could be special design and customize by clients' requirement.
Nybon is a group of Lifting Business with Rich Experience, sercving abroad range of customers, including factory
lifting work,manufacturing and process industries, shipyards, ports and terminals. Regardless of your lifting needs,
Nybon is committed to providing you with lifting equipment and services that increase the value and effectiveness
of your business.
1. Q: What's your MOQ?
A: 1 Set;
2. Q: What's your package?
A: Main body in plywood box or in plastic woven cloths; Spare parts in plywood boxes;
3. Q: What's your delivery period?
A: Within 10/25/40 days after your prepayment received; exact period should be based on detailed requirements and actual period;
4. Q: Do you provide lift tools?
A: Yes, we can provide any kinds of lift tools such as lift sling belt, lift clamp, grab, magnet , pulley blocks, hook, lock catch, wire rope, fiber rope, etc.
5. Q: Could your winches drag inclined?
A: Yea, our electric winches could drag horizontal, drag inclined, hoisting vertical.
We are China 3 Ton Outdoor Steel Pipe Lifting Gantry Crane with Hoist manufacture and supplier,You can get more details with Email,you will get cheap price or factory price.
Tags:
3 Ton Outdoor Steel Pipe Lifting Gantry Crane
,
3 Ton Outdoor Steel Pipe Lifting Gantry Crane with Hoist
,
Gantry Crane